Regular price
$110.00 CAD
Regular price
$110.00 CAD
Sale price
$110.00 CAD
Unit price
per
Sale
Sold out
Our DTF Hot Peel Film V2 Sheets have undergone significant improvements compared to the previous version as they have been optimized for outstanding printability on the Brother GTX line as well as the Epson F2100.

This new film has a higher ink loading ability. This results in you not needing to slow down the printer and can lay more ink without pooling for a more opaque print. 
Also,
the new V2 film has an anti static layer which prevents powder from sticking. The hand feel has also been greatly improved with the product. 
Instant & Easy Hot Peeling for Faster Production
High Quality & Coating
Transfer at Lower Temperature & Shorter Time
Heat Press at 140 C at 10 seconds (No Heat Damage to Fabric)
Anti Static Treated Coating
No excess powder will remain on the film
Premium Matte Finish, Vivid Colour, High Resolution, No Oil, High Ink Loading
NOTE
DTF (Direct To Film) printing works with almost all types of fabrics including 100% polyester with excellent results!
Unlike DTG Printing, RB DTF Hotpeel Film does not require pre-treatment and also uses on average 75% less DTG ink to achieve good quality prints.
Final printed products have excellent wash durability, stretchability and close to no dye-migration
The transfer has a very soft hand feel.
The process is much faster than Vinyl printing as there is no weeding involved in this process.
Read more
Read less
View full details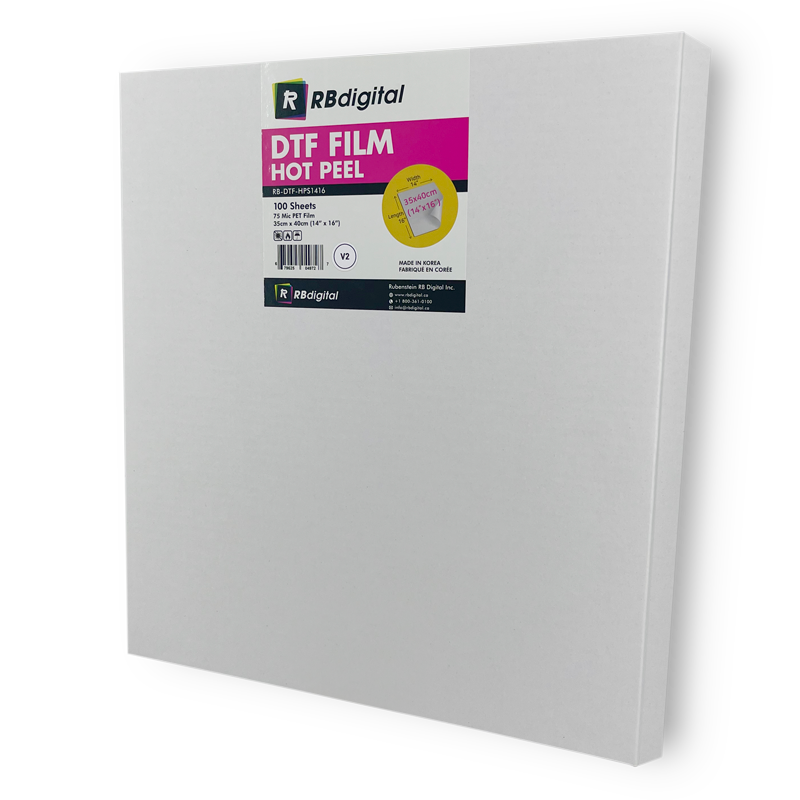 Often Purchased With
Regular price

$14,295.00 CAD

Regular price

$15,595.00 CAD

Sale price

$14,295.00 CAD

Unit price

per
Process
Its recommended to use the film in a low-humidity environment (Under 50%), otherwise you risk the powder sticking to the film and transferring onto the garment.

Step 1. Printing
1. Place the film under the heat press for about 5 seconds to get rid of any humidity in the film.
2. Place the matte side of the film upwards.
3. Print the image (CMYK → White) in mirror mode.
4. Let the ink dry for about 1 min before applying the powder, otherwise the powder will be smeared into ink layer and will affect the final print.
* In areas with high humidity, we recommend to let the ink dry for about 30 sec ~ 1 min under the heat press before applying the powder.
​
Step 2. Hot Melt Powder
1. Apply RB DTF Powder evenly.
2. Flick the film with your fingers to remove any excess powder.
* It is recommended to wear safety equipment. Work in a well-ventilated area. (the fumes from the powder could irritate the eyes, throat and lungs, which could cause allergic reactions)
​
Step 3. Hovering
Hover the heat press to melt the powder completely. * Ensure that the powder is fully melted.
​
*Note: Over curing will cause the ink color to change (burning) and the film to curl.