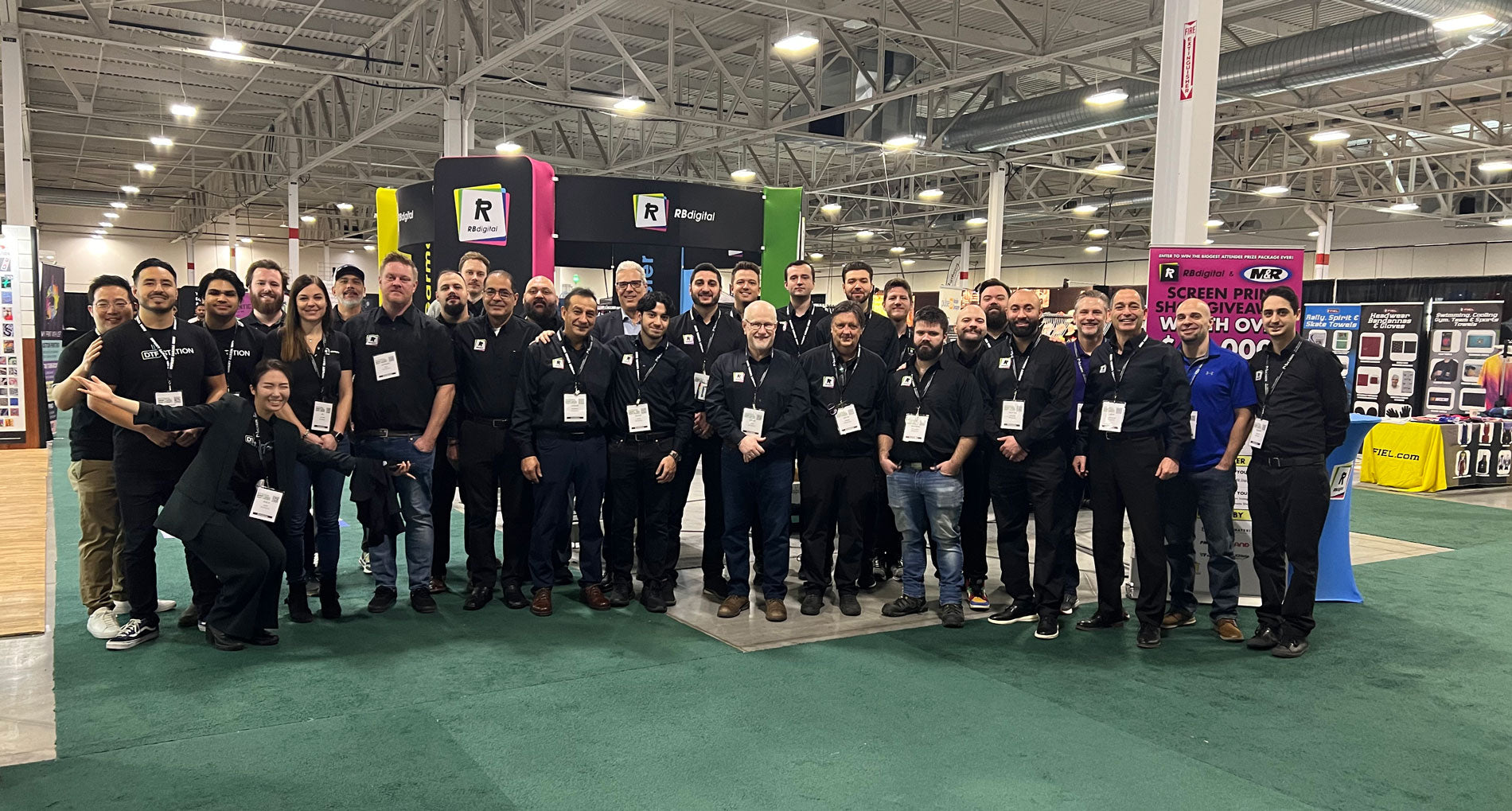 Rubenstein RB Digital Inc. is a privately held, Canadian-owned company founded in 1864. We serve the Canadian Sewn Products, Embroidery, and Digital Printing Industries. The company has over 50 employees and associates with offices in Montreal, Toronto, Winnipeg, Edmonton, and Vancouver, and sales agents in Saskatchewan and Atlantic Canada.

Our locations each have Sales, Service, Training and bright modern showrooms. We offer a complete parts inventory and knowledgeable staff to serve you from coast to coast.

We sell and service digital equipment to Embroider, Print, Cut, Engrave, and Transfer on everything from apparel to fabric to hard substrates such as wood, aluminum and so much more.
Explore a whole new world of possibilities for your small to medium-size business, with our innovative, graphics driven products. The only limit is your imagination.
RETAIN EXISTING CLIENTELE AND ATTRACT NEW CUSTOMERS

We are always improving and changing,  and so are you. Let us help you keep up to date with your equipment and processes to ensure that you can offer your customers leading edge solutions to make them as profitable as can be. .

IMPROVE QUALITY CONTROL AND TURNAROUND TIMES

Our technicians will work one on one with you through all areas of installation, training, and support.
This will insure the best possible output of quality for your business. As well, we will do our best to keep products in our 5 dedicated warehouses across Canada so that you can have quick turnarounds on your machine and supply needs.


OPERATE RB DIGITAL MACHINERY WITH CONFIDENCE

With over 15 seasoned technicians
from coast to coast  that have between 3 and 42 years of experience, rest assured that we provide you with the confidence and support to operate the
products that you have purchased from RB Digital.

OUR KNOWLEDGE IS UNMATCHED

We are here to help you take those first tentative steps into the business of product embellishment. Not only do we have unlimited in-depth knowledge of the processes involved in setting-up and running a successful custom Graphics embellishment company, but we are also able to advise you on the next stage of your major expansion. Our customers range from one person owner operators to Billion dollar companies that lead the world in fashion and Design. 

CREATE NEW REVENUE SOURCES

We recognize that it is easier to sell your existing customers a wider variety of products then it is for you to go find new customers. In that light, we continue to offer you new products and technologies so that you can widen your product depth within your own customer base.

IMPROVE YOUR BOTTOM LINE

With RB Digital being the largest Canadian Distributor for digital equipment in our business segment, we strive  to offer you  the best combination of price, quality and service. These three characteristics will make you the best you can be in  your market segment.  In turn this should in fact give you the best bottom line in your company and have the best experience doing that.  
In 1864 - Three years before the Confederation of Canada, Rubenstein Bros. was established in downtown Montreal by immigrant Max Rubenstein as a brass foundry specializing in metal parts for horse and carriage harnesses. Nickel, bronze and silver plating as well as a small machine shop were added around the turn of the century under the guidance of the second generation of Rubenstein brothers.

The most prominent of this generation of Rubensteins was Louis, a world champion figure skater, president of the Canadian Wheelsman Association, the Royal Life Saving Society of Canada and a member of the Canadian and U.S. Figure Skating Halls of Fame. Not only a sports celebrity, Louis Rubenstein was also politically involved in the city that he loved, serving as a Montreal city alderman for 17 years. Today, a permanent memorial to Louis Rubenstein stands in Fletchers Field at the corner of Parc and Mount Royal Avenues in Montreal.

In 1929 - Louis Rubenstein sold Rubenstein Bros. to a firm who were button and trimming suppliers to Montreal's burgeoning needle trade. The new company used the Rubenstein foundry and machine shop to manufacture the Beaver Cloth Cutting Machine, P.O. boxes for Canada Post, electrical intersections for Montreal's streetcars, and to support the WWII war effort by fabricating landing gear components for RAF and RCAF aircraft.

Rubenstein Bros., already firmly entrenched in the cutting rooms of the garment industry, expanded into sewing, pressing and distribution systems after World War II when they began importing home-use sewing machines. Rubenstein Bros. enjoyed considerable growth during these post-war years and opened sales offices in Toronto in 1947, Winnipeg in 1949, Vancouver in 1995 and Edmonton in 2001.

It was at this point in its history that Rubenstein Bros began its long term relationship with its current Japanese equipment suppliers (Brother in 1951 and Tajima in 1974). Both were not well known at the time but have since grown into global industry leading companies.

In recent years - Rubenstein Bros. sought new opportunities to replace declining apparel production in Canada. In the year 2000, Rubenstein began to leverage its expertise to supply companies in garment decoration, garment printing, wide format digital printing, fabric printing, trophies, awards, and advertising specialties. Each of its five locations features hands-on showrooms and training facilities for the hardware and software needed to power these new applications.

In 2014 - Rubenstein celebrated 150 years in business, and renamed itself Rubenstein RB Digital Inc. Each of its satellite locations is being integrated into a fully centralized system to offer best of breed product and talent to serve you better. Ownership of the company has moved from a family owned business to one which is owned by working managers across the country.