Processing mass volumes of printed garments requires equipment that can meet the dual challenges of high-quality design reproduction and industrial level activity. For this purpose we want to introduce the GTX600 to you, the newest GTX ensures a smooth, highly professional and unique workflow with its many advantages and should therefore be the new member of your company.
Read more
Read less
Product Resources
View full details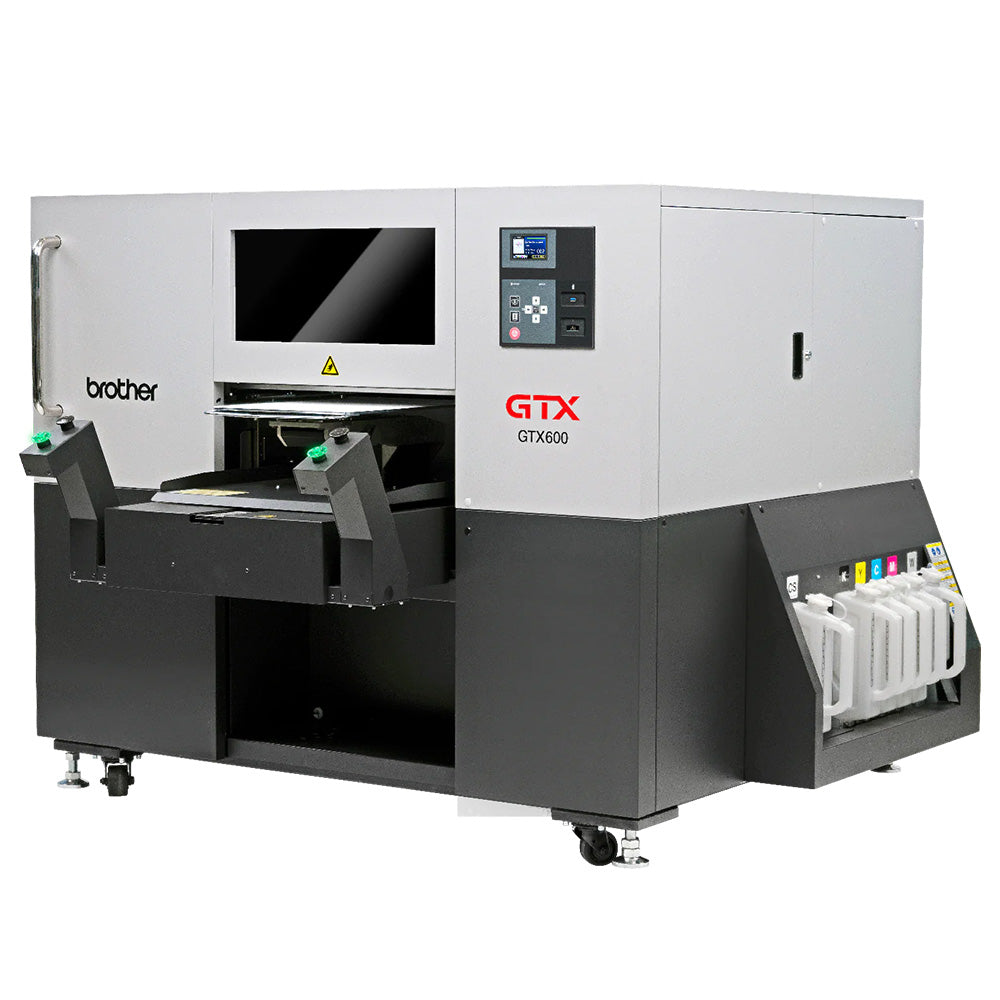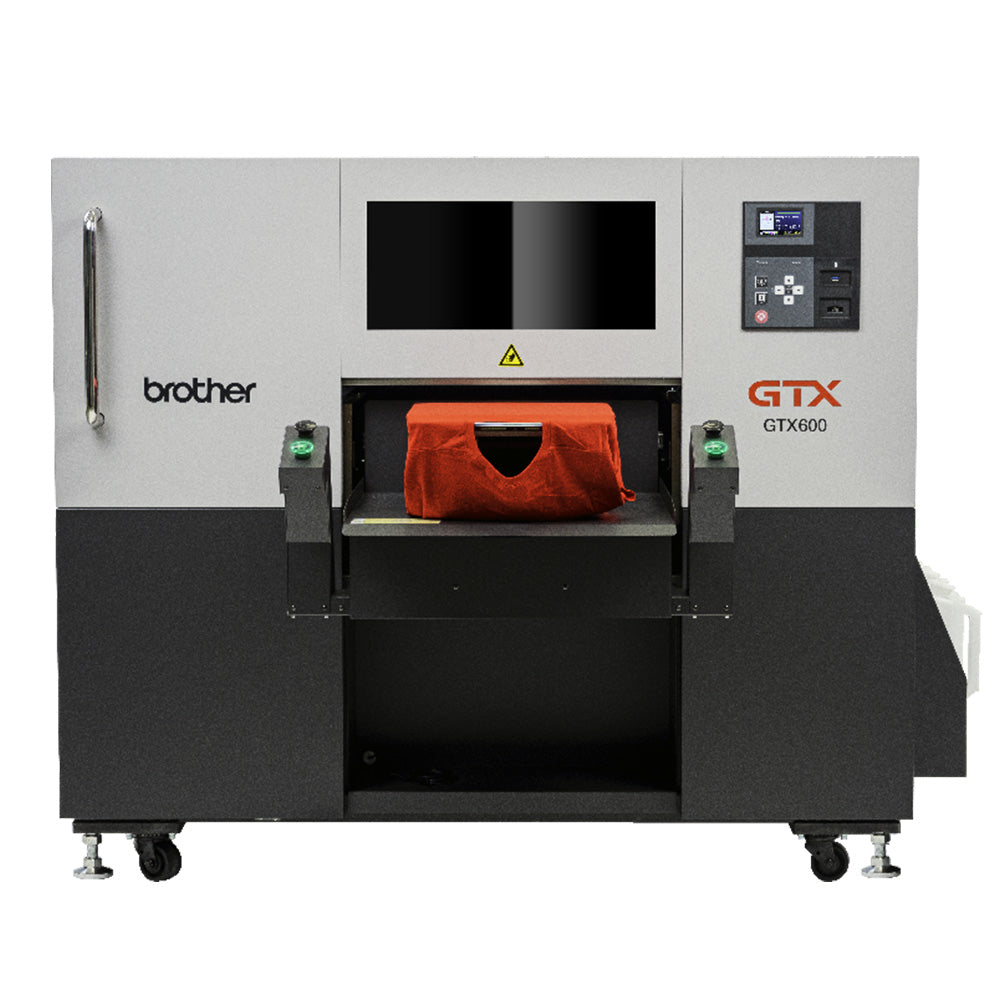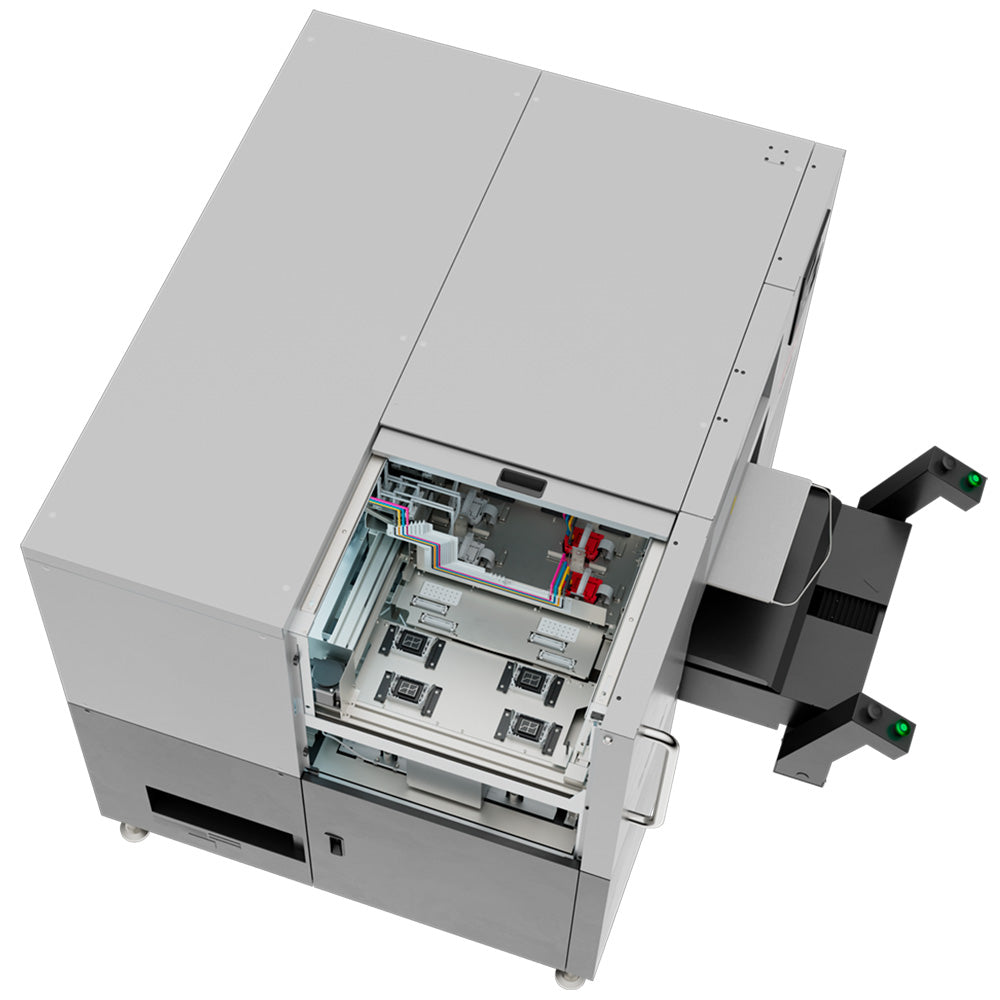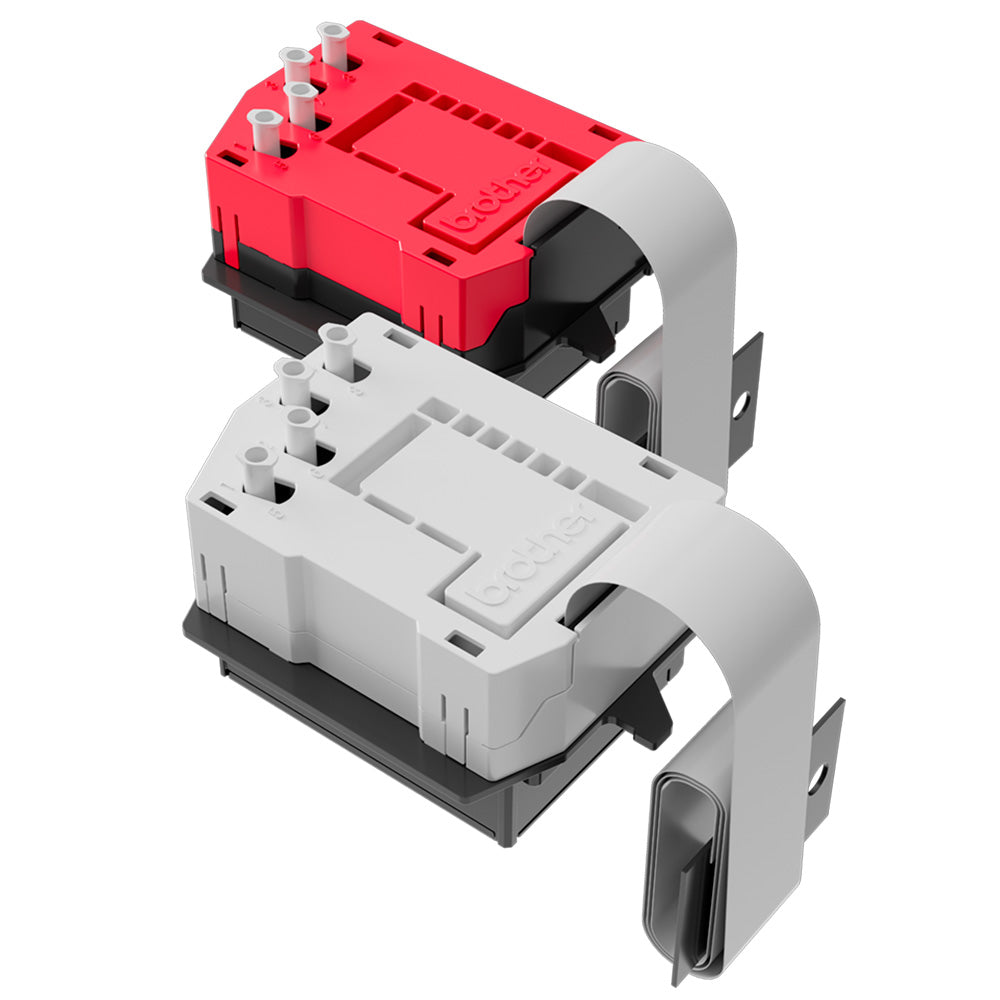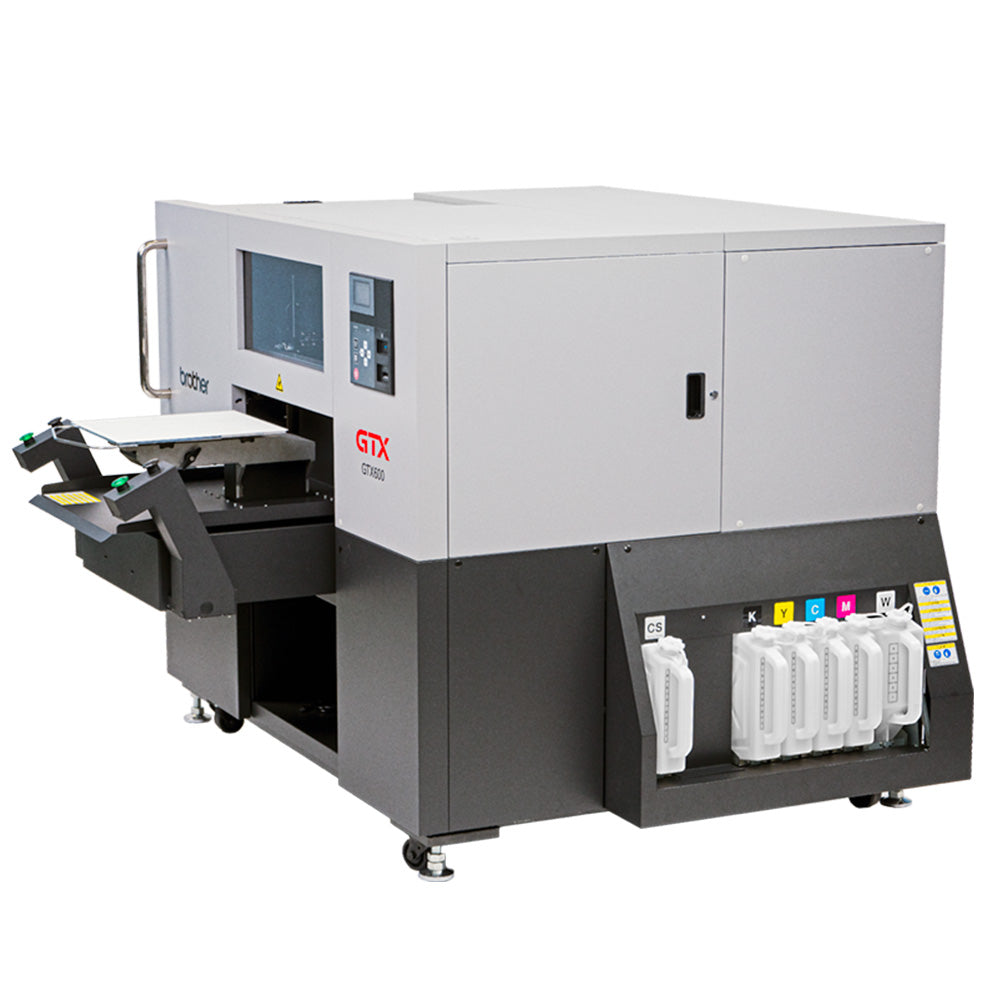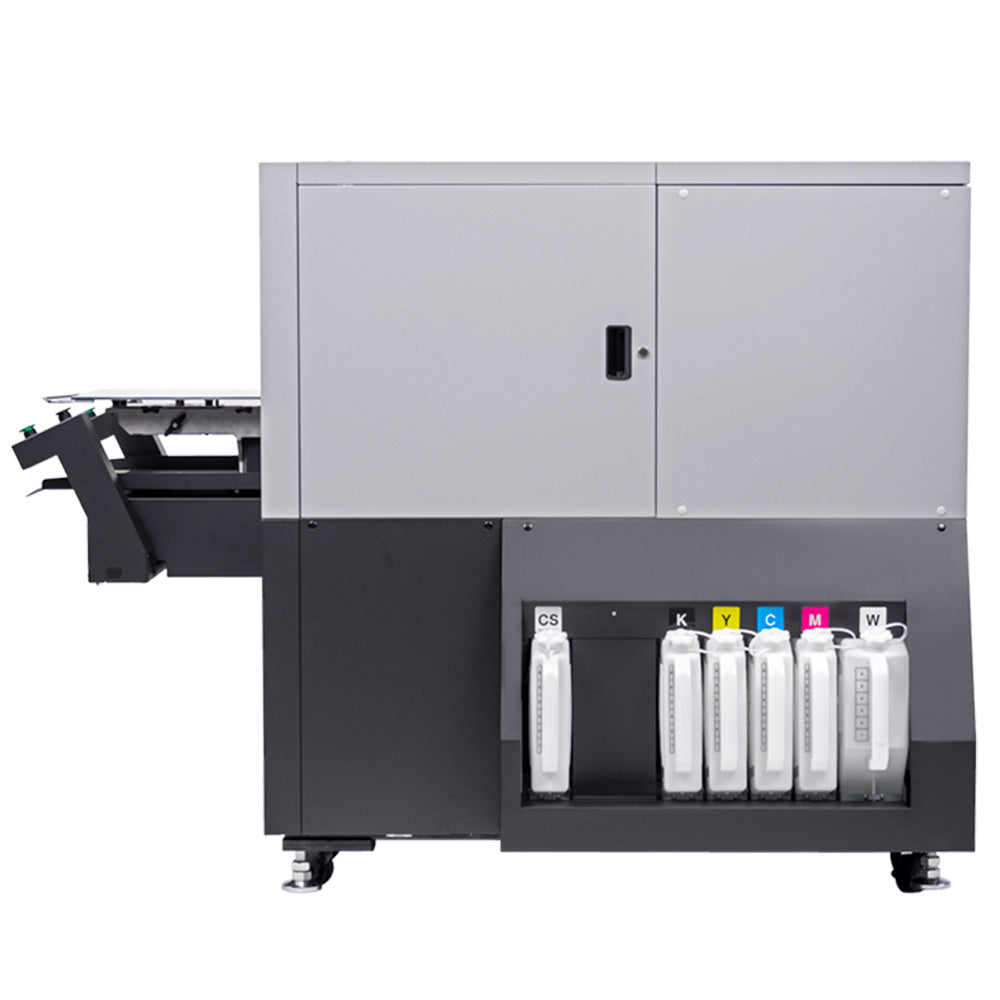 Built For Industrial-Level Performance

Processing mass volumes of decorated garments requires equipment that can meet the dual challenges of high-quality design reproduction and industrial level activity. The GTX600 delivers on both fronts with vibrant and consistent digital print quality along with a composition that can stand up to the most rigorous manufacturing demands.
• Heavy duty industrial base complete with precision platen transport system

• Advance bulk ink system that filters and degasses all inks

• 5th Generation Brother industrial print heads with 16 total ink channels

• White ink circulation system that recirculates ink in four critical areas

• Built in humidifier to maintain an ideal production environment

• Industrial maintenance station to enable longer runs of continuous operation
Built for Industrial-Level Performance

16 ink channels. Advanced industrial maintenance station. Solid, industrial base. Combined, they allow you to print faster, longer and more continuously than ever.
Engineered for Easy Operation

Intelligent platen height measurements. Built-in humidifier. Minimal training. Your existing labor force can tackle the GTX600 with no problems.
Optimized for Low Cost of Ownership

Affordable bulk ink supplies. Scalable configuration. Legendary training, support and warranty. It's the single source solution you've been looking for.
Industrial Construction

Made for mass production, the GTX600 is industrial in design. Built for durability from the ground up, each machine is capable of running multiple shifts per day, 7 days a week, while producing high quality prints.

Size - 73.23" x 81.10" x 57.48"
Weight - 1,609 lbs (without ink or cleaning solution)
Electrical - 208-220V, 5 Amps; 50/60 Hz
Solid steel frame with industrial casters for easy movability.
Brother DTG Print Heads

With over 15 years of experience as pioneers in the direct to garment printing decoration industry, we know how valuable a tireless print head is to production. Utilizing the 5th Generation print heads in the GTX600, you can expect longer print runs with less waste*, saving you time and money.

Brother manufactured, 5th generation print heads
Four print heads; 16 channels
Internal cooling fan for longer print runs
High Print Quality

Offer unparalleled print quality on a variety of style of artwork and garments. From photo quality realism, to designs that call for a distressed or weathered finish, the GTX600 offers four print resolutions to fit each piece's specifications. Being able to control resolution provides the ideal balance of print quality and print speed for each product's needs, yielding accurate, efficient print operations.
Intelligent Platen Mechanism

Save time and costly mistakes with the GTX600 intelligent platen system. In concert with Brother's optional SDK, the scan of a barcode on items automatically tells the printer the necessary platen height needed for that garment, and the printer adjusts accordingly. The result is finished products that are precise, consistent, and designs that are correctly adjusted for the specifications of each item in an order, making mass production much easier.

AC servo motor with screw drive and solid linear rails
Electronic platen height adjustment and automation availability
Variety of Platen Sizes

Expand your offerings with the GTX600's wide variety of available platen sizes. From newborn onesies to XXL size garments, artwork can be perfectly resized and proportionate to the garment being printed on.

A large potential print area of 24"x24" means you can take mass production to a greater variety of garments, and our easy to use, quick-change platen systems allow for minimal downtime when switching from one platen to another.
Warranty Information

At Brother, we stand behind our products, which is why we offer a one-year, 100,000 prints limited warranty on the printer and 30,000 prints warranty on the print heads. Expert advice and assistance are also easily available when you need it.
Size / Weight / Movability
• Size with Platen Out - 73.23" × 81.10" × 57.48" (1860mm × 2060mm × 1460mm)
• Approximately 1,499 lbs. (680 kg) Including Platen
• Industrial casters for positioning and leveling pads for stability
Number of Print Heads / Channels
• 4 Brother manufactured piezo print heads with internal cooling fans
• 16 ink channels (8 white and dual CMYK channels)
Available Print Resolutions
• 1200x1200 HQ (High Quality)
• 1200x1200 (Standard)
• 1200x900 (Fast)
• 1200x600 (Draft)
Bulk Ink Delivery System
• Advanced bulk system that filters and degasses all waterbased inks (Cyan, Magenta, Yellow, Black and White)
Platen Transport System
• AC servo motor with screw driver and solid linear rails
• Electronic platen height adjustment and automation availability
• Dual platen height (high/low) sensors for optimal print height
Standard GTX600 Platen Sizes (Maximum Print Size – 24" x 24")
• Adult** – 14" x 16"
• Youth – 10" x 12"
• Baby – 7" x 8"
• Oversized – 16" x 18"
• XL – 18" x 22"
• XXL – 24" x 24"
Industrial Maintenance System
• Four automatic wet suction caps
• Four wet wiper blade systems
Environmental Print System
• Internal thermostat and hygrometer
• Integrated evaporated humidifier to control internal humidity level.
• 6 fans mist gathering system below the platen
Environmental Recommendations
• Operating Conditions - 64 degree F to 86 degrees F (18 degrees C -30 degrees C), 35%-85% relative humidity
• Standby Conditions - 50 degree F to 95 degrees F (10 degrees C -35 degrees C), 20%-85% relative humidity
Electrical Requirements
• AC 200V-240V; 5 amps ; 50/60Hz
Connectivity
• USB, LAN and File Output
• USB 3.0, LAN (10/100/1000Base-T), USB 3.0 Flash Memory (Under 32GB)
Operating System
• Mac - macOS® Big Sur to macOS® Ventura
• PC – Windows 10 (64-bit) and Windows 11 (64-bit)
Software
• GTX Graphis Lab and GTX600 Print Driver for print file creation
• Software development kit (SDK) for advanced workflow solutions
Optional Accessories
• 3 Color Status Light
Warranty
• 1 Year or 100,000 Prints from date of installation; 2 years or 50,000 prints on Print Heads.
• Extended warranty & service packages available
Is the Brother GTX 600 right for you?
Enter your info below and a RB Digital sales representative will contact you about adding the Brother GTX 600 to your apparel decorating business.