COMING SOON
Regular price
$5,500.00 CAD
Regular price
Sale price
$5,500.00 CAD
Unit price
per
Sale
Sold out
PLEASE NOTE THAT THIS IS A PRE-ORDER ITEM. ESTIMATED SHIP DATE IS END OF NOVEMBER.
The design of the Toyoda Falcon Pneumatic Auto Dual 16" X 20" Heat Press With Foot Pedal & Lasers combines a heavy-duty solid steel industrial grade pressing framework with accurate and easy to use electronics. Utilize it's full auto feature as the press will automatically open within your desired time and move from one platen to the other. This provides the operator with the best possible features and equipment needed for today's various heat transfer applications.
By using the TF-1620PAD dual heat press, you'll be able to achieve all common heat transfer processes to the highest standard and productivity (sublimation, direct-to-film, direct-to-garment, screen print transfers, vinyl etc.) Your desired settings can be set easily with the easy to read oversized-digital LCD temperature controller and the pneumatic pressure can be regulated smoothly with the air reducing valve. With the restriction valve on the solenoid valve, the press and lift speed could be easily adjusted as well.
Double station heat presses significantly add to the productivity of heat transfer pressing by relieving the operator of the major manual tasks normally associated with the manual heat press processes.
Read more
Read less
This product is typically ready for pickup or shipping within one week, subject to lead times provided by manufacturers.
The Toyoda Falcon Pneumatic Auto Dual 16" X 20" Heat Press With Foot Pedal & Lasers is a made-to-order product that is only assembled and prepared for shipment after you place your order. Please note that freight costs are not included in the purchase price. After your purchase, we will contact you to confirm shipping details, provide a shipping quote, and give you the lead times from the manufacturer. Upon payment of the shipping invoice, we will arrange delivery as per your preferences. For additional information,
connect with a RB Digital sales specialist today
.
Product Resources
View full details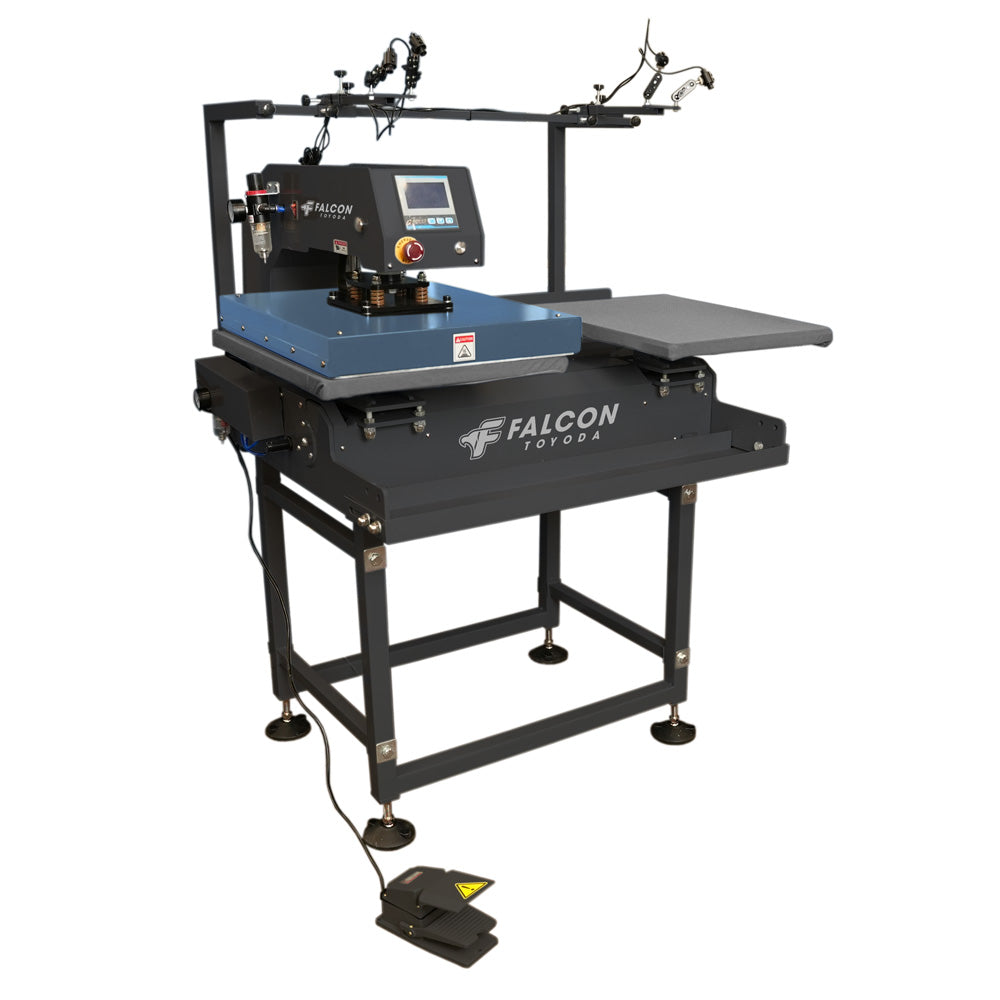 Feature Diagram


A. Power switch
B. Two hand control press buttons (works on manual mode)
C. Emergency stop button
D. Temperature controller
E. Solenoid valve (not shown)
F. Manual/automatic switch button Handle
G. Air reducing valve
H. Heat plate
I. Bottom platen & platen cover
J. Air reducing valve for left right movement control (do not adjust)
K. Oil buffer
L. Stand
M. Height adjustable foot
N. Foot pedal
Precise & High Quality Temperature Controller With Even Pressure

By customizing professional heat press ASIC chips, Toyoda Falcon heat presses control temperature accurately and provide stable temperature during intense work.





Precise temperature distribution with our high-quality thick heat plate ensures an exact temperature distribution over the entire heating surface.






Laser Alignment System


Ensure consistent placement and accurate positioning for every heat printing job.

4 lasers that can be individually positioned to align left chest logos, individual letters and numbers, script names, full front transfer designs, and more.

Controller


With the temperature controller, not only can you adjust the temperature of the press (°C and °F) but also the press time. Toyoda Falcon heat presses allow you to display both the set value and the temperature of the press all on the same screen. Utilize the in-press counter (reset after power off) function to count the number of transfers that have been made during the current session.
Full Auto/Semi-Auto Switch
Pneumatic double station transfer press for medium and large batches
Pressure balancing system on heat plate and bottom plate
Industrial grade heavy duty heat press machine 16" x 20"
Thick cast aluminum heat plate for evenly distributed temperature
Flexibly adjustable air pressure by air reducing valve with water separator
Two-hand operation for safety use
5CE & ROHS approved
0.8MPa (120 PSI) for heavy pressure application
Self-pressure balancing system
Powered by an air compressor (Not Included)
Includes teflon sheet on the heat plate
Foot pedal included
Laser system included
Table included
Model: TF-1620PAD
Electrical: 110V, 15amps, 1800w
Max Temp: 260°C (500°F)
Time Range: 0-999sec
Platen: 16" x 20"
0.8MPa (120 PSI) for heavy pressure application
Dimensions: 42.5" x 27.8" x 23.2"
Weight: 350 lbs
Crate Size: 48" x 32" x 28"
Crate Weight: 370 lbs
1 year including all parts
All heat presses must be delivered to an RB Digital location for repairs or customer can work remotely with a technician
It's recommended to keep crates and packaging to ship back if needed
We herewith declare that the product meets the provisions of the following EC Directives and Harmonized Standards:

Certificate Number: M.2020.206.C9752
• 2006/42/EC Machinery Directive
• 2014/35/EU Low Voltage Directive
• Related Standards: EN ISO 12100:2010, EN 60204-1:2018

We herewith declare that the product conforms to RoHS Directive 2011/65/EU Annex II amending Annex (EU) 2015/863 and amending Annex (EU) 2017/2102.

Report No.: B-R2203A0560

Is the Toyoda Falcon Pneumatic Auto Dual 16" X 20" Heat Press With Foot Pedal & Lasers right for you?
Enter your info below and a RB Digital sales representative will contact you about adding the Toyoda Falcon Pneumatic Auto Dual 16" X 20" Heat Press With Foot Pedal & Lasers to your apparel decorating business.