POPULAR
The Tajima TMEZ is the world's first AND ONLY embroidery machine with automatic thread tension adjustment. i-TM (Intelligent Thread Management) technology eliminates the need for manual tension adjustment. The presser foot automatically detects fabric thickness and automatically evaluates the upcoming stitch type, then adjusts according to stitch length, stitch direction, type of stitch, and machine speed. Not only does this provide you with a 20-30% boost in productivity, but it will also allow for finer embroidery detail, less thread breaks on caps, and little to no training of new operators. 
Read more
Read less
Product Resources
View full details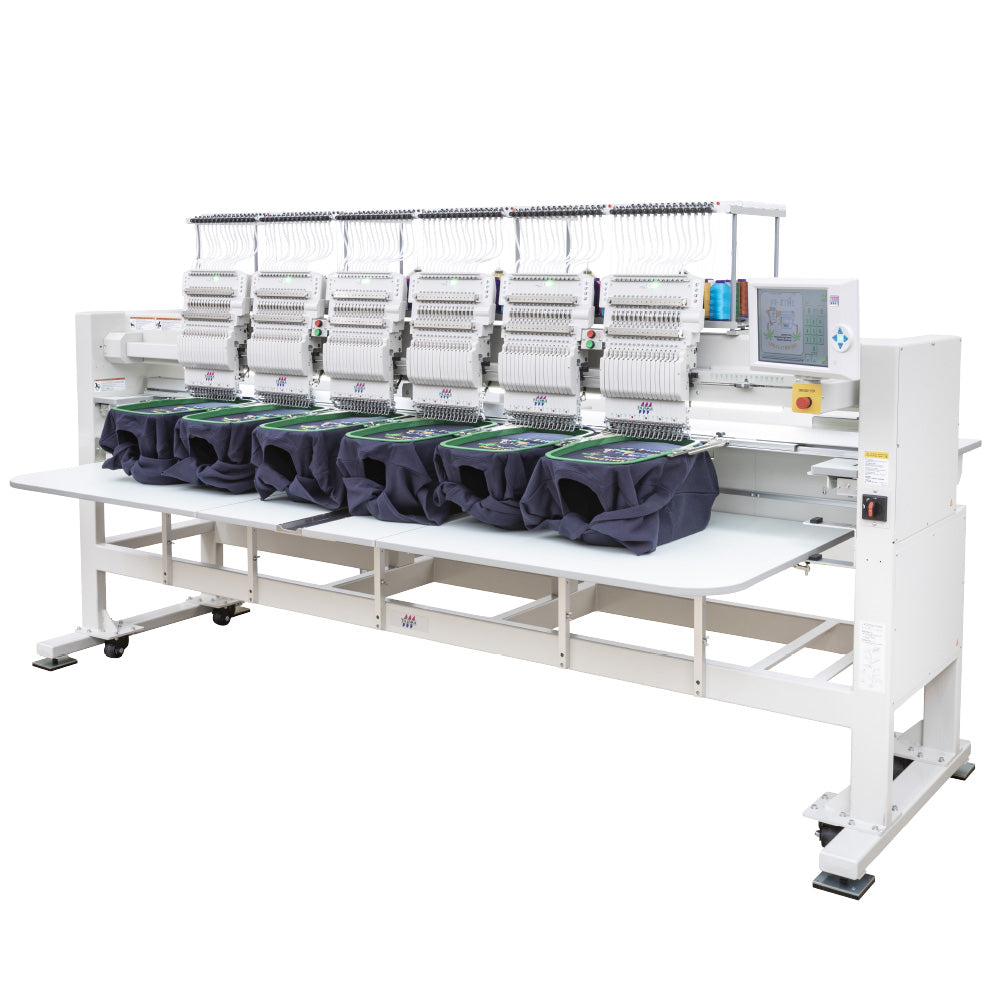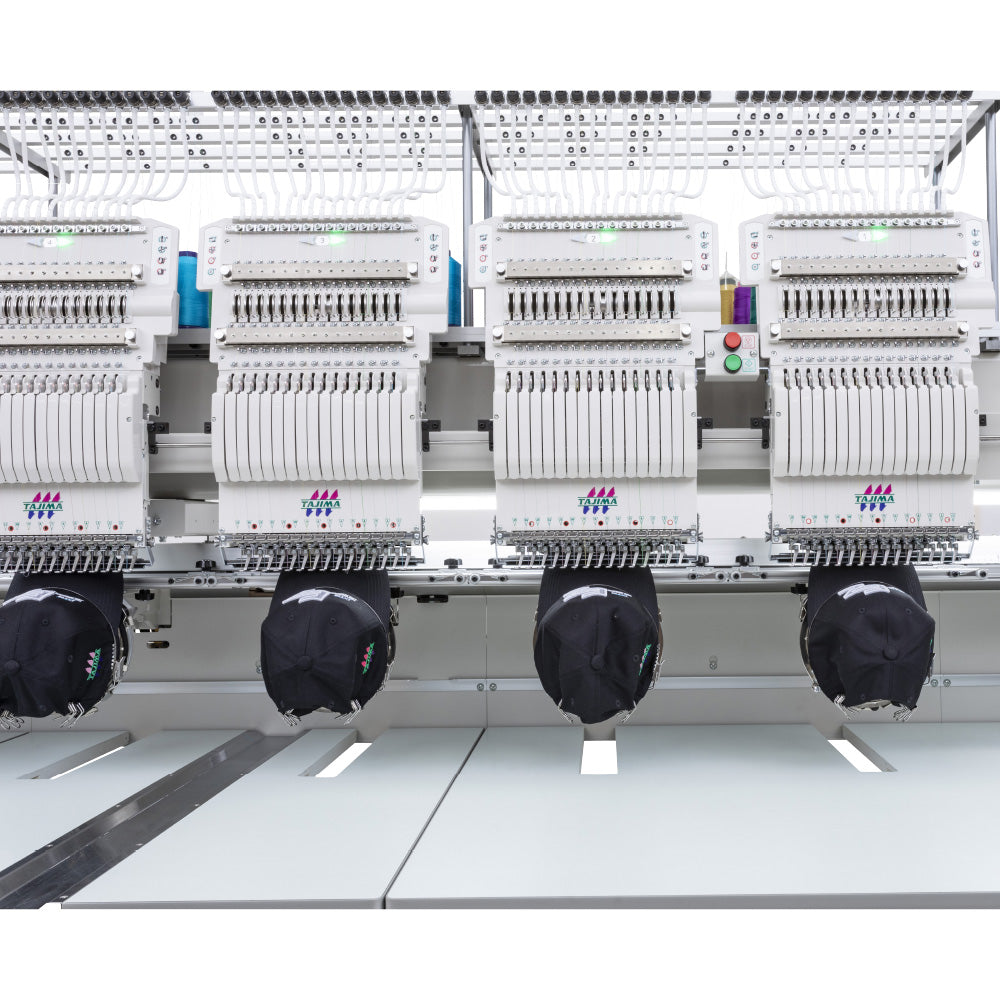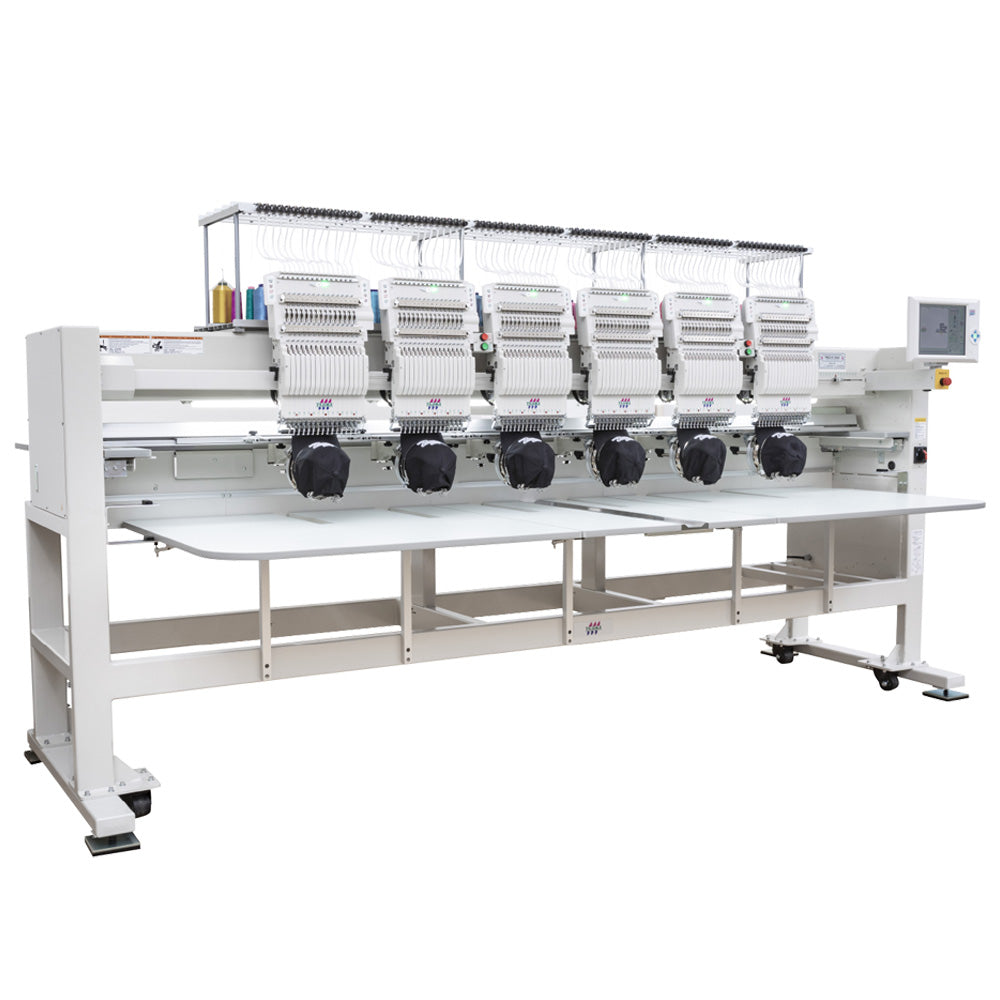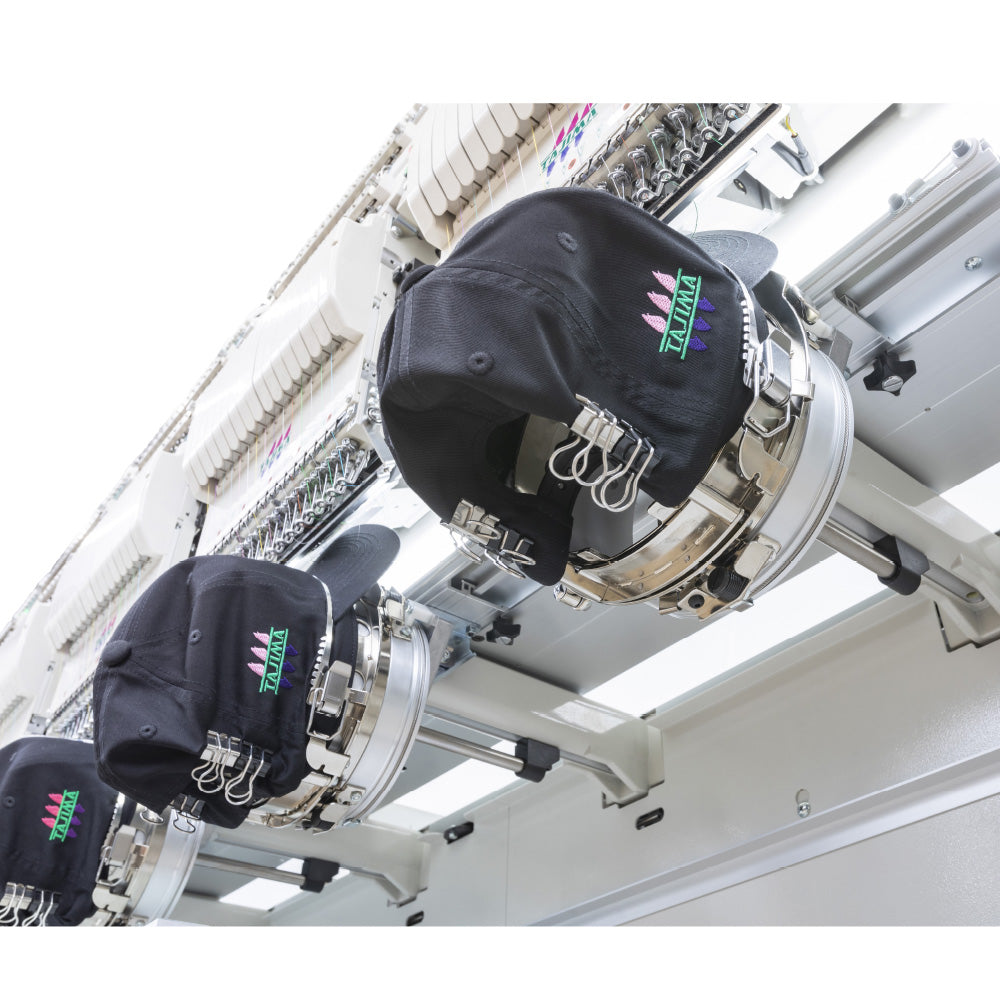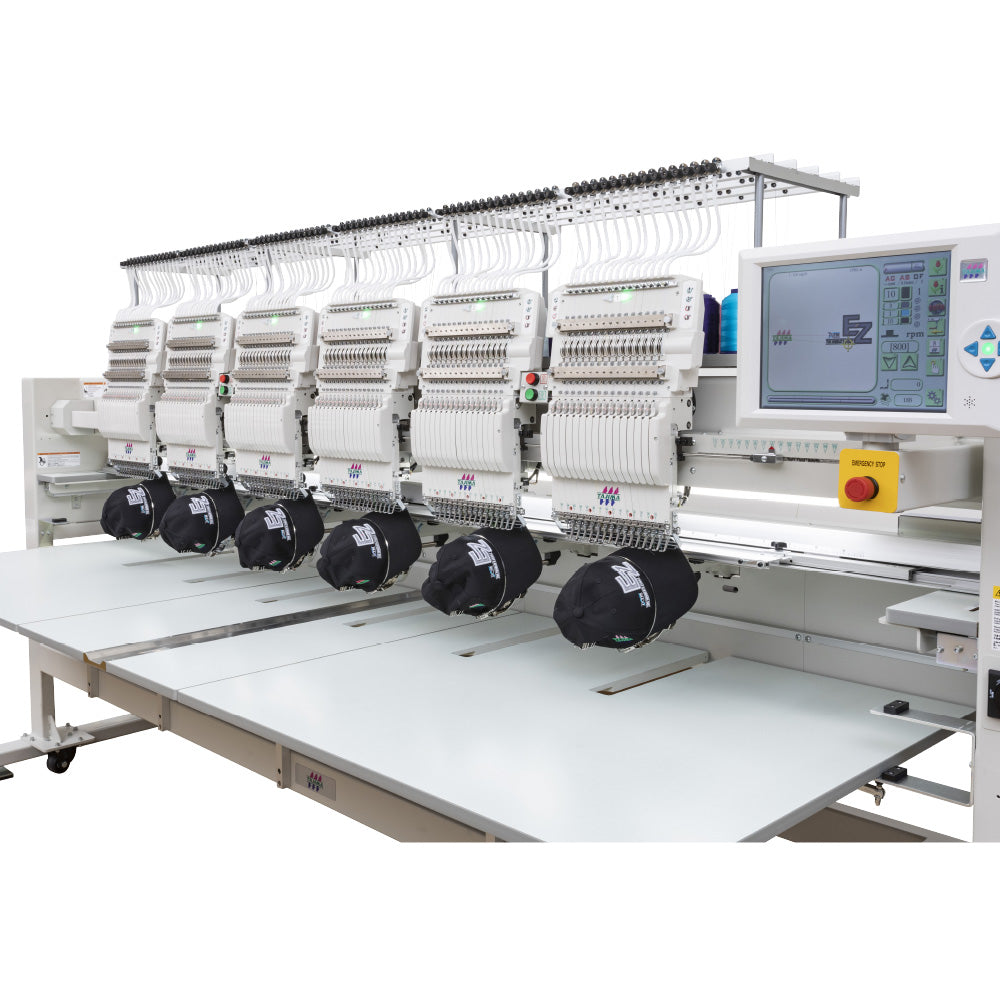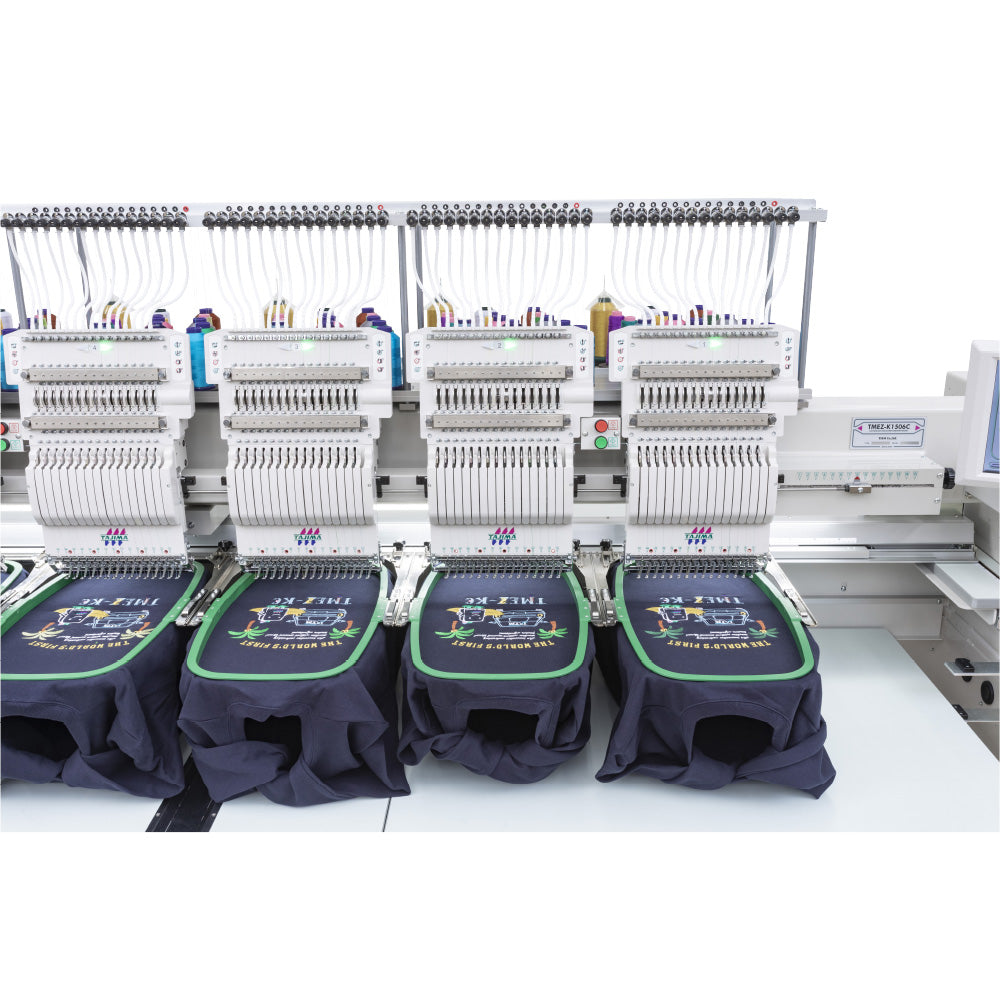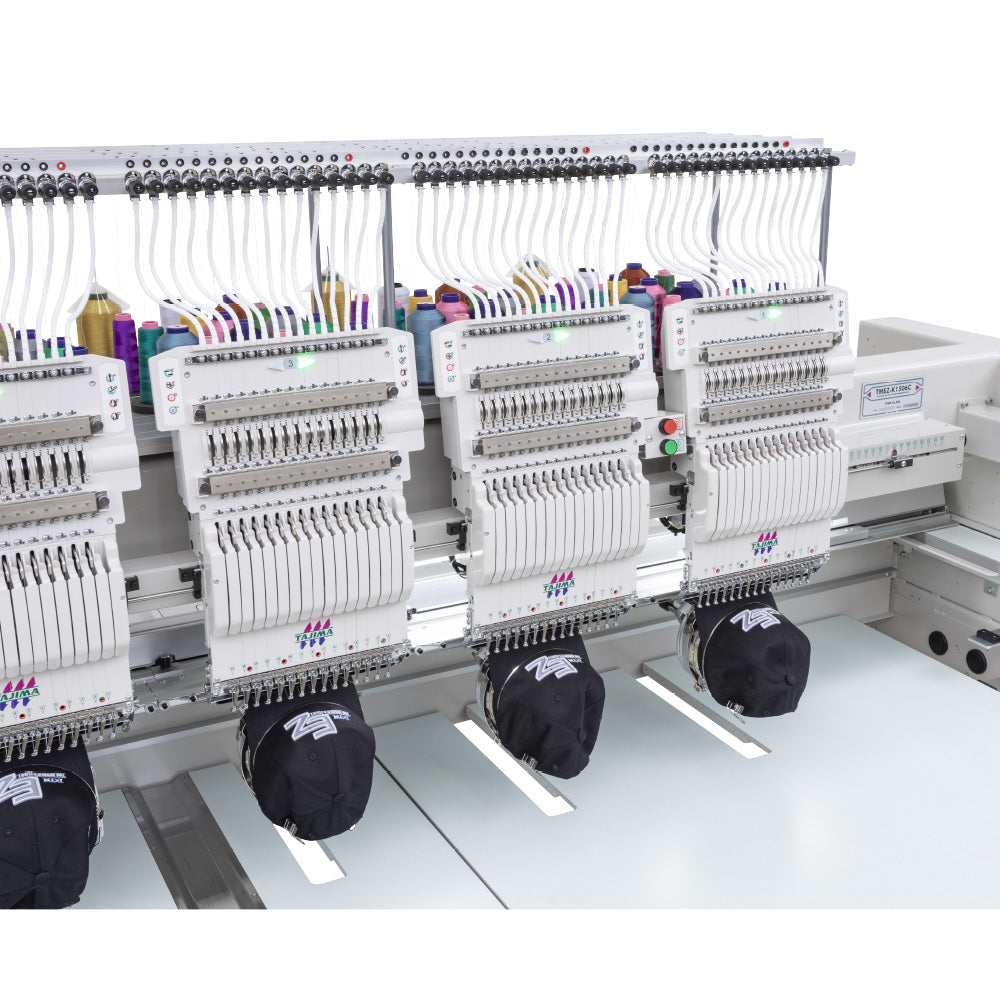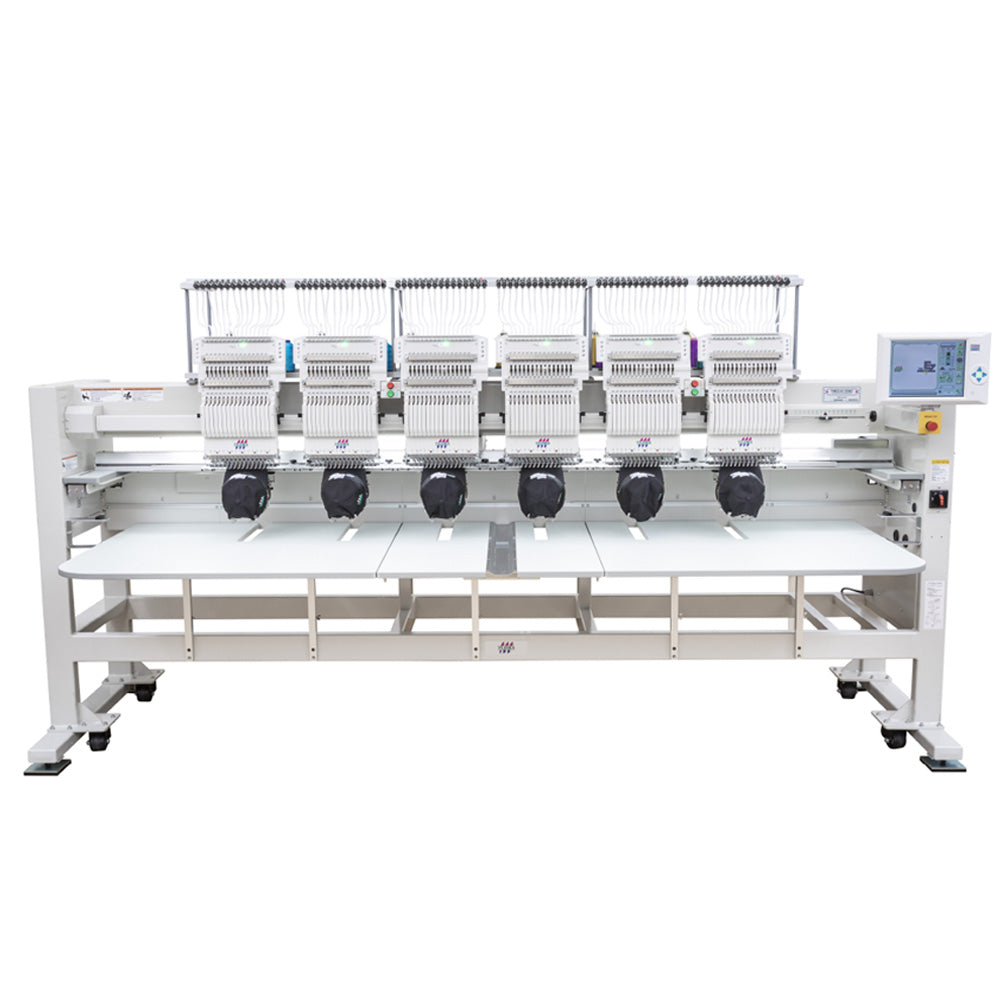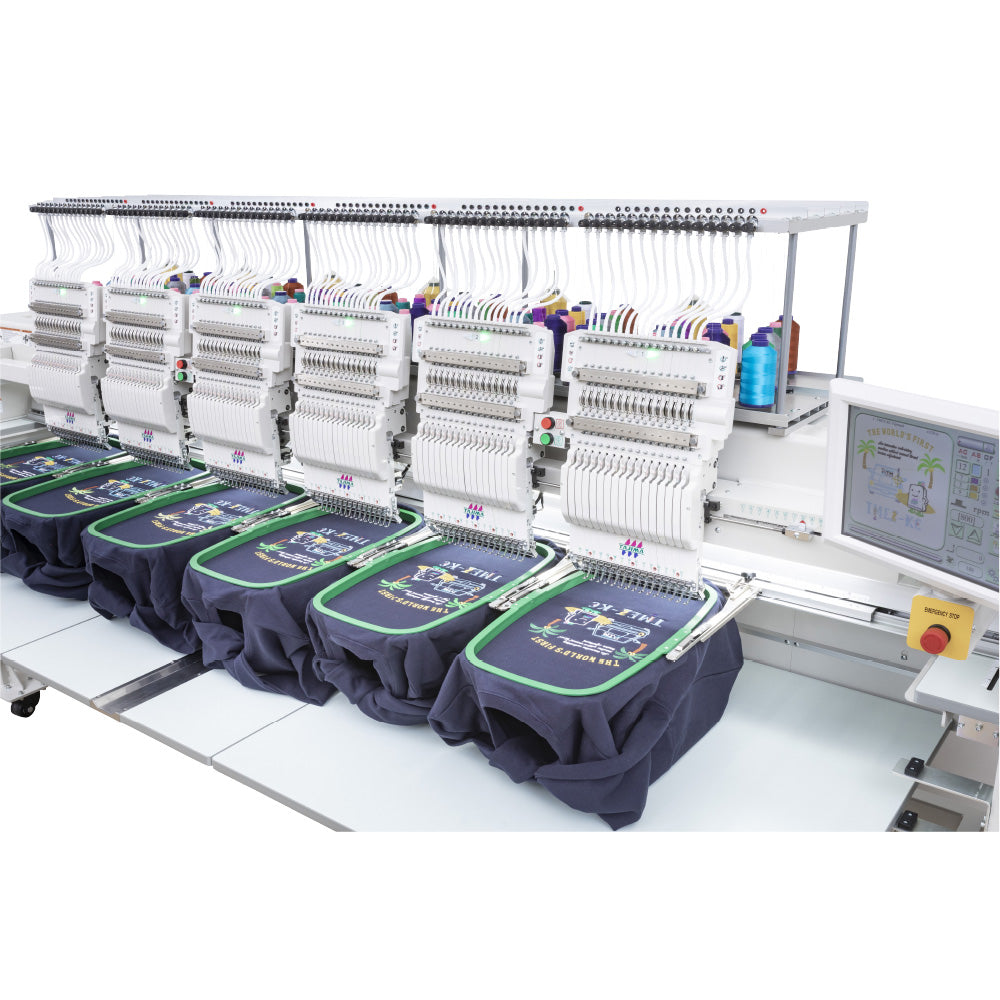 STANDARD VS STRETCH HEAD INTERVAL

Head interval refers to the space from one head to the exact same location on the adjacent head. We use the term "standard" for machines that have a 360mm (14 inch) head interval and the term "stretch" for machines that have a 500mm (19.6 inch) head interval.
STANDARD - 360 MM HEAD INTERVAL

The standard 360mm (14 inch) head interval machines are ideal for producing a standard mix of products that are not limited to caps, shirts, sweatshirts, jacket backs, and infinitely more.

STRETCH - 500 MM HEAD INTERVAL

The stretch 500 mm (19.6 inch) head interval provides more space between heads which makes it easier to accommodate larger, bulky products such as sweatshirts, jackets, blankets, etc. This setup is ideal for customers who do a larger percentage of these types of items and can accommodate the larger machine size.
KEY FEATURES

Anyone can be an embroidery specialist with no more tension knobs!




i-TM is mounted on the tension base in place of the previous tension knobs.

• No upper thread manual tension adjustment for the operator
• Automatic tension adjustment based on thread type
• Automatic tension adjustment for a change from run to satin stitches
• The pressor foot automatically detects the fabric thickness
• Automatic evaluation of upcoming stitch types and adjusting according to stitch length, stitch direction, type of stitch, machine speed and thickness of the fabric

DIRECT COMMAND SWITCHES

DIGITALLY CONTROLLED PRESSOR FOOT REDUCES FLUTTERING

A digitally controlled presser foot that responds to changes in fabric thickness stitch by stitch. Accurate and beautiful embroidery from thin to 3D embroidery with no settings required. The machine reduces the fluttering of the fabric at the start of sewing and during thread trimming, minimizing problems such as skip stitch and thread trimming failure.
What is " fluttering"?
"Fluttering" occurs when the material is lifted up during embroidery which causes skipped stitches, miss-trimming, and reduced quality stitching.

The DCP can be adjusted randomly according to the material thickness on the operation panel. It simplifies the mechanical process that was previously required and time consuming.

※DCP stands for Digitally Controlled Presser foot.

EQUIPPED WITH THE INDUSTRY'S LARGEST TOUCHSCREEN


The large-scale 12.1-inch operation panel is equipped with various convenient icons and multilingual displays. A touch panel allows more intuitive operation.


Greatly increased memory capacity!

• Maximum Design Storage - 200 designs
• Maximum Stitch Count - 2 million

Safety Beam Sensor

A beam surrounds the work area while machine is in motion. If the plane is broken the machine will immediately stop.


Slim Cylinder

Slim Cylinder makes it possible to embroider on smaller products such as socks, gloves, and pockets.


Cap Driver

The cap driver incorporates a lower shaft and a third locking pin to stabilize the cap during embroidery to enhance quality, and run at higher speeds.


Thread Locking

The Thread Locking System secures the thread after a trim to help prevent the thread pulling out during needle startup.


Trimmed Needle Plate

A shorter distance between the needle hole and the edge of the trimmed needle plate offers an increased embroidery area on many items.


Thread Break Detection

A sensor monitors the thread movement while stitching. If the tension on the upper or lower thread is broken the machine stops stitching relaying an error on the controller.


LED Needle Base Light

The LED Needle Base Light illuminates the needle area and provides the operator a better view of the item being embroidered.


Steeper Head Tilt

The Steeper Tilt Head angles the bill of a cap more which allows stitching closer to the bill and increases the embroidery area.
INCLUDES 2 OF EACH PER HEAD:

The most advanced and reliable high-tech function and mechanisms

User-friendly quiet operation

• The latest noise reduction developments help create a quiet and pleasant working environment for operations


Memory

• The standard memory is 2,000,000 stitches and able to store a max of 200 designs


Condition memory

• Stitch conditions can be memorized together with embroidery data. The saved stitch conditions are applicable to job repeat or other machines.


Scale up/down. Rotate

• You can scale your designs down to 50% or up to 200% in increments of 1%, and rotate in 1- degree increments.


Automatic repeat

• A design can be automatically repeated up to 99 times both vertically and horizontally.


Design editing

• Modify, insert or delete your embroidery design data stitch by stitch.


Satin stitch reduction and expansion

• Increase or decrease actual stitch length according to the stitch length in a design.


Clean-up function

• A very helpful function to automatically remove small stitches to prevent thread breakage as well as to improve production efficiency.

Frame back / forward

• Frame back/forward is available in units of 1, 2 or 3 stitches, stop codes or designated stitch count.


Productivity

• Production efficiency has been improved by decreasing downtime caused by color changes, thread trimming etc.


Origin return

• The frame can be either manually or automatically returned to the design starting point (while the machine is stopped), even if the end point is different from the starting point.


Trace function

• Confirm whether or not a design will fit in a frame before embroidery.


Automatic offset / manual offset

• Facilitate applique fabric placement and frame changing.


Automatic upper/under thread trimming device ATH

• Automatically operates to trim threads by commands in a design data.


Power failure control measures

• You can continue to operate the machine even after an unexpected power failure during embroidery without being annoyed by a production error due to design displacement.






Additional Features

Auto Color Change

• Auto needle bar change on color changes within the designs.


Large Stitch Memory

• Depending on the model purchased X21 controller on TMB and MX models come with 2,000,000 stitch capacity and TMEX touch panel controller has capacity of 4,000,000.


Auto Thread Break Sensor

• Machine will automatically sense any change in tension with upper thread break or snag.

Auto Thread Trim

• Trimmer within needle plate is auto within all trims within a design

Barcode Ready

• All machine equipped with multiple USB ports for easy use of any USB style barcode reader

Color LCD Panel

• Color LCD panel allows for easy navigation

Cubical Frame Design

• A large 14.2" x 19.7" sewing field lets Tajima Embroidery Machines take on the big jobs! Full backs and fronts are no problem.

High Speed Rotary Hook

• The rotary hook ensures stable stitching at high production speeds; thereby minimizing thread breaks while balanced thread tension.

LAN Enabled

• Tajima Embroidery Machines are LAN enabled to connect with your network. Easily transmit designs and improve workflow.

Large Sewing Field

• A large 14.2" x 19.7" sewing field lets Tajima Embroidery Machines take on the big jobs. Full backs and fronts are no problem.

Quick Frame Changeover

• Easily switch from caps to tubular to flats to cylinder sewing.

Safety Beam Sensor

• An invisible beam of light surrounds the work area of the machine while sewing. Breaking the beam stops the machine

Picker-Free Embroidery

• Picker has been eliminated to cut down on bird's nests ensuring deduction in product loss

USB Enabled

• Data can be transferred to the controller via USB Flash Drive or LAN machine connection.

DCP

• The digitally controlled presserfoot eliminates stitch skipping, trimming errors, and uneven embroidery.
| | |
| --- | --- |
| Model | TMEZ |
| Needles | 15 |
| Factory Options | Position Marker, LED Lamp |
| Options | Stand, Stand Tray, Border Frame, Cap Frame 2 |
| Speed | Max. 1,100rpm |
| Electricity | Single phase 100V, 200V, 50Hz/60Hz |
| Power Consumption | 160W |
| No. of Heads | Head Interval | Cap | Tubular | Dimension | Weight | Min. Door Clearance |
| --- | --- | --- | --- | --- | --- | --- |
| 2 | 500 mm | 3" x 14.2" | 17.3" x 16.5" | 73"W x 50" D x 67"H | 810 lbs | 32" W |
| 4 | 360 mm / 500mm | 3" x 14.2" | 17.3" x 11" / 17.3" x 16.5" | 110"W x 50"D x 67"H / 128"W x 50"D x 67"H | 1230 lbs / 1600 lbs | 32" W |
| 6 | 360 mm / 500mm | 3" x 14.2" | 17.3" x 11" / 17.3" x 16.5" | 129"W x 50"D x 67"H / 167"W x 50"D x 67"H | 1330 lbs / 1700 lbs | 32" W |
| 8 | 360mm / 500mm | 3" x 14.2" | 17.3" x 11" / 17.3" x 16.5" | 157"W x 54"D x 69"H / 207"W x 54"D x 69"H | 1446 lbs / 1899 lbs | 32" W |
Is the Tajima TMEZ-KC (Multi Head Embroidery Machine) right for you?
Enter your info below and a RB Digital sales representative will contact you about adding the Tajima TMEZ-KC (Multi Head Embroidery Machine) to your apparel decorating business.