Regular price
$1,490.00 CAD
Regular price
Sale price
$1,490.00 CAD
Unit price
per
Sale
Sold out
Ideal for producers of vinyl cut signs and graphics. For those with cutters as an essential part of their workflow, Vinyl Pro is an essential time and money saver.
An all-inclusive vinyl cut signage design and production software product but also supports the design of full color graphics that may be sourced out for wide format digitally printed signs. All the great tools included within SignLab Vinyl plus a complete feature set of advanced, yet easy to use color design tools required for large format printing or print and cut signs and graphics.
VinylPro features all the vector tools required for design of vinyl cut signage plus complete bitmap tools for design of graphics for wide format digitally printed or print and cut graphics that can be out-sourced for production.
Work seamlessly with Corel, Illustrator and PhotoShop using "send to SignLab" plug-ins that are automatically installed in these software packages. An error-free and quick way to work with multiple files that may be included within your final design.
SignLab Vinyl Pro includes features developed over 20 years of close work with all major vinyl cutter manufacturers. The vinyl cutting feature set included within this package is a must have for beginner and professional signmakers alike.
Read more
Read less
Please note that this is a digital download product, and no physical item will be shipped to you. Upon completing your purchase, you will receive an email containing instructions on how to access and download the software. Please ensure that the email address provided during the checkout process is accurate and accessible to receive the download instructions.
View full details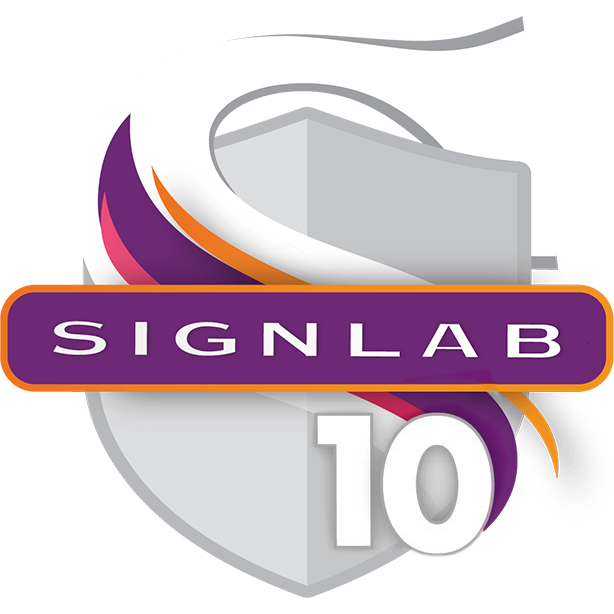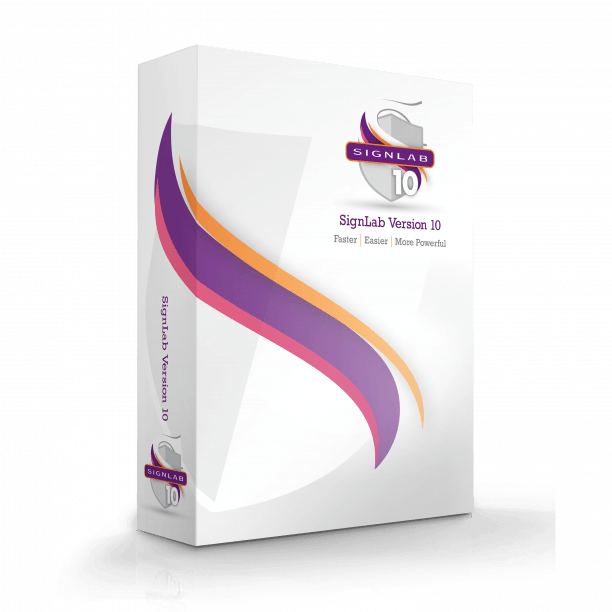 LEADING EDGE FEATURES & TECHNOLOGY
Superior Performance and Connectivity

Unlimited Layout/Design Options

Production Power Tools

Professional Typography and Text

Printing Tools - Exceptional, High-Fidelity Color Accuracy

Cutting Tools - Cutter Workflow Support
Superior Performance and Connectivity
Windows™ 10, 8 and 7 support
Full 64/32 bit o/s compatibility
Unicode™ standard language compliance
Clipart manager, instant online and local access to 1,000,000's of royalty free images
Easily customizable work space options
CMYK and RGB file support
Corel DRAW! direct workflow plug-ins (incl. Corel X8 and X7)
Adobe latest design application direct workflow plug-ins
Native .pdf workflow support- import, link, publish (w/color matching), edit
Import virtually any design files (incl. designs from competitive sign design products and .SVG/.STL
Direct "X" enhanced drawing
Optimized memory handling-acclerated bitmap redraws on large files
Save program preset preferences on re-installs
Multiple instances simultaneously
OLE support
Search and replace (text/objects)
Wide variety of adjustable "select object" tools
Job notes/statistics saved
Email job proofs
Customizable job proof tools
Unlimited Layout/Design Options
Layer manager
InstantReply - copy special effects to text or objects from others instantly
Special effects filters- dozens available incl. soft shadow, distressed, bevel, outer glow, radiance silver and many more
3rd-party special effects filters included
Production plug-ins, Knock me black/color out, transparency, opacity, posterize
Texture and pattern bitmap fills
SuperSize image- interpolate images, increase sharpness, incl. Noise Shampoo filter
Cut Effects- decorative cut, gaps and overlaps supported
Inline/outline
Shadows- perspective, cast, drop, block
Metamporhosis and other distortion effects
Chisel effect controls
Multi-color gradient fills-process colors
Save custom fills to palette
Weld objects and text (5 options)
Automatic trapping with bleed and choke options
Clipping/masking
Dimensioning, measuring, add labels
Decorative borders collection
Automatic striping
Bezier node editing
30+ barcode designs supported
Simplified page management
Enhanced rulers and dials design tools
Snap to object
Fit object to path
External/internal Contour Fill support
Create and save custom sign blank/substrate shape
Advanced transparency support-vector, bitmap, gradient-filled objects
Transparency pattern options
Easy-to-use transparency adjustments ("make lighter", "make darker")
Extended alpha-channel controls
Parametric shapes drawing (stars, circles, rectangles, fan, arrows, spiral)
Auto convert object to shape
Unique, advanced stroke/line tools incl. constant stretch, convert to cut outlines
Scale, size, fit, align, flip
Grids and guides incl. vertical, horizontal, angled, lock
GIMP 2.8 raster image editing software included
Rhinestone garment decorating tool set also included
Production Power Tools
Standard nesting
Badges- variable data and serialization incl. move column data, badge multiple jobs on single page, plate object support
EasyDock of multiple manufacturer and custom color palettes
Arrays
Digitizing
Vectorization Wizard (including centerline tracing)
Registration marks- supporting most popular printer and cutter combinations
Object total area calculator
Professional Typography and Text
WYSIWYG text layout (horizontal, vertical, left to right, right to left)
1100+ fonts plus TrueType, Corel, PostScript, URW and AutoCAD font support
Complete type/font controls incl. size (manual and point), case, bold, italic and much more
Text kerning, interactive and automated
Automated text compression
Mutiple text selection
Menu-board creator, automated menu-type layouts (alignment, rows, columns, spacing)
Font Detective: simple identification of fonts
Font Creator: create unique, custom fonts
Extended text character viewer
Copy/apply text attributes
Optimized font management (organize fonts in groups)
Enhanced spell checking
"Fit text to"- arc, path, frame, arc angle rotation
Bi-directional font preview (Hebrew/Arabic)
Embed fonts in saved files
Cutting Tools - Cutter Workflow Support
All the latest vinyl cutters supported; Graphtec, Roland, Mutoh, Summa, Ioline, Saga and many more (200+)
Complete print and cut support (separate devices, hybrid devices)
Automated ContourCut application w/auto-bleed
Automated HalfCut application (decals, stickers)
Cut preview
PowerWeed- pre-set weed cut lines for complex weeding work
Interactive tiling/paneling
Cut time estimator
Cut sorting
Tool tracker
Multi-cut passes for thick materials
Auto schedule and archive cut files
Cut contour lines in linked EPS and PDF files