Cutting applications and fabrics thanks to a laser mounted next to the embroidery heads, is now possible thanks to the Single Head Laser (SHL) with continuous movement of the frame.
A perfect combination, born from the cooperation between Seit and Tajima to meet the growing needs of embroiderers who customize unique pieces or small series, without renouncing to offer élite quality.
Higher Profit in Less Time
Eliminate ordering of Pre-Cut Letter and Appliqués
Decrease Processing Time
Simple to Setup
Creatively Driven
Laser Tube
CO2 sealed
Max cutting speed
Up to 80mm/sec 9settable at the embroidery side)
Laser Power
10W
Useful working area
Same as the embroidery machine
Cooling
By air on the laser tube
Compatible models
Tajima TFMX, TWMX with continuous frame movement
Tajima TEJT. TEMX with step frame movement
Required Voltage
230V 50/60 Hz (available also as 110V 50/60 Hz)
Read more
Read less
View full details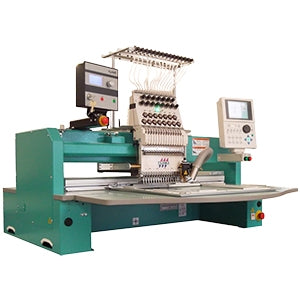 Is the Seit – Single Head Textile Lasers right for you?
Enter your info below and a RB Digital sales representative will contact you about adding the Seit – Single Head Textile Lasers to your apparel decorating business.