M&R's Qwik-Klean™ automates the highly labor-intensive, tedious process of cleaning squeegee holders and floodbars. Qwik-Klean achieves outstanding results through the combination of a high-volume spray and a rotating squeegee/floodbar holder assembly all within a single chamber. The addition of a final freshwater rinse eliminates the need for post-cycle washing and the possibility of squeegee degradation from chemical exposure.
Qwik-Klean helps shops maintain a clean, safer operating environment by eliminating direct employee exposure to the cleaning process, while also reducing environmental impact and lowering operating costs by recirculating the cleaning chemicals.
The easy-to-use touchscreen control panel gives operators complete control over settings and allows easy recall of saved cleaning recipes. The machine's compact footprint makes it easy to place in almost any shop. Stainless-steel construction minimizes maintenance and ensures long a production lifespan.
The low operational costs, versatile design features, and competitive pricing make Qwik-Klean the ideal addition to every screenprinting operation.
Read more
Read less
Product Resources
View full details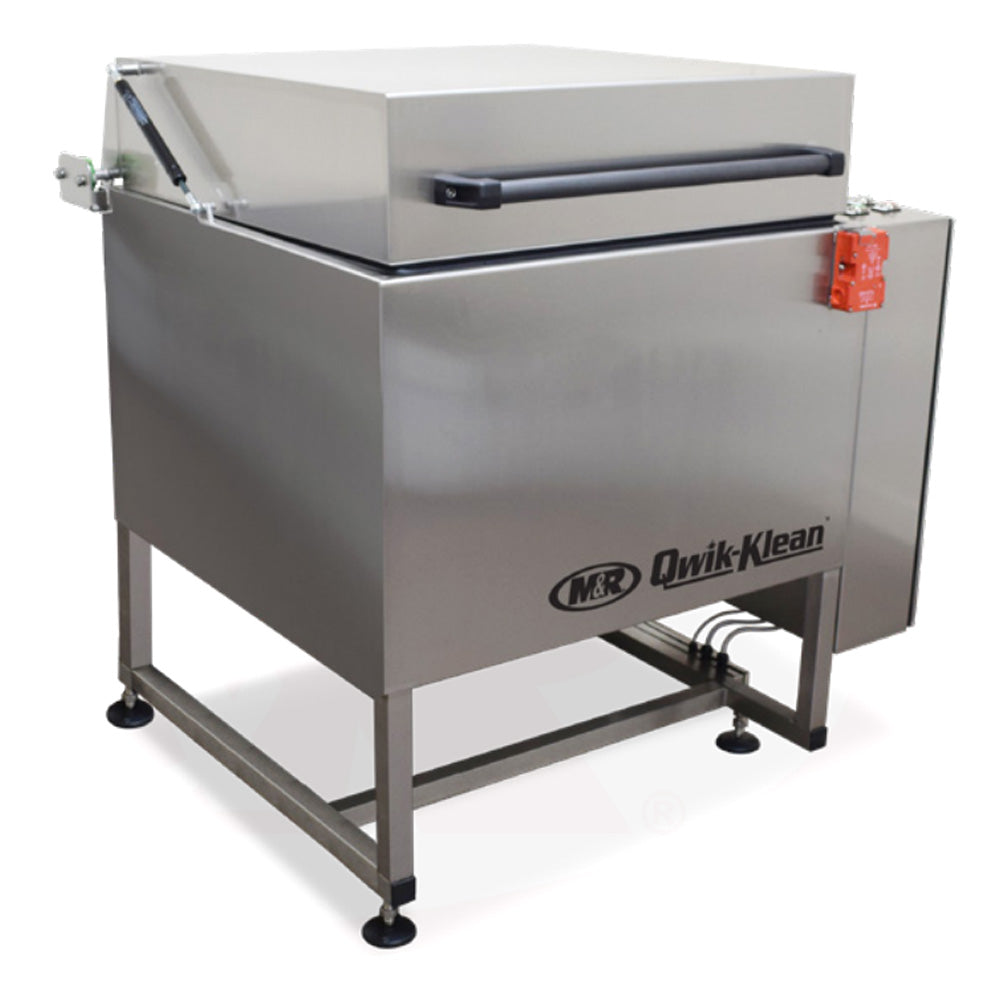 Features And Highlights
Can clean up to 24 squeegee/floodbars at a time
Automates and simplifies one of the most time consuming, least-desirable aspects of the screen-printing process
Recirculates screen-cleaning chemicals to reduce environmental impact, eliminate employee chemical contact and lower operational costs
Stainless-steel construction ensures long life and minimal maintenance
Final water rinse ensures longer squeegee life and minimalizes squeegee rubber chemical contact
SPECIFICATIONS
Qwik-Klean
Air @ 80 PSI
Water @ 10 PSI
Electrical Requirements
Dimensions (L x W x H) (with lid closed)
Dimensions (L x W x H) (with lid open)
Tank Capacity
Shipping Weight
5 cfm
2 cfm
208/230 V, 3 ph, 37 A, 60 Hz
57.5" x 45.1" x 54"
57.5" x 45.1" x 69.6"
34 gal
1004 lb
If incoming voltage differs from the voltage(s) listed in the brochure, calculate amperage accordingly.
Is the QWIK-KLEAN Automatic Squeegee/Floodbar Cleaning System right for you?
Enter your info below and a RB Digital sales representative will contact you about adding the QWIK-KLEAN Automatic Squeegee/Floodbar Cleaning System to your apparel decorating business.