Regular price
$175.00 CAD
Regular price
Sale price
$175.00 CAD
Unit price
per
Sale
Sold out
Matsui Pro Series 350H excels is premium hand feel, extreme washability, and excellent colour vibrancy. Hybrid blend ink for spot colour and some halftone work.
Pro 350H White is a high Stretch White ink, print finish and hand feel improve when using low mesh and more layers. Designed to maintain sharp, crisp print edges.
Read more
Read less
View full details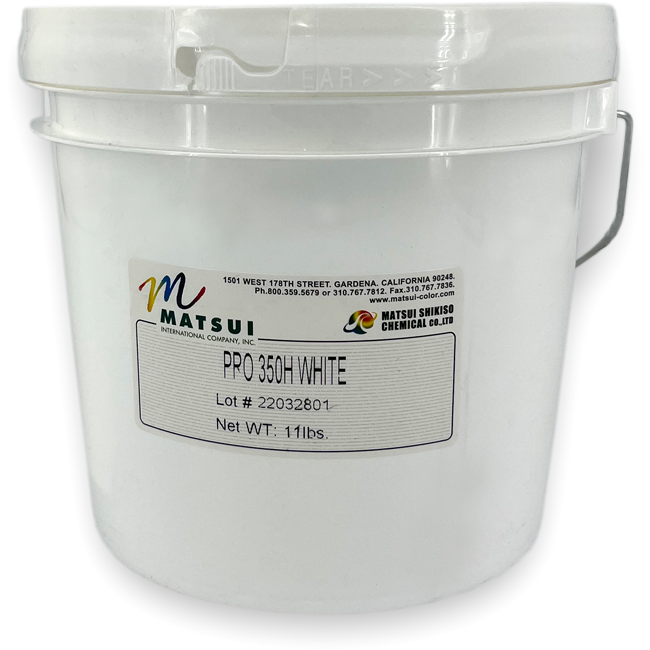 Hybrid Blend Waterbased Inks

PVC and VOC Free

Ready to Print - Fixer built in standard

Ideal for all types of fabrics, use Matsui Kombat blocker to stop dye migration on problematic fabrics

Superior wash and color fastness

Designed for spot color printing

Halftones possible, recommend adding Matsui 301 series for increased open time
Application:
Use thin-thread mesh for best coverage and maintain detail
Wet on Wet Printing on spot color and halftones
Maintain 120F to 130F pallet temperature
Curetime 290F for 1:00, increased wash performance at 290F for 1:45
Matsui Kombat blocker to stop dye migration on problematic fabrics
Special Recommendations:
Fabrics: Cotton, Polyester*, Spandex*, Lycra, Nylon**
Mesh: Type: Thin Thread Count: 122-160, 230***
Squeegee: 65 Shore, Sharp Edge, 7-15 degree angle
Stencil: Low Mesh: 2/2 round edge, High Mesh: 1/1 round edge, Offcontact: 5 mm
Flash: Medium Heat, Medium Time
Cure: 260F for 1:45 (Confirm with Internal Testing), 290F for 1:00, 290F for 1:45 (Improved Wash Fastness)
Heatpress: Inline Heat Press: 200F 5 secs, Inline Iron: 200F slow movment, Do not need pre-flash
Pigment: Up to 10% pigment load, 20% pigment possible, use a clear coat to improve crocking
Additives: 3-5% Retarder MG, 1-2% RV additive
Clean Up: Water and Mild Detergent
Shake ink gently or stir before use to avoid ink separation
Store by closing the container
Do not inhale or ingest
Avoid flame, sparks, static electricity, and other ignition sources
Dispose in a safe manner in accordance with local/national regulations
View MSDS (Material Safety Data Sheet) for additional information
Click here to check out Matsui's Colour Mixing System for the best in ink matching technology at your fingertips! The easiest most reliable way to achieve Pantone® PMS and custom colors consistently & help your business grow!
All you need to do is create an account and you're all set. Please note, once you create an account, you will not receive an email confirmation and can log in immediately. Watch this short intro video below for an in-depth look at how to use the system.