The phenomenal Passport™ is M&R's patented automatic textile unloader for automatic screen printing presses. Automatic takeoff systems for graphics have long been a staple of the industry, but the search for a successful automatic takeoff system for T-shirts and other textile substrates remained elusive—until M&R took on the challenge. Passport is the first automatic unloader to remove textile substrates quickly, carefully, and consistently. In addition to revolutionizing the takeoff process, Passport dramatically lowers labor costs by reducing the number of people needed to operate a screen printing press.
Passport minimizes design distortion by gripping the T-shirt, towel, or other textile substrate with four patented grippers on retracting arms (U.S. Patent No. 6,105,494) and lifting it straight up off the pallet. Then Passport deposits the substrate on the belt of the conveyor dryer. Not only does Passport minimize stretching, Passport doesn't tire or lose concentration. Available in inline and side-takeoff versions, Passport works with all M&R automatic screen printing presses and with most gas and electric conveyor dryers. Passport supports pallet and platen sizes between 25 x 25 cm (10" x 10") and 61 x 76 cm (24" x 30"). Standard screen printing pallets can easily be adapted for Passport use by attaching (glue or screw) front and rear brackets. Passports also feature servo drives and solid-state control panels with digital display. And Passports are fast, achieving cycle rates up to 100 dozen per hour.
Passport is compliant with specifications established by the European Committee for Standardization® (CE), and Passport's Industrial Control Panel (ICP) is UL listed (built to specifications established by Underwriters Laboratories®). It's backed by a two-year limited warranty and M&R's unparalleled 24-hour access to service, support, and premium parts. Passport is engineered for dependable performance and low maintenance in demanding, high-production environments. And it can be easily integrated with other M&R and Amscomatic equipment to create a highly automated screen printing and packaging system.
Read more
Read less
Product Resources
View full details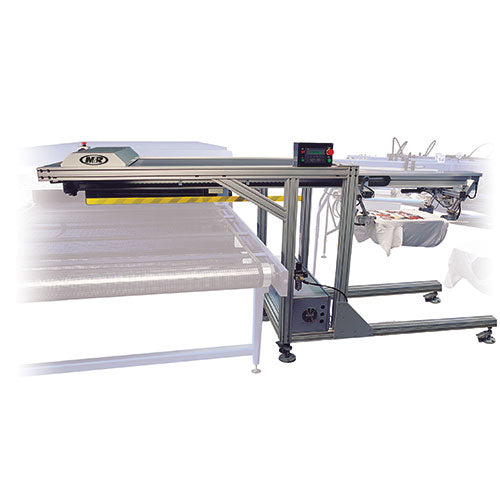 Features And Highlights
World's first automatic unloader for textiles
Dramatically reduces labor costs in the operation of automatic screen printing presses
Increases consistency and productivity in the unloading of T-shirts, towels, and other textile substrates
Air @ 6,9 bar (100 psi)
85 l/min (3 cfm)
Electrical Requirements
208/230 V, 1 ph, 13/12 A, 50/60 Hz, 1.1 kW
208/230 V, 3 ph, 8/7 A, 50/60 Hz, 1.1 kW
380/415 V, 3 ph, 4 A, 50/60 Hz, 1.1 kW
Maximum Pallet Size
61 x 76 cm (24" x 30")
Minimum Pallet Size
25 x 25 cm (10" x 10")
Overall Size (L x W x H)
320 x 97 x 152 cm (126" x 38" x 60")
Shipping Weight
635 kg (1400 lb)
Is the PASSPORT Automatic T-Shirt Unloader right for you?
Enter your info below and a RB Digital sales representative will contact you about adding the PASSPORT Automatic T-Shirt Unloader to your apparel decorating business.