A safe and stable machine packed with Mimaki's technology
Introducing the long-awaited solution for those seeking a dependable DTF printer system - the remarkable Mimaki TxF150-75 DTF Printer! Your wait is over as this groundbreaking printer revolutionizes the industry. Experience unparalleled efficiency and cost savings with its innovative ink technology flowing seamlessly through the damper. Unlike its competitors, the Mimaki TxF150-75 boasts superior nozzle detection and ink consistency, establishing its dominance in the DTF market. 
TxF150-75 is a Mimaki's first DTF (direct-to-film) printer with a maximum printing width of 31.5 inches for producing DTF print transfer sheets. "PHT50" heat transfer pigment ink for DTF, consisting of five colors (CMYK and white), has acquired the ECO PASSPORT certification which is essential for obtaining the international safety standard for textile products "OEKO-TEX®".

The DTF printers have been plagued by ink ejection defects and white ink clogging. To overcome these issues, Mimaki has adopted a degassing ink design that uses aluminum packs as the printer's ink packaging form, as well as a white ink circulation function MCT (Mimaki Circulation Technology)*1. The new printer also features Mimaki's NCU (Nozzle Check Unit)*2 and NRS (Nozzle Recovery System)*3 technologies that support stable operation. They ensure continuous printing without stopping the operation to support customers' productions.
Read more
Read less
View full details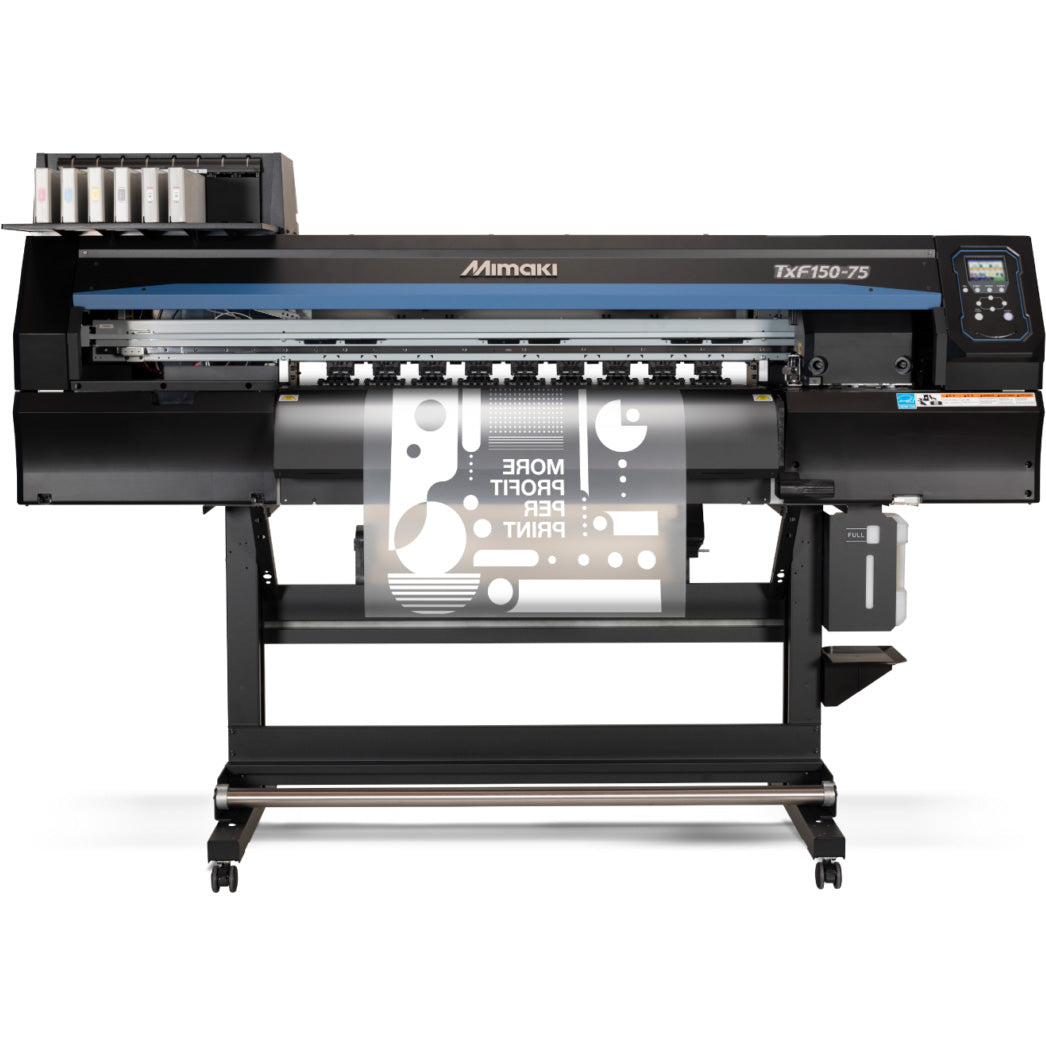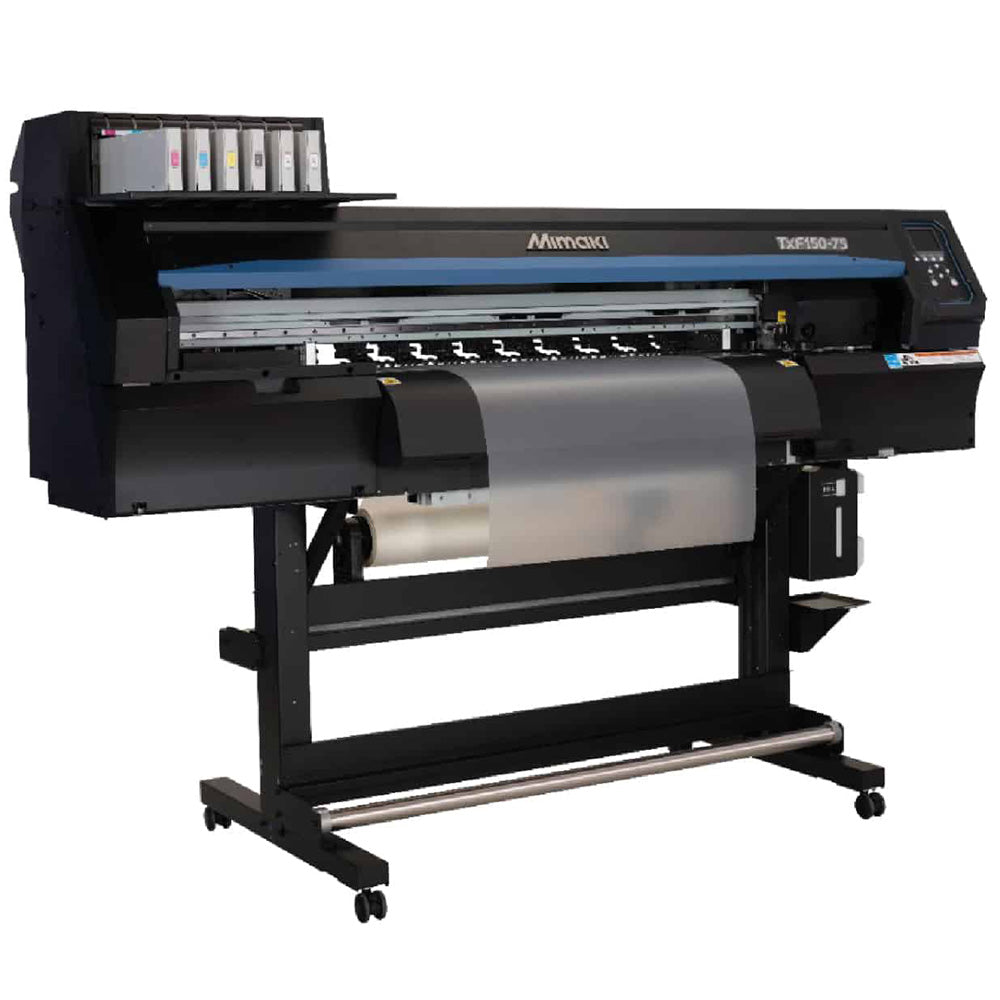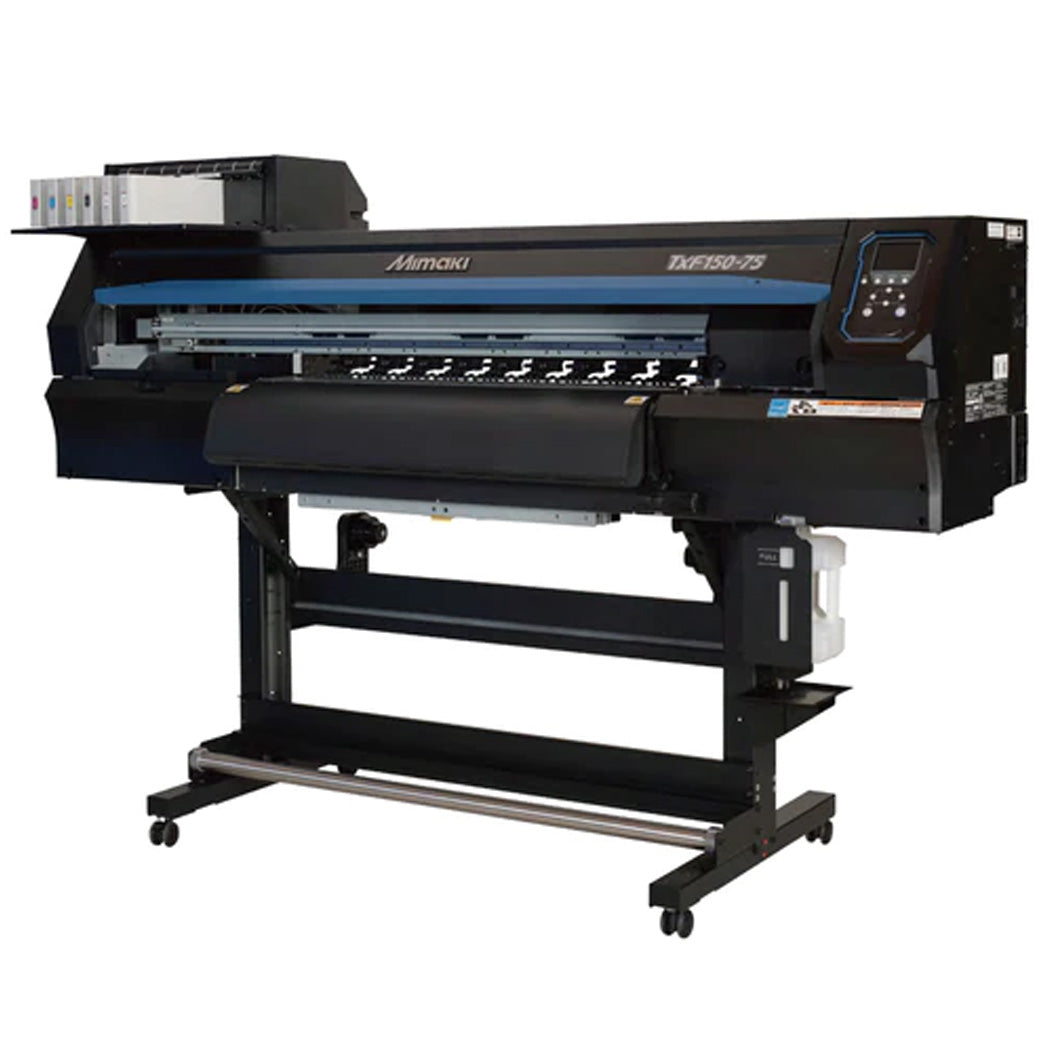 Features And Highlights
Mimaki Circulation Technology: White ink circulation function to reduce clogging and downtime
Nozzle Check Unit: Missing nozzle detection function
Nozzle Recovery System: A function to substitute missing nozzles with other nozzles.
Self-Cleaning
Better ink consistency than other brands and models
31.5" Printing Width
Pro-Model VS. Entry-Model

2 models are available for customers to choose according to the productivity and investment amount. *Print condition:H 280 mm x W 360 mm print graphics are printed on W 800 mm DTF film side by side
Mimaki's Core Technologies for Stable Operation




Mimaki Circulation Technology Version 2 (MCT)

Circulation through out ink route including damper*, supports stable white ink ejection for reducing frequent nozzle cleaning and ink waste.

Nozzle Check Unit (NCU)

A sensor detects nozzle defect and nozzle cleaning performed automatically to reduce the material waste.





Nozzle Recovery System (NRS)

Supports continous production without waiting for service personnel, when nozzle defect is unrecovereble by nozzle cleaning.
Reliable ink system design to reduce clogging and downtime
Better ink consistency than other brands and models
Self-Cleaning
Groundbreaking ink technology circulating through the damper
Nozzle detection
31.5" printing width - the first on the market
Onsite certified Mimaki technician setup and training
One-year complete warranty, including printheads
Max Resolution: 1440 dpi
Simple Operation
Variable Dot
3 Way Heater
Nozzle Drop-out Detection
Nozzle Recovery Function
MCT
Event Notification
TxF150-75
Print head
On-demand piezo head
Printing resolution
720dpi, 1,440dpi
Ink
Type/Color
Heat transfer pigment ink PHT50 (C, M, Y, K, W)
Capacity
600ml ink pack (500ml for white only)
Circulation function
Available only for white ink
Maximum print width
800mm (31.5 in)
Media
Maximum width
810mm (31.9 in)
Thickness
1.0mm or less
Roll weight
45 kg (99.2 lb) or less
Interface
Ethernet 1000 BASE-T / USB2.0 Hi-speed
Power specifications
Main unit: Single-phase AC100-120 / 200-240V±10%, 50/60Hz±1Hz x 1
Power consumption
100V system: 0.9kW or less, 200V system: 1.2kW or less
Certifications
VCCI class A, FCC class A, ETL IEC 62368-1, CE Marking (EMC, Low voltage, Machinery directive, and RoHS), CB, REACH, Energy Star, RCM, KC
Dimensions (W×D×H)
1,965 x 700 x 1,392 mm (77.4 x 27.6 x 54.8 in)
Weight
126kg (277.8 lb)
Is the Mimaki TxF150-75 DTF Printer (Entry-Model) right for you?
Enter your info below and a RB Digital sales representative will contact you about adding the Mimaki TxF150-75 DTF Printer (Entry-Model) to your apparel decorating business.