The Mimaki CG-FXII Series of roll-based cutters are available in three widths. These models feature high speed, continuous crop mark detection for precise contour cutting. A proprietary half cut function leaves a small bit of backing sheet at connecting points for easier handling. An over cut function makes a cross cut at the start and end positions, resulting in sharp edges with no undercut fragments. These models are ideal for producing decals, stickers, cut-vinyl signs and more.

Three sizes available:


CG-75FXII: 40 inches (101 cm)
CG-130FXII: 62 inches (158 cm)

CG-160FXII: 74 inches (188 cm)

High speed, continuous crop mark detection
Half cut function
Over cut function
Selectable clamp pressure
Three selectable job speeds
Media load from front or back
FineCut8 software included
Read more
Read less
View full details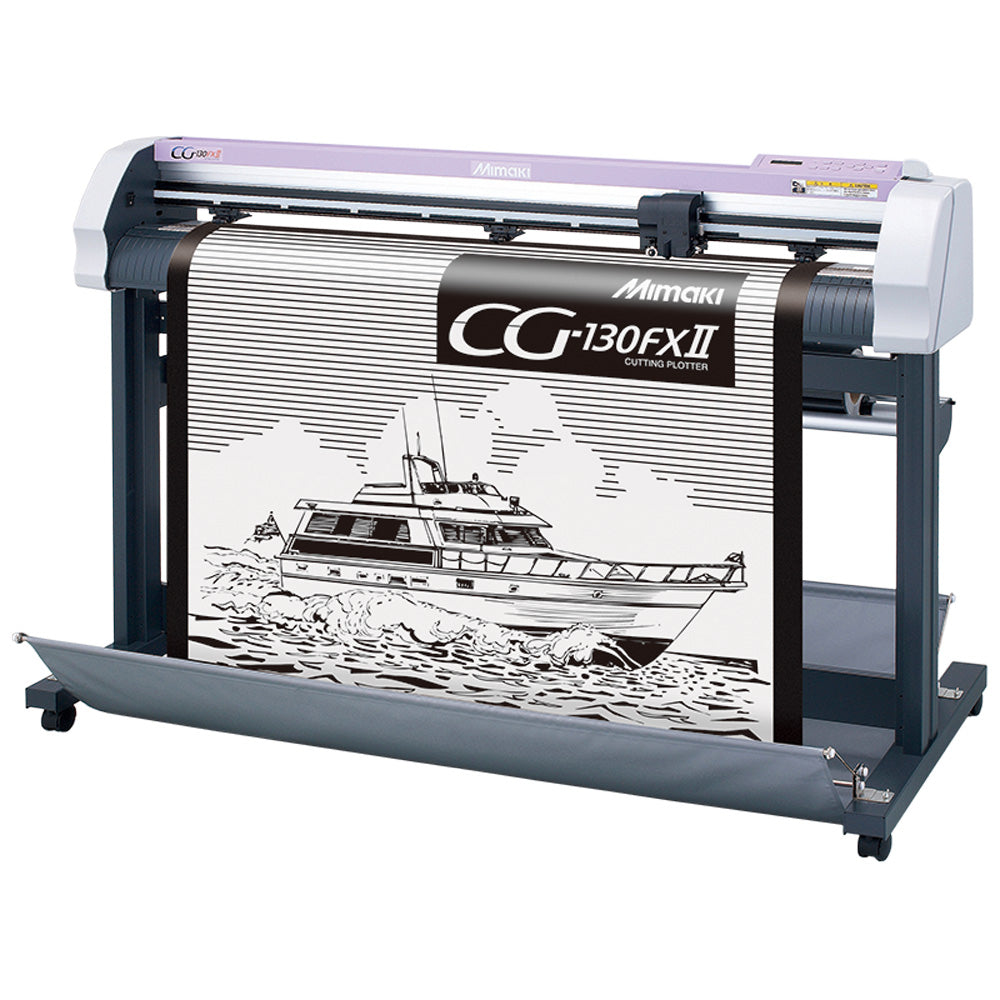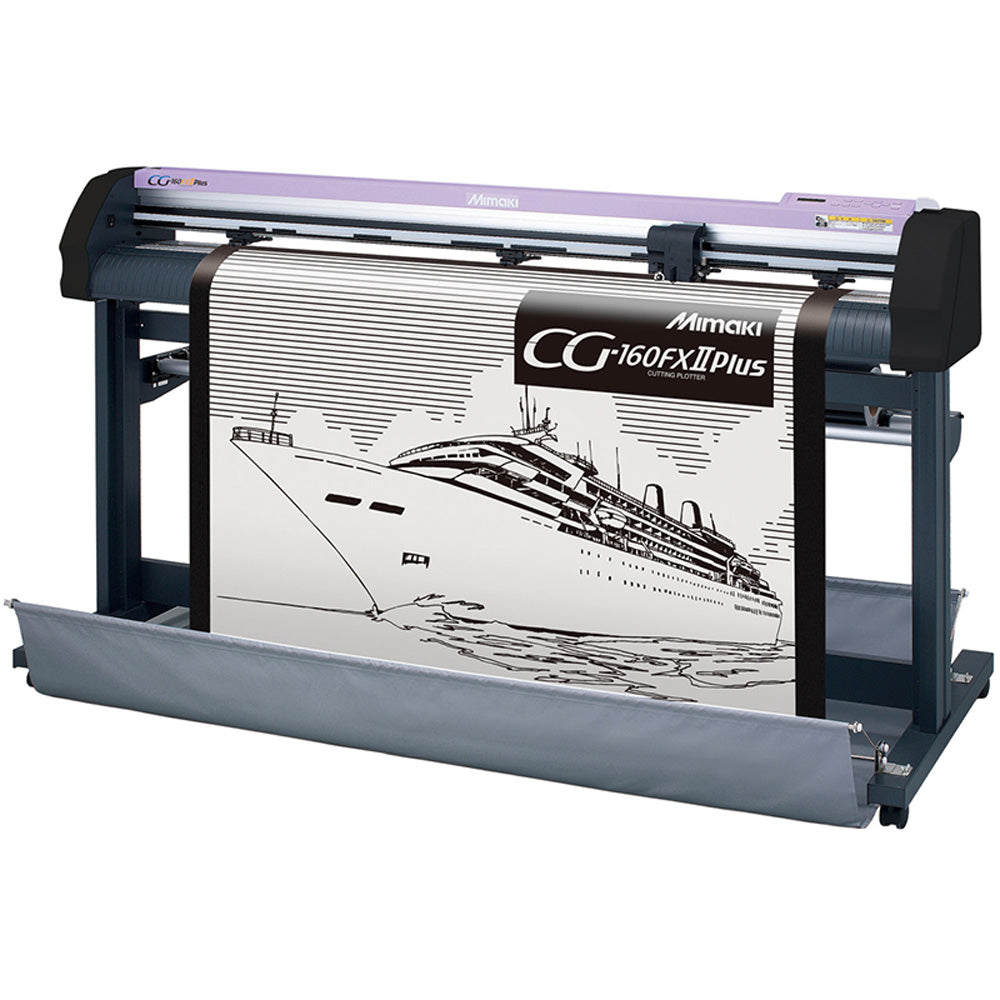 Features And Highlights
Continuous crop mark detection
Long accurate tracking
FineCut – Plug-in for print & cut solutions
High speed continuous crop mark detection
An optical sensor enables automatic consecutive detection of crop marks throughout the nested image which the Inkjet printer prints, in combination with the automatic adjustment function to obtain precise contour cutting.
By continuously detecting a maximum of 4 points, nested images in both X axis and Y axis can be cut aligning each image automatically.
Light pointer easily adjust the head position to crop marks
Accurate media feeding ensures precise contour cutting over longer-length prints.
Necessary media length is fed in advance to reduce tension during cutting. This functions increases the precision of long-length print media cutting.
"HALF CUT" mechanism, a proprietary technology of Mimaki
With the original half cut function, the backing sheet can be cut leaving a little bit of half cut connecting points,which can be easily detached when necessary.Various media without backing sheets can be also cut.
Engineered Head Unit
Media is automatically cut by a standard sheet cutter.
Selectable clamp pressure with high and low setting ensures accurate cutting of various media.
Selectable three jog speeds ensure proper and easy positioning of the head to the point.
Over-cut function makes the starting and ending points overlapped, which eliminates uncut portion of the media.
Media can be loaded from back or front.
Up to 6 roll media can be set at a time(1 set standard).
Plug-in cutting software for CorelDRAW and Illustrator is included.
A special adaptor to use commercially available pens and USB interface are included.
CG-75FXII
CG-130FXII
CG-160FXII
Acceptable sheet width
90mm~1,040mm (3.54"~40.9")
90mm~1,580mm (3.54"~62.0")
90mm~1,880mm (3.54"~74")
Acceptable roll sheet
Outer less than φ200mm , Roll weight less than 18kg
Outer less than φ200mm Roll weight less than 22kg
Effective cutting area*1
760mm x 51m(29.9" x 167')
1,300mm x 51m(51.2" x 167')
1,600mm×51m(62.9"×167')
Maximum auto cutting width*2
870mm (34.2")
1,425mm (56.1")
1,720mm (67.7")
Maximum cutting speed
100cm/s (39.3"/s)
Maximum moving speed
140cm/s (55"/s)
Adjustable speed range*3
1-10cm/s : 1cm step adjustment
(0.39"-3.94"/s : 0.39" step adjustment)
10-50cm/s : 5cm step adjustment
(3.94"-19.68"/s : 2" step adjustment)
50-100cm/s : 10cm step adjustment
(19.68"-39.37" : 3.94" step adjustment)
Mechanical resolution
5µm(0.0002")
Command resolution
25µm or 10µm(0.001" or 0.0004")-MGL-IIc
Repeatability
±0.2mm (Excluding shrinkage / expansion caused by the film temperature)
Max. pressure
400g
Range of down pressure
Cutter
10~20g(2g step), 20~100g(5g step), 100~400g(10g step)
Pouncing
10~20g(2g step), 20~100g(5g step), 100~400g(10g step)
Pen
10~20g(2g step), 20~100g(5g step), 100~150g(10g step)
Acceptable sheet*4
Vinyl up to 0.25mm(0.01")thickness,
Fluorescent type vinyl Reflective sheet
Acceptable sheet for pouncing*5
Paper thickness: 0.06~0.13mm (0.0024"~0.005")
Applicable tools*6
Cutter, Water based ball-point pen,
Oil based ball-point pen, Pouncing tool
Type of command
MGL-IIc
Interface
RS-232C,USB
Receiver buffer size
30MB Standard (20MB when in sorting)
Operational
Temperature
5~35°C (41~95°F)
Humidity
35~75%(Rh) Non-condensation
Power requirement
AC100V~240V
Power consumption
145VA or less
Dimensions (WxDxH)
1,285mm(50.5")x
700mm(27.5")x
1,217mm(47.9")
1,825mm(71.8")x
700mm(27.5")x
1,217mm(47.9")
2,125mm(83.6")x
700mm(27.5")x
1,217mm(47.9")
Weight (with stands)
50kg(110 lbs.)
60kg(132 lbs.)
69kg(152 lbs.)
*1: Maximum sheet feeding length differs depending on the software.
*2:Sheet width to cut off from the roll.
*3:Restricted sheet width.
*4:Provided that the blade specific to fluorescent type vinyl (SPB-0007)and the blade specific to reflective sheet (SPB-0006)are used.
*5:Pouncing tool intended specifically for pouncing shall be used.
*6:The goods on the market are φ8~φ9 Pen. No guaranty with accuracy, and image quality.
Specifications are subject to change without notice.
All trademarks or registered trademarks are the property of the respective owners.
Is the Mimaki CG-FXII Series Cutter right for you?
Enter your info below and a RB Digital sales representative will contact you about adding the Mimaki CG-FXII Series Cutter to your apparel decorating business.