Regular price
$220.00 CAD
Regular price
Sale price
$220.00 CAD
Unit price
per
Sale
Sold out
The Mighty Hoop is a strong magnetic hoop, which can be used on almost any embroidery machine. There is no need to adjust the outer ring of the hoop, because it holds the garment with magnetic force, and automatically adjusts for different thicknesses. Mighty Hoops reduce hoop burn, and stress on arms and wrists. You can hoop the impossible with Mighty Hoops, even Carhartt!

The HoopMaster is the best-selling commercial embroidery hooping system in the world. Its patented features make it the easiest, fastest, and most consistent hooping system available in the industry. We recommend using the HoopMaster with Mighty Hoops for the ultimate hooping experience!
Please note that we have a limited number of hoops in stock. It may take 2 - 3 weeks for your order to arrive. Brackets may look different than the pictures.
Hoops are compatible with Tajima embroidery machines EXCLUDING the Tajima SAI. 
* For Mighty Hoop compatibility with other machine brands, available sizes and fixtures, please call or email to inquiry 
Read more
Read less
This product is typically ready for pickup or shipping within one week, subject to lead times provided by manufacturers.
The Mighty Hoop – 4.25" x 13" (Horizontal) Magnetic Embroidery Frame (For Tajima) is a special order product that is sourced specifically for you after you place your order. Please note that it may take up to one week for the product to be ready for pickup or shipment, depending on the lead times provided by the manufacturer. After your purchase, we will contact you to confirm the estimated lead times.
Product Resources
View full details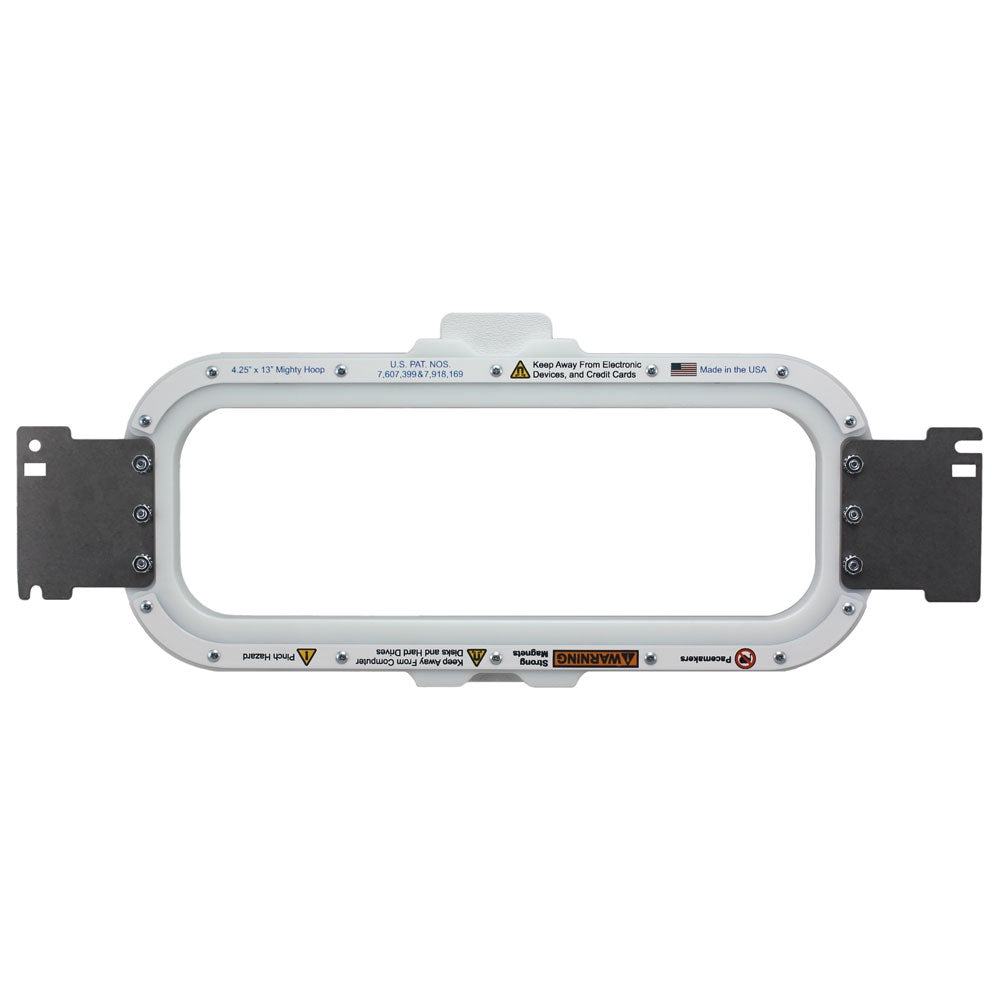 Often Purchased With
POPULAR

Regular price

$795.00 CAD

Regular price

Sale price

$795.00 CAD

Unit price

per
| Size | Model | Inside Dimension | Actual Sewing Area |
| --- | --- | --- | --- |
| 4" x 6" | MH46 | 4 x 6" (102mm x 152mm) | 3.23 x 5.2" (82mm x 132mm) |
| 4.25" x 4.25" | MH425 | 4 1/16" (103mm) | 3 1/4" (83mm) |
| 4.25" x 13" (Horizontal) | MH42513H | 4.25" x 13" (108mm x 330mm) | 3.5" x 12.25" (88mm x 310mm) |
| 4.25" x 13" (Sleeve) | MH-TJ360-42513 | 4.25" x 13" (108mm x 330mm) | 3.5" x 12.25" (88mm x 310mm) |
| 4.25" x 16" (Sleeve) | MH42516 | 4 1/4" x 16" (108 x 406mm) | 3 1/2 x 15 1/4" (88 x 391mm) |
| 4.375" (Round) | MH4375R | 4 3/8" (111mm) | 3.6" (91mm) |
| 5" x 10.25" | MH51025 | 5" x 10.25" (127mm x 263mm) | 4.21" x 9.57" (107mm x 243mm) |
| 5.5" x 5.5" | MH55 | 5 5/16" (135mm) | 4 5/16" to 4 13/16" (110 to 122mm) |
| 6.25" x 8.25" | MH625825 | 6 1/4 x 8 1/4" (158 x 209mm) | 5 1/2" to 7 1/2" (138 x 189mm) |
| 6.5" x 6.5" | MH65 | 6 1/2" (165mm) | 5.712" (145mm) |
| 7.25" x 7.25" | MH725 | 7 1/4" (184mm) | 6.5" (165mm) |
| 8" x 9" | MH89 | 8 7/16" x 9 3/16" (213 x 233mm) | 7.62 x 8.4" (193 to 213mm) |
| 8" x 13" | MH813 | 7 5/8" x 12 3/4" (194 x 325mm) | 6.87 x 12.02" (174 x 305mm) |
| 9" x 3" | MH93 | 9 x 3" (225mm x 76mm) | 8.07" x 2.2" (205mm x 56mm) |
| 9" x 5" | MH95 | 8 7/8" x 5 1/4" (225 x 133mm) | 8 1/16" x 4.5" (205 x 113mm) |
| 9" x 6" | MH96 | 9 x 6" (225mm x 152mm) | 8.07" x 5.2" (205mm x 132mm) |
| 10" x 10" | MH1010 | 9 5/8" (245mm) | 8 7/8" (225mm) |
| 10" x 19" | MH1019 | 10 x 19" (254mm x 483mm) | 9.21" x 18.23" (234mm x 463mm) |
| 11" x 13" | MH1113 | 10 3/4 x 12 3/4" (274 x 325mm) | 10 x 12 (254 x 305mm) |
| 12" x 3.25" | MH-TJ360-12325 | 12" x 3 1/4 (304 x 82.55mm) | 11.22" x 2.48" (285 x 63mm) |
| 12" x 15.75" | MH1215 | 12" x 15 3/4 (304 x 400mm) | 11 3/4" x 15" (298 x 380mm) |
| 13" x 16" | MH1316 | 6 1/2" (325 x 401mm) | 12.02 x 15.02" (305 x 381mm) |
| 14" x 16" | MH1416 | 14.8 x 15.81" (376 x 402mm) | 14.02" x 15.04" (356 x 382mm) |
| 17" x 16" | MH1716 | 17 1/4" x 16 5/8" (438 x 421mm) | 16 1/2" x 15 7/8" (418 x 401mm) |