The Helix® ONE benchtop cylindrical printer joins the Helix® line of direct-to-object printers. This machine utilizes patented Helix® technology in a more compact benchtop design. The Helix® ONE is a dedicated cylinder printing machine designed to decorate straight walled and tapered cylinders including plastic bottles, stainless tumblers, candle holders and more. This cylindrical printer targets a wide variety of customers; from those who are just starting out to those who require a machine per sku.
Although a benchtop machine in nature, the components of the Helix® ONE are far superior to competitive products in the market. This machine features a motor-driven operation with a fully automatic programmable tooling fixture & height adjust and high-precision, robust linear drive. The Helix® ONE also boasts 8W segmented software-controlled UV curing unit for optimal curing. The machine's build includes an automatic wiping, white and black sub-tank stirring system, and the ability to add in jettable primer. The Helix® ONE's print heads utilize state-of-the-art MEMs head technology with integrated temperature control system and high-definition drop size (3-picoliter).
Paired with the LV Series UV printer ink, the Helix® ONE is able to reproduce vibrant and intricate images onto a variety of substrates and vessel types in full CMYK and Varnish.
Read more
Read less
Product Resources
View full details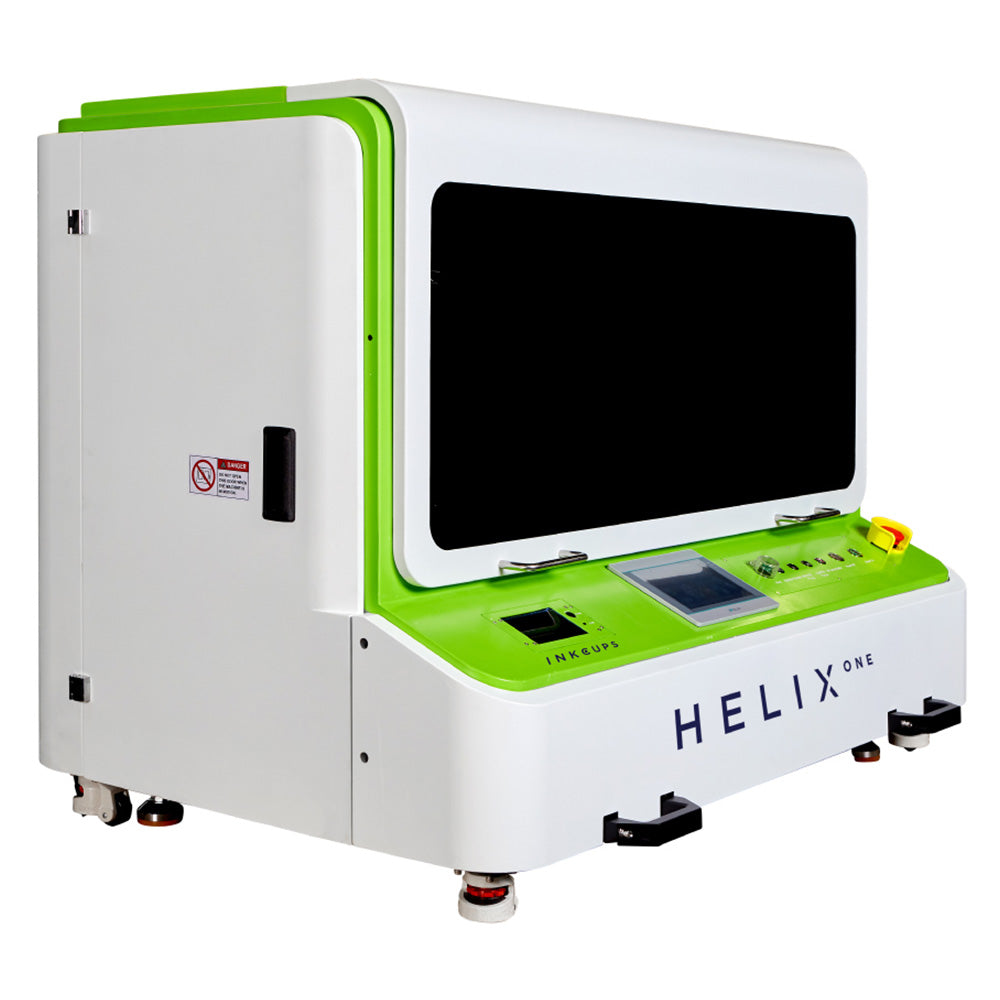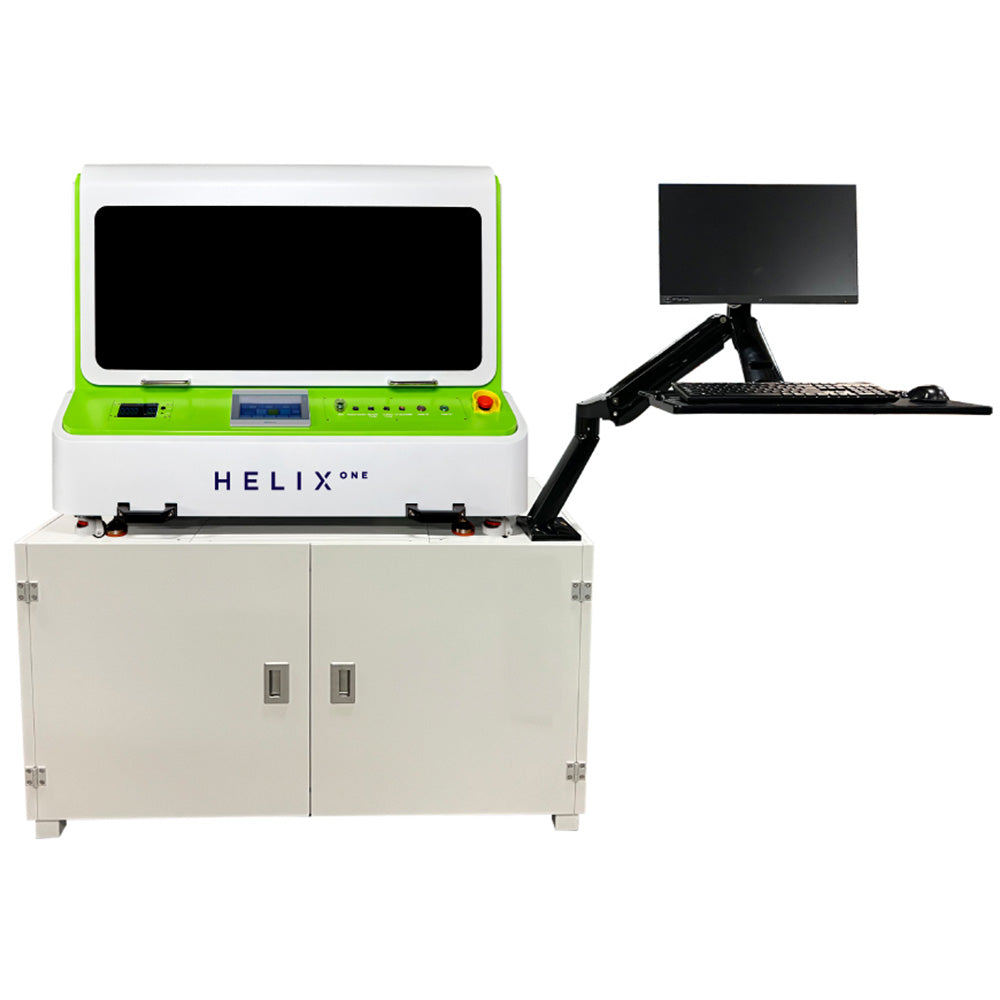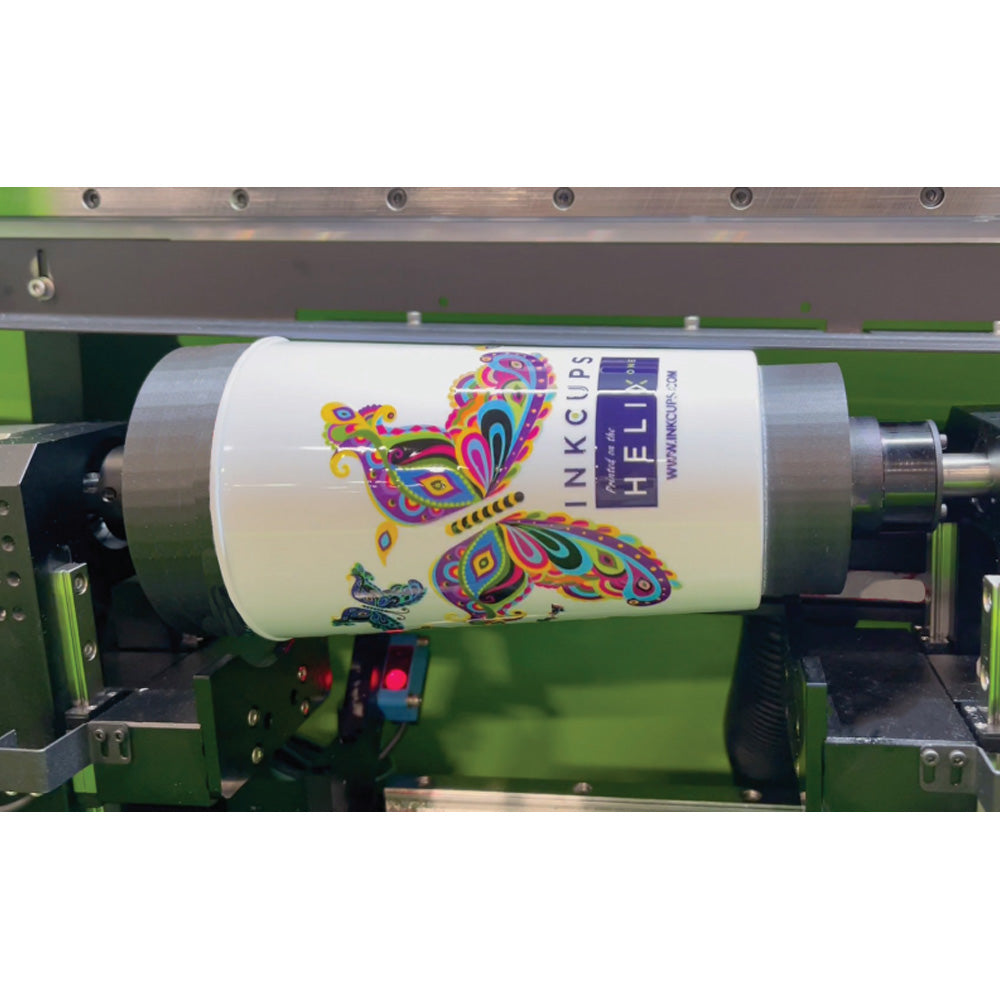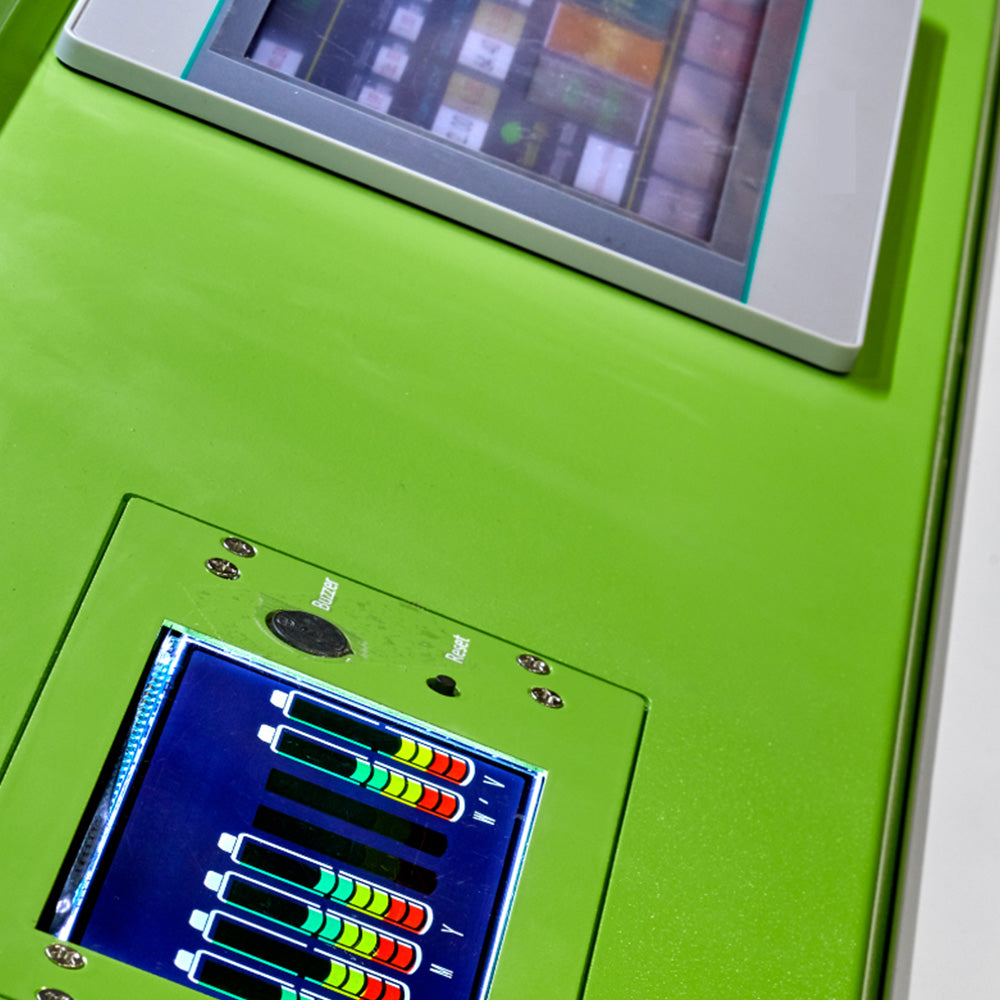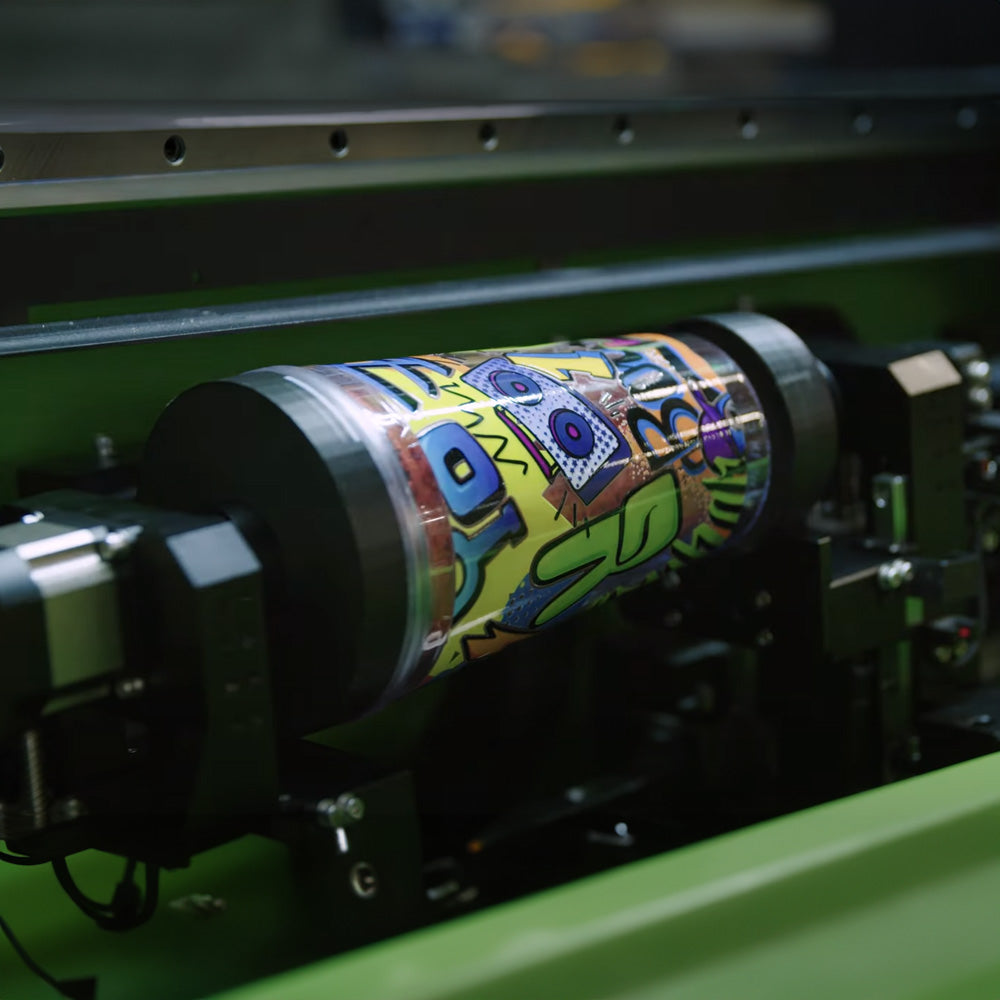 KEY FEATURES




PRINT W+CMYK+V IN TANDEM


The Helix® ONE benchtop cylindrical printer has the unique ability to print white, CMYK and varnish in tandem due to the segmented UV lamp.

FULLY AUTOMATIC PROGRAMMABLE TOOLING FIXTURE AND HEIGHT ADJUST


The Helix® ONE's fully automatic programmable tooling fixture with height adjust precisely holds and positions vessels during UV printing. This fixture can be programmed to automatically adjust its position and orientation based on the specific requirements of the vessel being printed.

The height adjust function of the tooling fixture allows for the precise positioning of the product, which is critical for achieving accurate and consistent results. This feature can be particularly useful in situations where multiple workpieces need to be printed using a single fixture, as it allows for quick and efficient changes between workpieces.



AUTOMATIC WIPING STATION


A wiping station for inkjet printers is an essential component that helps to maintain quality and longevity. By doing so, it ensures that the Helix® ONE Benchtop Cylindrical Printer is always ready to produce high-quality prints. The wiping station is typically located on the printer's carriage assembly and contains a rubber wiper blade that cleans the printhead as it moves back and forth across the substrate.

8W SEGMENTED SOFTWARE-CONTROLLED UV CURING UNIT


The Helix® ONE Benchtop Cylindrical Printer features a unique segmented design that allows for independent control of each segment, enabling users to target specific areas of a workpiece and achieve precise curing results. Equipped with state-of-the-art software control, this UV curing unit allows for customizable curing parameters, making it ideal for use in a wide range of applications. The Helix® ONE is also equipped with a high-powered 8W UV lamp, providing fast and reliable curing performance.



POWDER COATED DRINKWARE


The Helix® ONE's LV Series is perfected suited to print on powdered coated drinkware.




STAINLESS STEEL TUMBLERS


The Helix® ONE offers great adhesion and abrasion resistance to stainless steel tumblers, wine tumblers, and more!




PLASTIC CUPS


Print full CMYKW + V on a variety of plastic cups including acrylic.



INDUSTRIAL BASE AND STORAGE CABINET


The optional industrial base and storage cabinet was specifically developed for the Helix® ONE benchtop cylindrical printer. Featuring a solid base with storage, this cabinet carries the full weight of the machine and offers ink and supplies storage underneath.



MIST EXTRACTION SYSTEM


The optional mist extraction system for the Helix® ONE helps to prevent build up of ink and other debris. The mist extraction unit consists of a fan and filter system that draws in the air and captures the ink mist and other particles before they can escape into the environment. This helps to maintain a cleaner work environment by reducing the amount of airborne ink particles that can settle on surfaces.
Chiller: 12" (W) x 17" (D) x 8.5" (H) - Powered by the Helix ONE, requires distilled water (1 gallons available for installation).
PC, Monitor, Mouse, Keyboard with Onyx RIP software
RJ45 Cat-6 ethernet cable connect PC to Helix ONE
| | |
| --- | --- |
| PRODUCT TYPE | Cylinder or Taper (360 degree print) |
| PART DIAMETER | 45 mm - 120 mm (1.77" - 4.7") |
| PART LENGTH | 51 mm - 330 mm (2.0" - 13.0") |
| LAMP STYLE | 8W LED |
| INK TYPE | UV LED |
| INK CONFIGURATION | CMYKWV |
| MAX. IMAGE LENGTH | 8.6" (220 mm) |
| MAXIMUM RESOLUTION | 600 x 1200 dpi |
| MAXIMUM TAPER ANGLE | 7° |
| DIMENSIONS (LXWXH) | 1227 mm x 825 mm x 950 mm (48.3" x 32.5" x 37.4") |
| WEIGHT | 650 lbs. (295 kg) |
Electrical Specifications
Helix ONE

AC Voltage
220 VAC
Electrical Receptacle
NEMA 5-15R
Frequency Range
50/60 Hz
Current Max
15A
Cable Length
10-foot (3 m)
* Optional transformer available to change the supply voltage from 110 VAC to 220 VAC.
Mist Extraction Unit (Optional)

AC Voltage
115-230 VAC
Electrical Receptacle*
NEMA 5-15
Frequency Range
50/60 Hz Auto Switching
Power Max
135w
Full load Current 115V / 230V
1.2A / 0.9A
Cable Length
5-foot (1.5 m)
Transformer (Optional) - The step-up voltage converter raises the 110 VAC from the wall to the 220 VAC required by the Helix ONE

Current convert range
100-125 VAC <-> 220-240
Input Electrical Receptacle
Accepts N. American 3-Prong and Euro Plugs
Output Electrical Receptacle
50/60 Hz Auto Switching
Power Max
NEMA 5-15
Cable Length
5-foot (1.5 m)
Is the Helix One (Benchtop Cylindrical Printer) right for you?
Enter your info below and a RB Digital sales representative will contact you about adding the Helix One (Benchtop Cylindrical Printer) to your apparel decorating business.