LaserPro Spirit is designed with the operator in mind and carrying various innovative features, reliable mechanics, and excellent output quality. LaserPro Spirit is the missing piece in your operations puzzle, putting you on track for continued growth in your engraving and cutting business! Reliable and Made in USA CO2 Lasers The CO2 laser tube is the most critical component of a laser engraver. GCC LaserPro offers the best and most reliable CO2 laser available in the industry. Synrad CO2 lasers are built in the United States with the most advanced laser technology. The laser product is proven to be the most reliable brand with tens of thousands of installations all over the world. RoHS Compliance All GCC products are RoHS-compliant (the European Parliament Directive 2002/ 95/ EC, Restriction of Hazardous Substances) and lead-free (pb free). GCC will continue to concern and provide environmentally friendly products to protect the earth for our further generation. SmartLID An innovative lid that opens from both ends allowing easier access and daily maintenance from the rear. Drag-N-Play An exceptionally innovative and user-friendly feature based on servomotor technology simplifies operations and shortens setup time. Simply hand drag the lens carriage to the desired position to be engraved and press the start button to commence job. SmartACT™ (Patented) Ground-breaking technology that reduces the ramping process, the job running time, which translates into higher productivity. SmartBOX™ (Patented) An innovative technology that integrates the ventilation box with a honeycomb table. The result is not only a precise cut with sharp edges, but also a clean laser table to work on. SmartLIGHT A light module that illuminates the working space and makes every engraving detail easy to see. Pass-through Front/Rear Doors A design with doors on both ends to accommodate extremely long working pieces without the need for a screwdriver. Reliable Motion System Systematic and reliable motion system embedded with strong mechanical framework and accurate servomotor control technology to deliver superb output quality under rapid movement. Emergency Stop Big red button located on the top of the machine allows operators to stop the laser and the motion carriage immediately to provide highly safety operation. Easy-to-use Panel A user-friendly menu-driven interface system simplifies complex tasks. Hot keys design and job status display facilitate your work and make it clear and easy to carry out. SmartPIN™ AutoFocus The plug and play probe design makes focusing a one-touch process and provides the accuracy and precision required for optimum quality in the lasering process.
Read more
Read less
View full details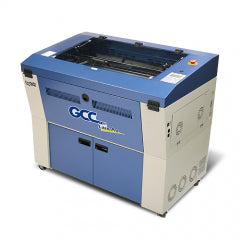 Is the GCC Spirit Laser Engraver right for you?
Enter your info below and a RB Digital sales representative will contact you about adding the GCC Spirit Laser Engraver to your apparel decorating business.