RoHS Compliance
All GCC products are RoHS-compliant (the European Parliament Directive 2002/ 95/ EC, Restriction of Hazardous Substances) and lead-free (pb free). GCC will continue to concern and provide environmentally friendly products to protect the earth for our further.
DuraGuide Motion Design
Systematic and reliable motion system embedded with strong mechanical framework and accurate servomotor control technology to deliver superb output quality under rapid movement.
Closed-loop DC Servo Technology
A Closed-loop DC servo motor can deliver greater continuous shaft power at higher speeds than a stepper of the same frame size. In addition, It can also give far greater accuracy due to the continuous movement, instead of constant stopping and starting. GCC LaserPro high speed closed-loop DC servo motor technology guarantees precise and fast carriage movement with exceptionally accurate outputs.
SmartCENTER™ (Patented)
The super user-friendly SmartCENTER™ function helps end users to easily and automatically locate the center point of objects of any shape vastly eliminating tedious setup time.
Astonish 3D Engraving
GCC LaserPro integrates laser firing control and image processing technology to create a 3D engraving function, the laser system assigns up to different laser powers to 200 levels of grayscale in the image to make the spectular 3D effects with different slopes.
TrueImage™ Engraving Technology (Patented)
Patented TrueImage feature smoothes the image engraving edge automatically by employing a unique laser firing algorithm to present image engraving in its most vivid form.
Rigid and Reliable Construction
Rigid and stable chassis construction ensures consistent output quality under high speed movement.
Programmable Origin Modes
Easy-to-use multiple position modes allow the operators an effortless way to setup a job with Drag-N- Play. Repetitive workflows can be drastically simplified by relocating the origin position to any desired location.
SmartACT™ (Patented)
Ground breaking technology that reduces the ramping process and job running time to boost productivity.
Key Switch & Emergency Stop
Key switch safeguards the machine from unauthorized use. Prominent emergency button located on the top of the machine allows operators to stop the laser and the motion carriage immediately to provide a safe operating environment.
SmartLID™ (Patented)
An innovative lid that opens from both ends allowing easy access for daily maintenance.
SmartLIGHT
Built-in LED light module illuminates the working space and makes every engraving detail easy to see.
SmartPIN™ AutoFocus (Patented)
The plug and play probe design makes focusing a one-touch process and provides the accuracy and precision required for optimum quality in the lasering process.
Intuitive Control Panel Interface
A control panel with coherent hot-key design and graphical icon displays that allows you to change laser parameter settings, set jobs to repeat unlimited times, queue jobs, delete jobs, and more.
Drag-N-Play
An exceptionally innovative and user-friendly feature based on servomotor technology simplifies operations and shortens setup time. Simply hand drag the lens carriage to the desired position to be engraved and press the start button to commence job.
Pass-through Front & Rear Doors (Optional)
Convenient front and rear door open design enables loading of extremely long working pieces with ease and extends business flexibility.
Extra large working Area
Extra large working area extendable to 38" x 24" (960 x 610 mm). The spacious platform allows jobs that require large working space.
Innovative Windows Driver
Directly output from familiar designing software like Illustrator, CorelDraw, AutoCad through GCC LaserPro Windows driver. The innovative driver featuring powerful functions, such as SmartCENTER, Air Assit by Pen, Defous by Pen, Bridge Cutting, Drill, Dithering Patterns and more to reduce set up time and make easy adjustments to achieve marvelous output quality.
QSM
Quality-Speed-Mode technology redefines the correlation between speed and quality allows generation of marvelous engraving quality while racing at high speeds.
Built-In Networking Connection
Network connection enables multiple laser engravers to be operated by one PC and multiple PCs to share a single unit of laser engraver. The Ethernet port has made data transmission easier and faster for GCC LaserPro users using network connection. Free your designers with great flexibility and maximum machine versatility.
Job Preview Function
The GCC LaserPro laser engraver all series printer driver features a job preview function that previews graphics before the official laser printing process. One of the highlights of this feature is that it provides an estimated working time*.
The estimated working time is an easy tool for operators to know in advance as how much time will be needed to finish the job for better job management; it is also convenient for a shop to provide a quotation for its laser services.
Bridge Cutting
Bridge Cutting function diversifies the laser cutting into packaging prototyping and fulfill versatile requirements. Define the cutting gap to create the dashed line effect from user friendly print driver interface.
Spirit GLS

Work Area

34 x 24 in. (860 x 610 mm) Extendable to 38 x 24 in. (960 x 610 mm)

Max. Part Size

(L x W x H)

All doors closed

39 x 25 x 7 in. (990 x 635 x 177 mm)

All doors open

39 x ∞ x 7 in. (990 x ∞ x 177 mm)

Table Size

40.3 x 27.7 in. (1025 x 705 mm)

Dimensions

53.7 x 34.6 x 39.7 in. (1365 x 880 x 1010 mm)

Laser Source

30 to 100W 10.6-μm sealed CO2 Laser / 20W & 60W 9.3-μm sealed CO2 Laser

Cooling

Air-cooled, Operating environment temperature 15°-30°C (60°-86°F)

Drive

Closed-loop DC Servo Control

Maximum Motor Speed

80 IPS

Speed Control

Adjustable from 0.1~100% (Up to 16 color-linked speed settings per job)

Power Control

Adjustable from 0~100% (Up to 16 color-linked power settings per job)

Engraving capability

256-level gray scale image processing capability

Distance Accuracy

0.254 mm or 0.1% of move, whichever is greater

Z-Axis Movement

Automatic

Focus Lens

Standard 2.0", optional 1.5", 2.5", & 4.0" available

Resolution (DPI)

Available 125, 250, 300, 380, 500, 600, 760, 1000, 1500

Interface

10 Base-T Ethernet
USB Type-A 2.0 – For USB storage (Max. 32GB capacity, FAT file system)
USB Type-B 2.0 – For connecting with the computer

Compatible Operating Systems

MS Windows

Display Panel

4-line LCD display showing current file name, total working time, laser power, engraving speed, file(s) loaded into memory buffer, setup and diagnostic menus

Safety

Class I Laser Product Compliant with EN60825
Class II Laser Product Compliant with CDRH
2006/42/EC Machinery Directive Compliance
Class 4 Laser Product Compliant with CDRH with the optional pass-through door module

Facility Requirements

Operation Voltage

Laser below 80Watt, 100-240VAC, 50-60Hz Auto Switching, Max. 15A
Laser 80Watt and above, 200-240VAC, 50-60Hz, Max. 15A

Fume Extraction System

External exhaust system with minimum flow rate 800m3/h (CFM 471 ft3/h) is required,2.3kPA negative pressure (Pure-Air PA-1500FS @ 4" exhaust port)
*Throughput value represents the Max. number of 8 in. x 10 in. 500DPI raster jobs that can be done per hour.
Specifications are subject to change without prior notice.
*The flow rate is determined by a default fume extraction system; the flow rate may vary due to a different fume extraction system.​
Read more
Read less
View full details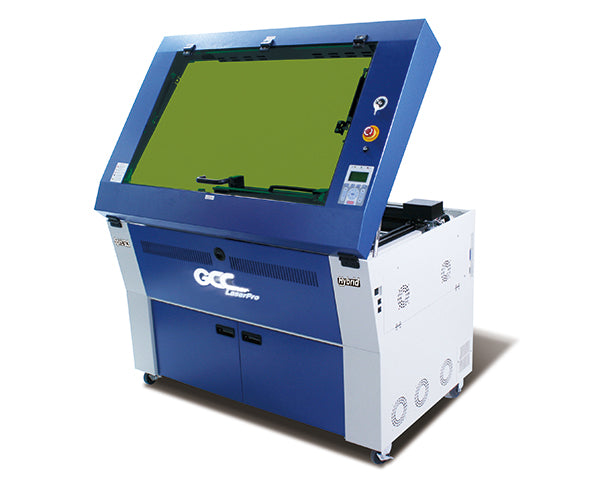 Is the GCC LaserPro - Spirit GLS right for you?
Enter your info below and a RB Digital sales representative will contact you about adding the GCC LaserPro - Spirit GLS to your apparel decorating business.