Regular price
$670.00 CAD
Regular price
Sale price
$670.00 CAD
Unit price
per
Sale
Sold out
Ideal for shops looking to quickly and accurately produce vivid film prints for a wide application of uses, including garments and other items.
RIP software for creating screen printed films on most commonly used inkjet printers. Precision tools that provide ultimate screen quality and film densities while simplifying a complicated and critical process in your screen printing production cycle.
FilmMaker 10 DTP Plus supports virtually all inkjet printers up to and including 24″ in width using custom direct drivers or "direct to Windows™ driver interface". Direct drivers available for most widely used Epson, Canon, and Ricoh printers.
Read more
Read less
Please note that this is a digital download product, and no physical item will be shipped to you. Upon completing your purchase, you will receive an email containing instructions on how to access and download the software. Please ensure that the email address provided during the checkout process is accurate and accessible to receive the download instructions.
View full details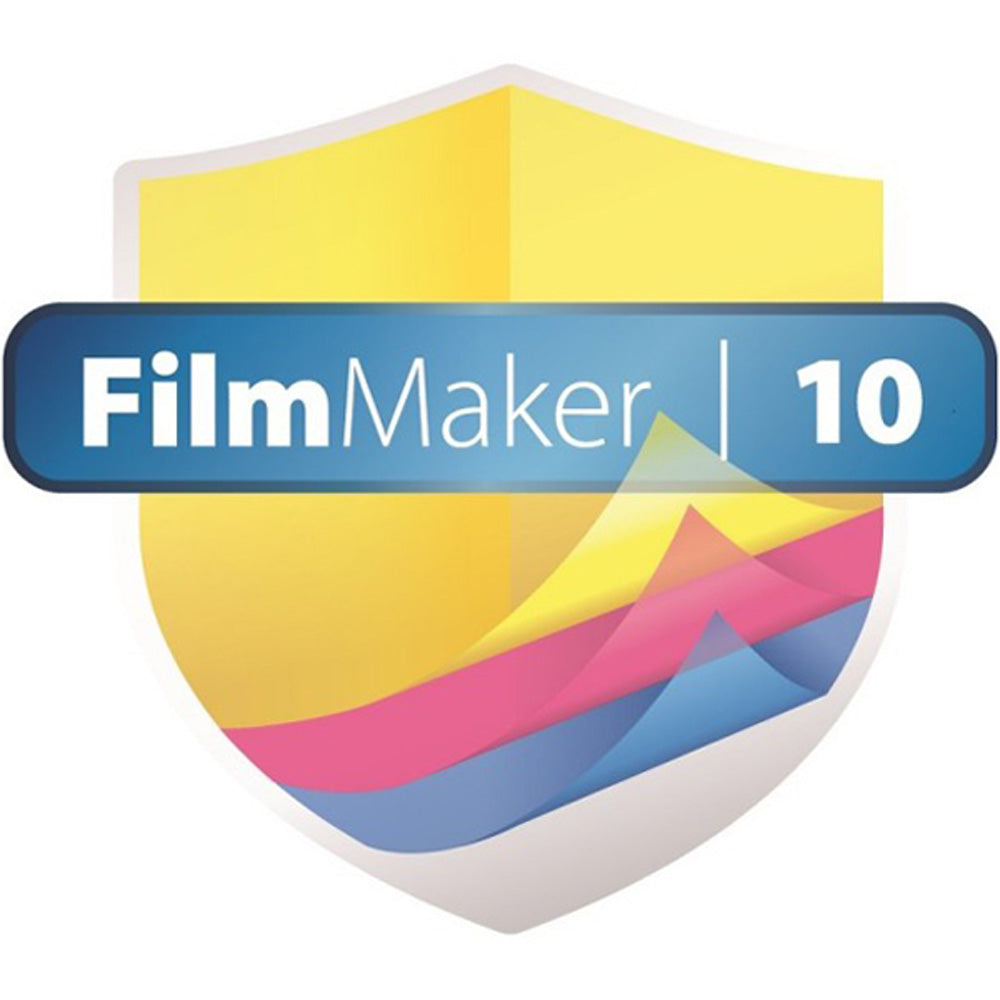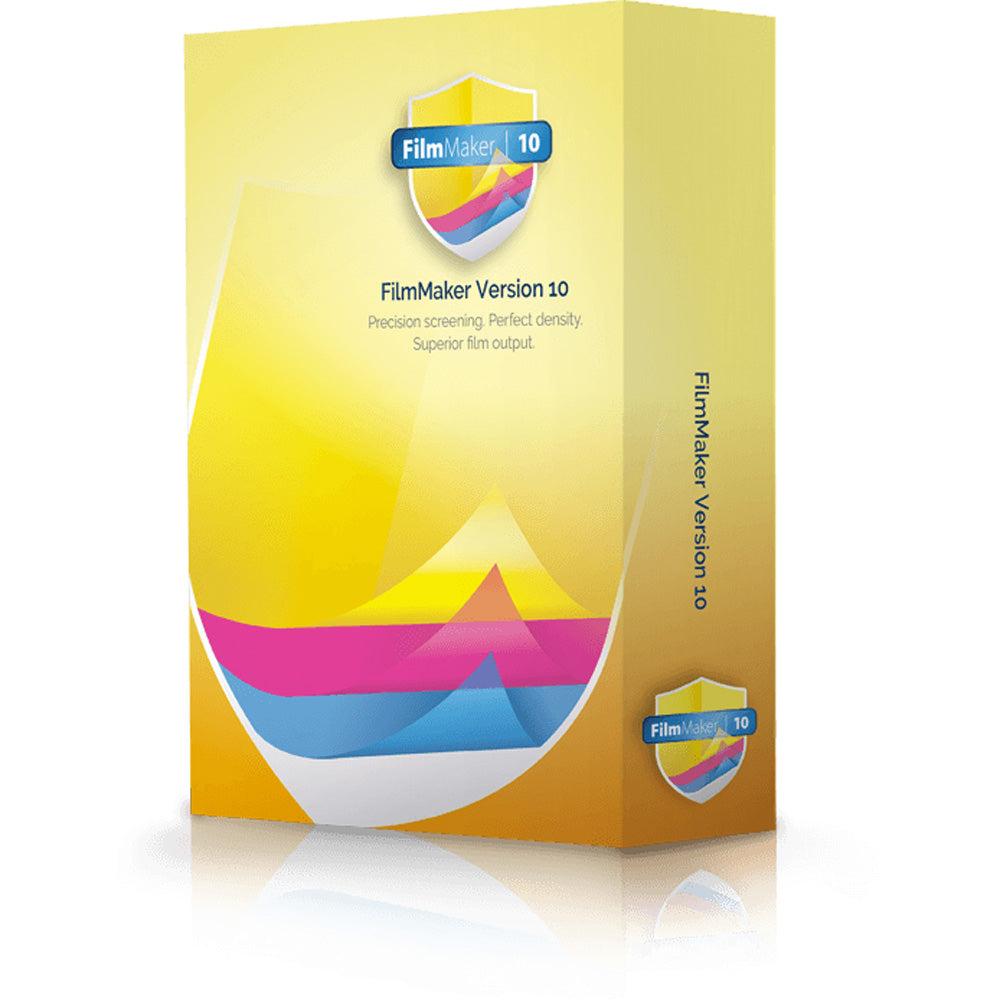 UNMATCHED USABILITY AND FLEXIBILITY
Get Up & Running Instantly With The Setup Wizard

Designed for first time users, the printer/queue setup wizard enables quick and easy printer, ink and media setup using a simple step by step procedure.

Multiple Channel Blank Ink Support

FilmMaker supports a variety of black ink configurations. Use the factory default printer manufacturer ink and black ink channel(s) or utilize any ink channel in your printer with third-party black inks.

Visual Production Manager

Simultaneous, multiple printer, multiple queue job management support. Manage all production aspects in a single, intuitive production management console. VPM includes all required job preparation, scheduling and print setting options required to produce professional ink jet screen print films.

The Largest Selection of Supported Printers

Specially designed custom printer drivers supporting more printer manufacturers and models than any other ink jet screen print film RIP software. From desktop to wide format printers by Epson™, Canon™, Ricoh™, Mutoh™, Roland™ and many more. FilmMaker also includes a "direct to driver" printing option which enables separations to be sent directly to any Windows-based printer driver already installed on the workstation thereby extending support to all printers used on Windows™ operating systems.
OPTIMIZED PRINT PERFORMANCE
High Quality Precision Screening

Filmmaker includes CADlink's unique screening algorithms that provide exceptional quality within finely detailed, mid-tone, gradient, shadow as well as highlight areas. Utilizing true variable dot printing support (multiple sized dots within the same cell), FilmMaker provides unmatched screened output.

Eliminate More Patterns & Achieve the Highest Possible LPI Levels With Jitter

When applied alongside FilmMaker's default screening methods, Jitter™ provides a simple and flexible way in which to modify halftone screens in order to print screens in excess of 150 LPI using only inkjet printer technology.

In-Rip Separations

FilmMaker will automatically detect incoming jobs that have been processed as separations in 3rd party software applications. Alternatively, for files that have not been previously separated, InRIP separations will identify all process as well as spot color planes within the file and automatically create separations.

Perfect Density Every Time Using The Ink Density Test Page Wizard

Achieve optimum density levels with a single test print regardless of which ink/film combination is being used.

Complete Halftone Controls

Apply halftones directly to jobs using frequency, angle and shape settings or enable the "application halftoning" option to utilize halftones already applied to files within third-party applications.
Leading Edge Technology Support & Connectivity
Windows® 10, 8, 7 support
Largest number of printer manufacturers and models supported by custom direct printer drivers (Epson®, Canon™, Roland®, Mimaki® and more)
Direct to driver printing option (using GDI interface) enables printing halftones to any windows based printer
Quick and easy initial set-up using printer/queue set-up wizard
Ink density wizard provides optimal ink volumes for variety of film options as well as third party inks
Lightning fast file throughput using 64 and 32 bit processing
Seamless.pdf file workflow
Virtually unlimited additional file support; png/svg/bmp/gif/jpg/tif/ psd/eps/ai
Drag and drop file support
International language support (Unicode)
Network printing with automated TCPIP port search for simplified network printer setup
Optimized Production Workflow
Print to multiple printers using multiple queues simultaneously
Hot folder support for automated sorting and printing of jobs
Multiple black ink channel support
Create multiple queues based on output type and requirements
Visual, interactive job display and layout
Print Preview in RIP to avoid potential production errors
Page overlay view mode
Job scheduling and prioritization (automatic pre-sets or manual)
Advanced registration mark set-up with "Production Markup" tools
Automated or manual nesting of jobs
Barcode support for automated production
Instant access to job information using "mouse over image"
RIP threading- faster multiple job processing
Job costing
Template support. Set up queues with repeatable, exact positioning of graphics
In-RIP separations automatically detect spot or process colors
Automatic detection of pre-separated files
Print customer proofs with color print option
Multi-copy with spacing controls
Job rotation
Scale image
Mirror/invert image
Cropping tools
Automated/Manual Advanced User Print Production Controls Provide Unmatched Output Quality
Advanced ink density controls
Precision halftone controls eliminate more patterns
Complete control of dot shape, sceen angle, frequency
True variable dot support (multiple size dots per cell) leverages advanced variable dot technology available in certain printers
Unique, industry-leading AM/FM screening algorithm, Jitter™
View raw data
Soft proofing
Film negative support