The robust conveyor design delivers unrivaled levels of material utilization and is often capable of cutting multiple layers without plastic overlay. This computer-controlled cutting system requires minimal operator guidance to automatically feed and spread material to the identified start position.
Exclusive InMotion™ software enables the conveyor to continuously move while the gantry is cutting
Tremendous efficiency for pattern pieces exceeding the table length
Choice of 60 blades, punches and notches
Cutting Surface
The cutting surface is a smooth and durable, high-durometer cast urethane conveyor belt suitable for even sticky or downy materials. It has proven reliable for 2,000+ hours of normal operation, with some customers testifying to more than four years of continuous use.
Material Hold-Down
The C125 is equipped with a self-contained, high-flow vacuum system to ensure optimum material hold-down for cutting. Millions of holes are perforated in a random pattern that provides evenly dispersed vacuum flow, no matter where you are cutting. The piece removal zone is integrated into the design, eliminating the need for extension tabling.
Made to Order
Available in a range of widths, lengths and various tool head accessory options, the C125 will be built to match your application needs, allowing you to customize the tools and capabilities to maximize productivity.
International Compliance Ratings
The operating computer, and control cabinet are housed in independent enclosures that are sealed to offer dust and water-resistant protection in harsh or high particulate environments. Additionally, cabling connectors, servo motors and display components meet recognized international protection ratings requirements.
Industrial Design for Rigorous Use
Advanced electro-pneumatic regulator for precise tool pressure control
Heavy-duty cable connectors
Hi/Low voltage systematic panel layout for easy troubleshooting
Easy access, sealed doors for inspection and maintenance
Heavy-gauge steel construction with scratch-resistant powder coated finish
Read more
Read less
View full details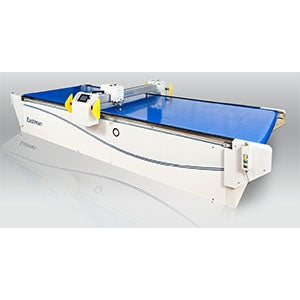 Is the Eastman Eagle C125 Conveyor System right for you?
Enter your info below and a RB Digital sales representative will contact you about adding the Eastman Eagle C125 Conveyor System to your apparel decorating business.