Regular price
$9,995.00 CAD
Regular price
Sale price
$9,995.00 CAD
Unit price
per
Sale
Sold out
A digital decorators desktop dream! This compact, 4-color, 4-station white toner printer is the perfect solution for transferring single or multi-color designs to just about any surface and any material. The versatile Crio® 8432WDT prints CMYK (black) or CMYW (white) in a single pass. Like all Crio printers, the straight paper path technology minimizes paper jam points, allowing you to print on the widest variety of media up to 11.8" wide and up to 52" long. And with toner costs averaging around $0.35 per sheet, you can profit from even the smallest orders!
Read more
Read less
This product is typically ready for pickup or shipping within one week, subject to lead times provided by manufacturers.
The Crio Oki 8432WDT (White Toner Digital Transfer Printer) is a made-to-order product that is only assembled and prepared for shipment after you place your order. Please note that freight costs are not included in the purchase price. After your purchase, we will contact you to confirm shipping details, provide a shipping quote, and give you the lead times from the manufacturer. Upon payment of the shipping invoice, we will arrange delivery as per your preferences. For additional information,
connect with a RB Digital sales specialist today
.
Product Resources
View full details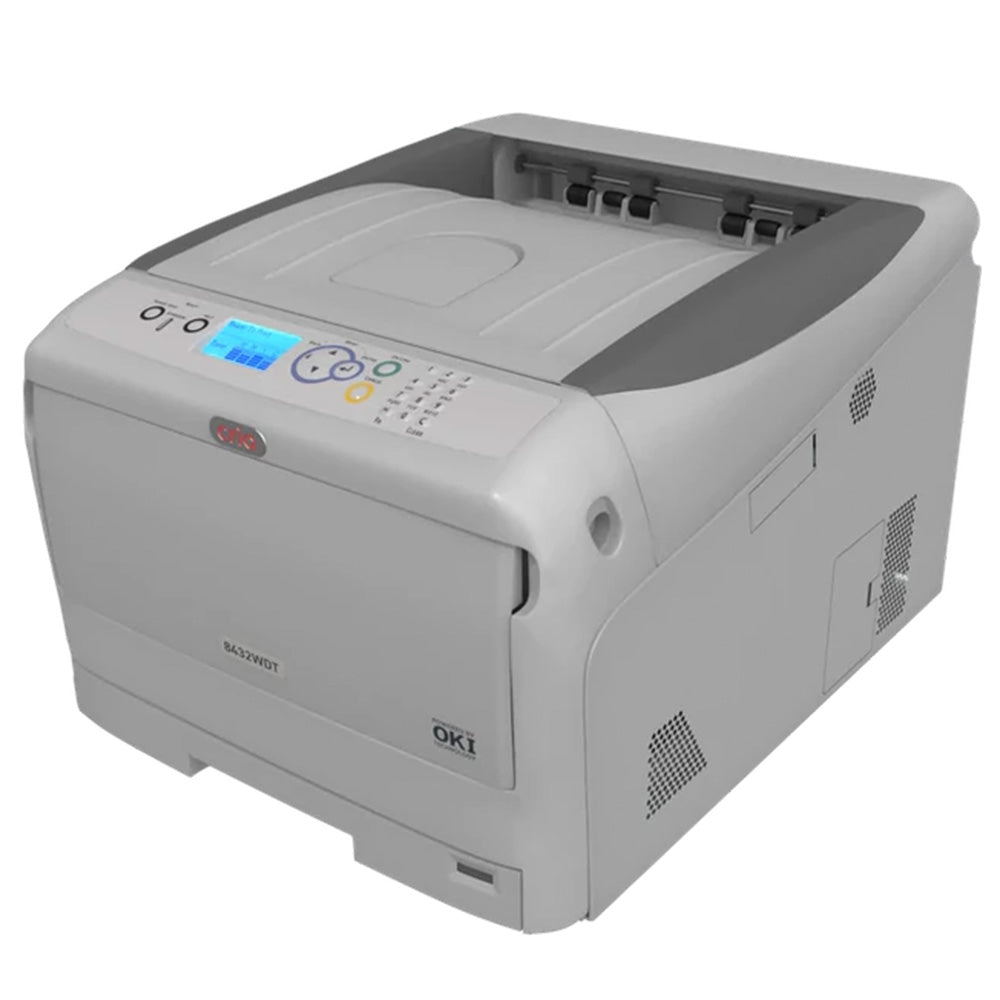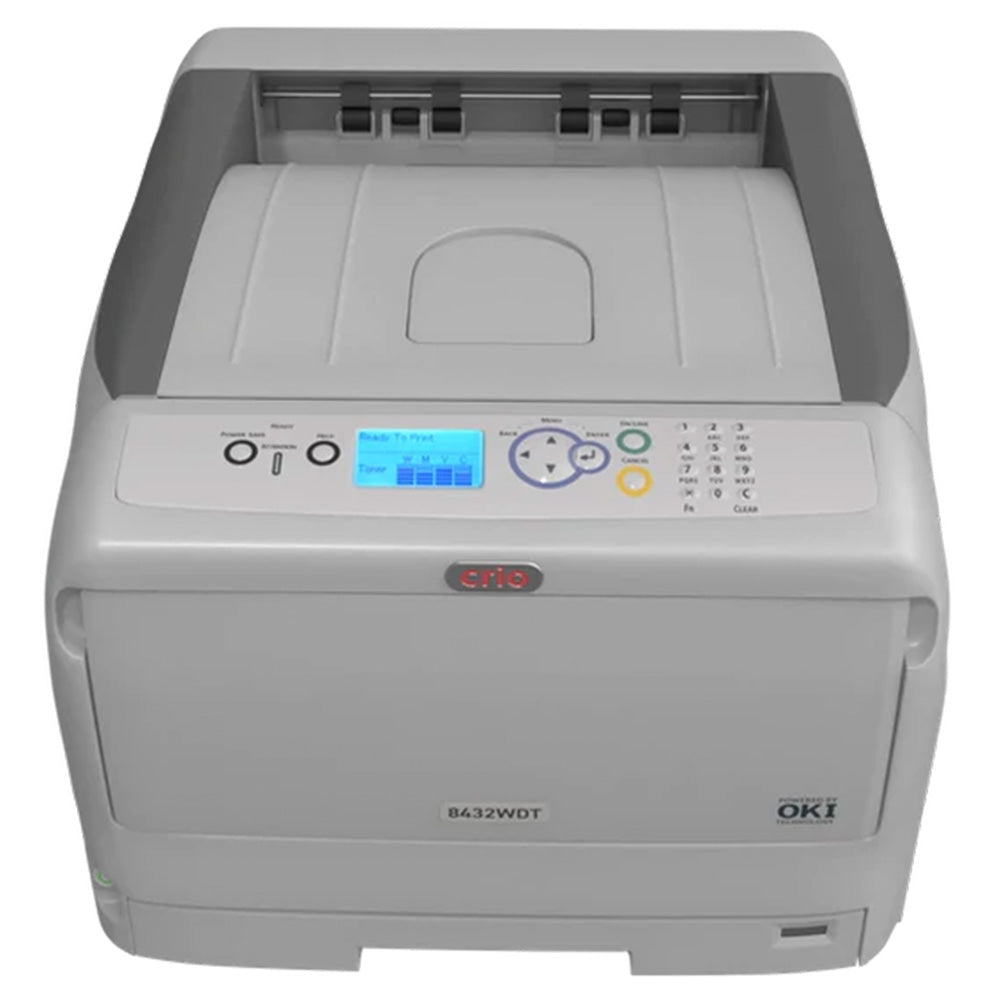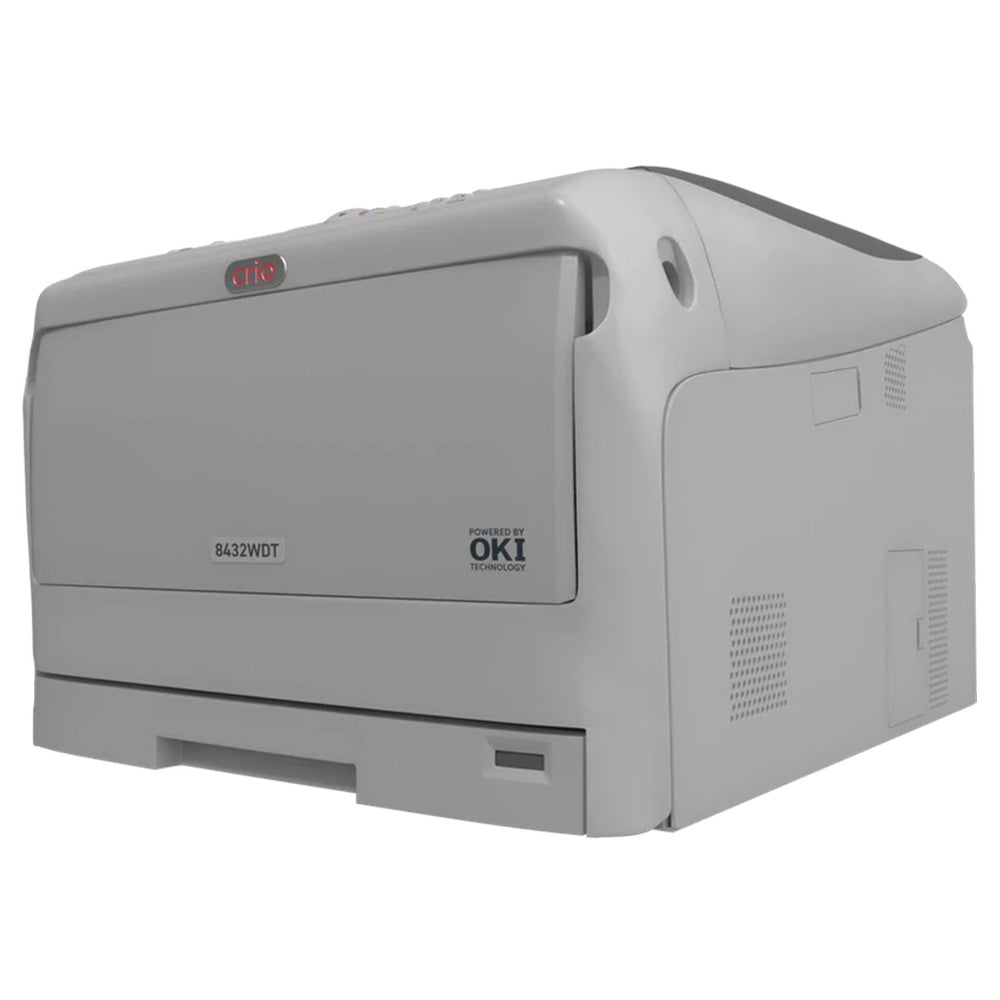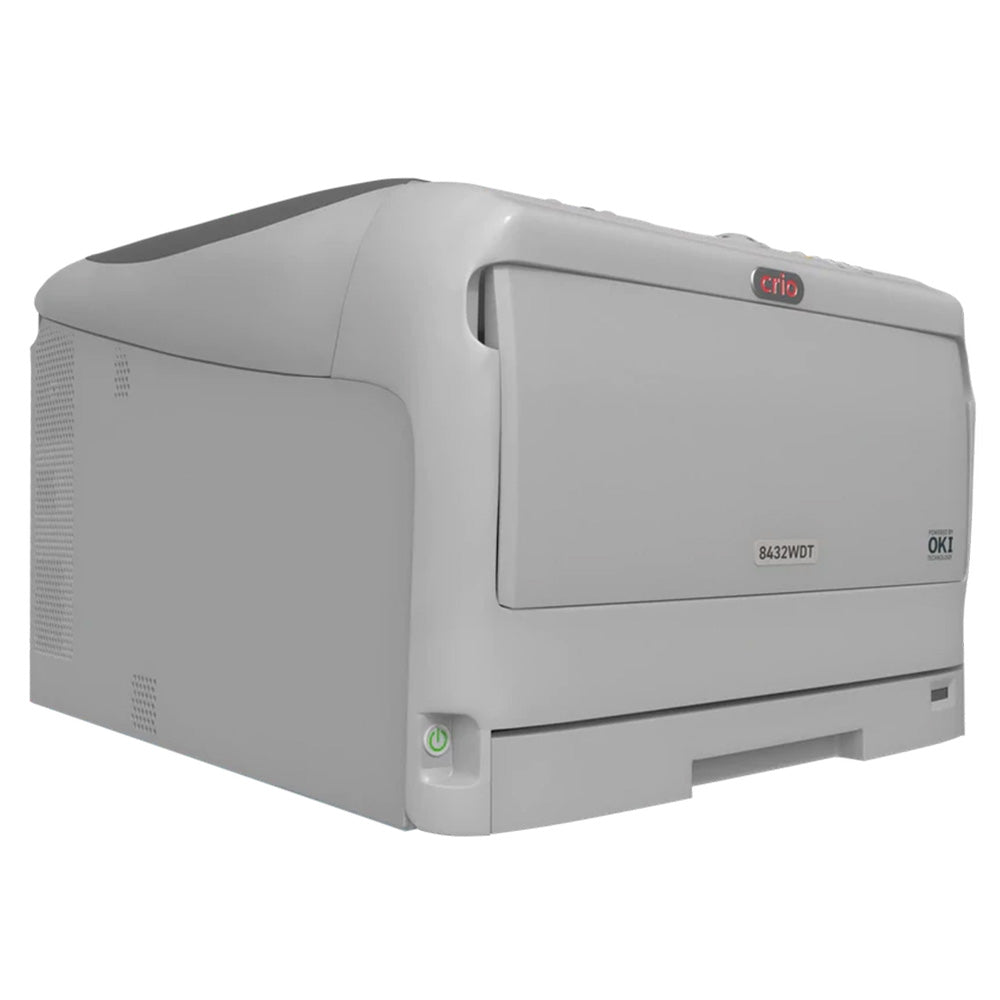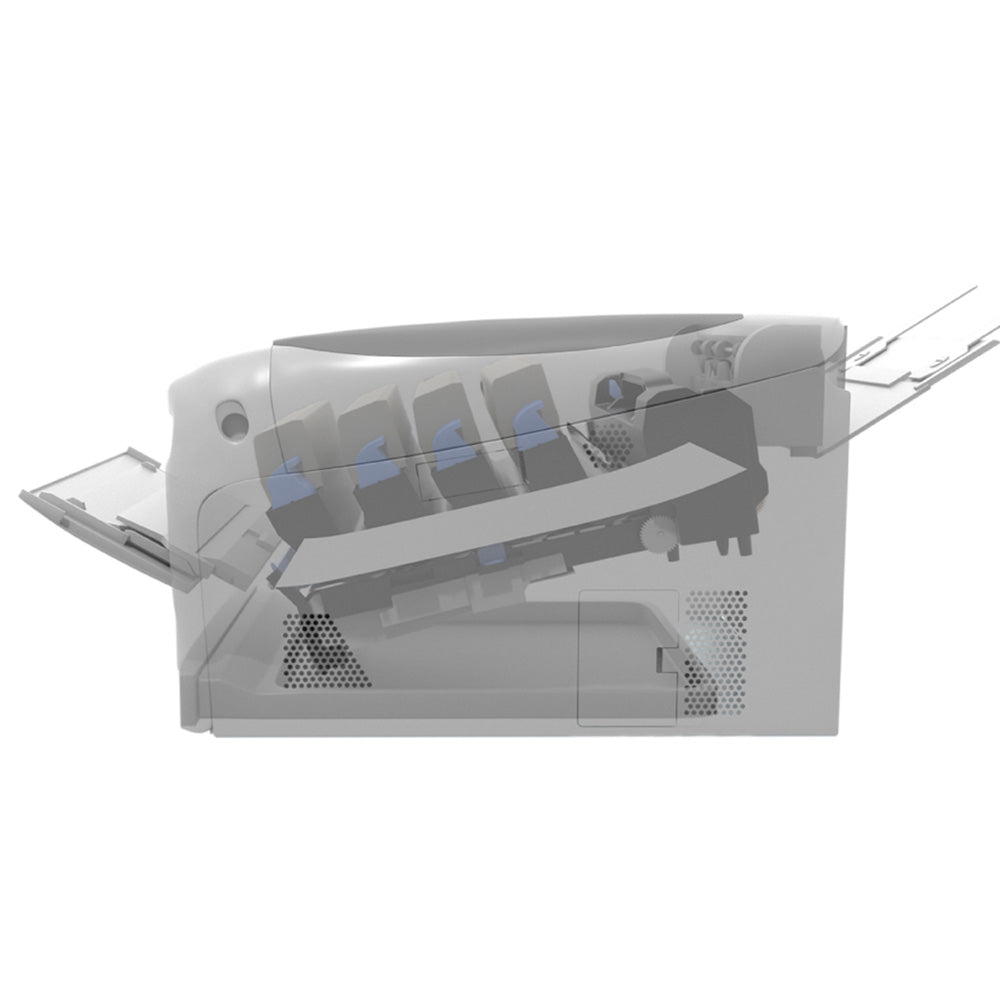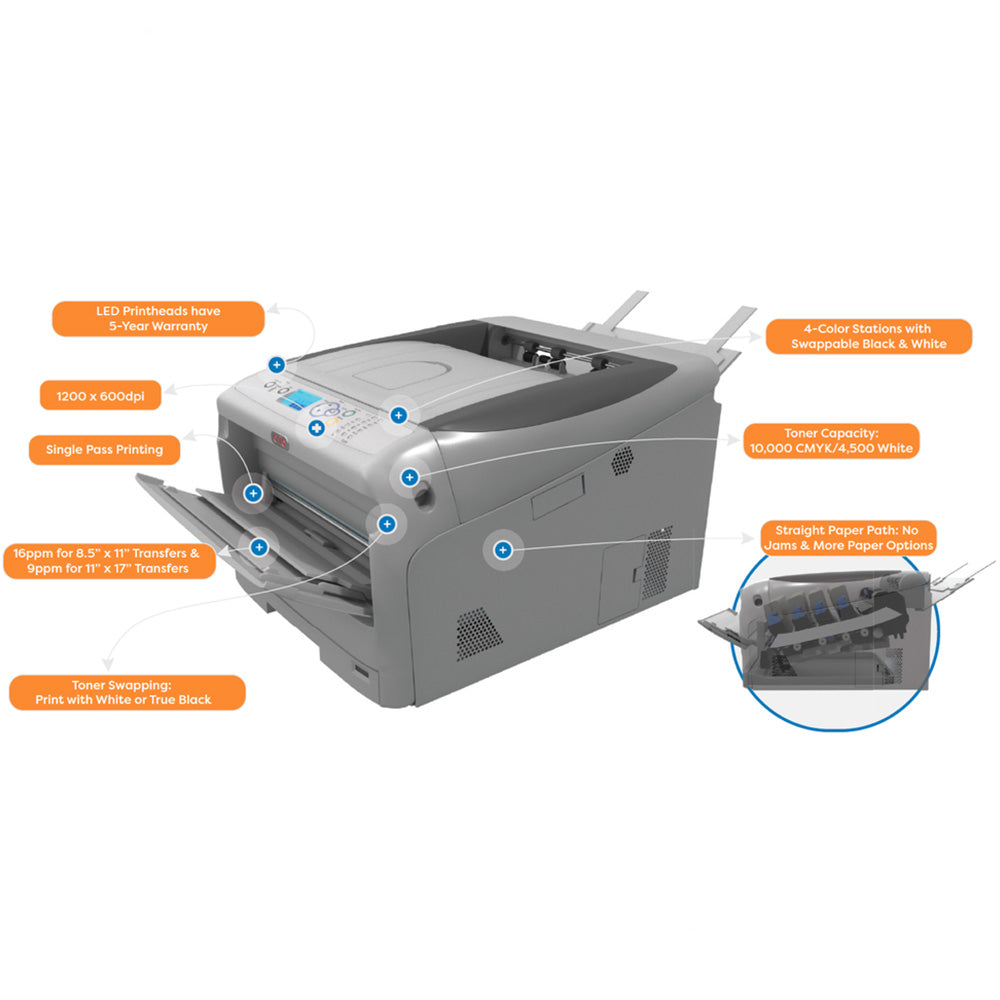 Features And Highlights
Any Color, Any Material

Create beautiful, vibrant prints that transfer onto hundreds of different light and dark materials such as cotton, polyester, denim, wood, acrylic, glass, metal, and more!

Low Cost of Ownership

Unlike sublimation or inkjet printers, Crio® white toner printers require virtually no regular maintenance other than replacing standard consumables, as needed.

Print to Profit

Print 1 or 100! With the white toner process, you don't need to set a minimum order quantity. You'll be able to accept one-offs to large custom orders and still profit.

No Weeding, No Problem

Crio® white toner transfers are self-weeding. There is no cutting and no weeding to deal with. Increasing production speed, saving both time and money.

Full Color, High Resolution

Easily print full-color, high-resolution designs or photographs with up to 1200 x 600 dpi to transfer with incredible detail.

Expert Support with CrioCare

From instructional how-to videos to free training, Crio® offers unparalleled support to ensure your success. For peace-of-mind, every Crio® printer also comes with a 2-year onsite warranty.
PAPER HANDLING:
Media Capacity: 400 sheets max (100 sheet MPT+300 sheet main tray)
Paper Sizes: MPT - Transfer media up to 11.8" x 17"; Main Tray - A3, Tabloid, A4 (LEF & SEF), Letter (LEF & 1SEF), A5, Legal 13-14, Executive, and media up to 52"
Paper Weight: MPT 17lb. bond - 140lb. index (64-256gsm); Main Tray 17lb. bond - 54lb. bond/80lb. cover (64-220)
ENVIRONMENTAL:
Size: 17.6" x 21.7" x 14.2" (449mm x 552mm x 360mm)
Weight: 81.7lb. (37 kg)  including consumables
Temperature/Humidity: 50°-90° F (10°-32° C)/20%-80% RH; Quality Assured
Range: 66°-80° F (17°-27° C)/50-70% RH
Power Consumption: Active: 700W max 1,400W; Standby: 100W; Power Save
Mode: <12W; Sleep mode: 1W or less
Noise Levels: Active: 52dBA or less; Standby 32dBA or less; Power Save mode: Inaudible
PERFORMANCE:
Print Speed: 8.5" x 11" transfer media-up to 16ppm; 11" x 17" transfer media-up to 9ppm 
Processor: 800 MHz PowerPC CPU
HD Color: Combines multilevel LED printhead and microfine toner for sharp detail and rich color depth
Print Resolution: 1200 x 600dpi
MEMORY: Standard: 256MB
COMPATIBILITY:
Emulations: PostScript 3 (Emulation)
Operating Systems: Windows 10 or higher,
Mac 10.10 or higher
CONNECTIVITY:
Network Interface: 10/100/1000 Base-TX
internal ethernet print server
Local Port: High speed USB 2.0
WARRANTY:
Printer: 2-year on site, 2nd business day service.
Digital LED Printheads: 5-year limited warranty
Is the Crio Oki 8432WDT (White Toner Digital Transfer Printer) right for you?
Enter your info below and a RB Digital sales representative will contact you about adding the Crio Oki 8432WDT (White Toner Digital Transfer Printer) to your apparel decorating business.