M&R Global's Copperhead Pro Mini™ is an extremely versatile, compact, all-electric automatic screen printing press. The Pro Mini requires just a small amount of electrical power to operate, and does not require any compressed air for operation.

The Pro Mini's design enables extremely high production speeds for maximum efficiency with a wide variety of promotional products. Neck labels and otherspecialty print requirements are ideally suited for the Pro Mini.

With its combination of efficiency, speed, and ease of use, the Copperhead Pro Mini from M&R Global provides huge value and productivity in an amazingly compact and portable package.
Read more
Read less
Product Resources
View full details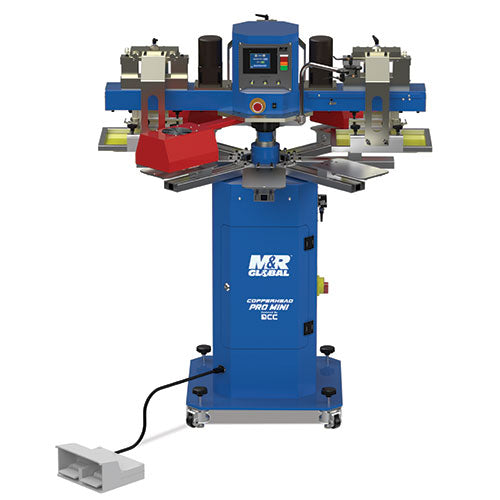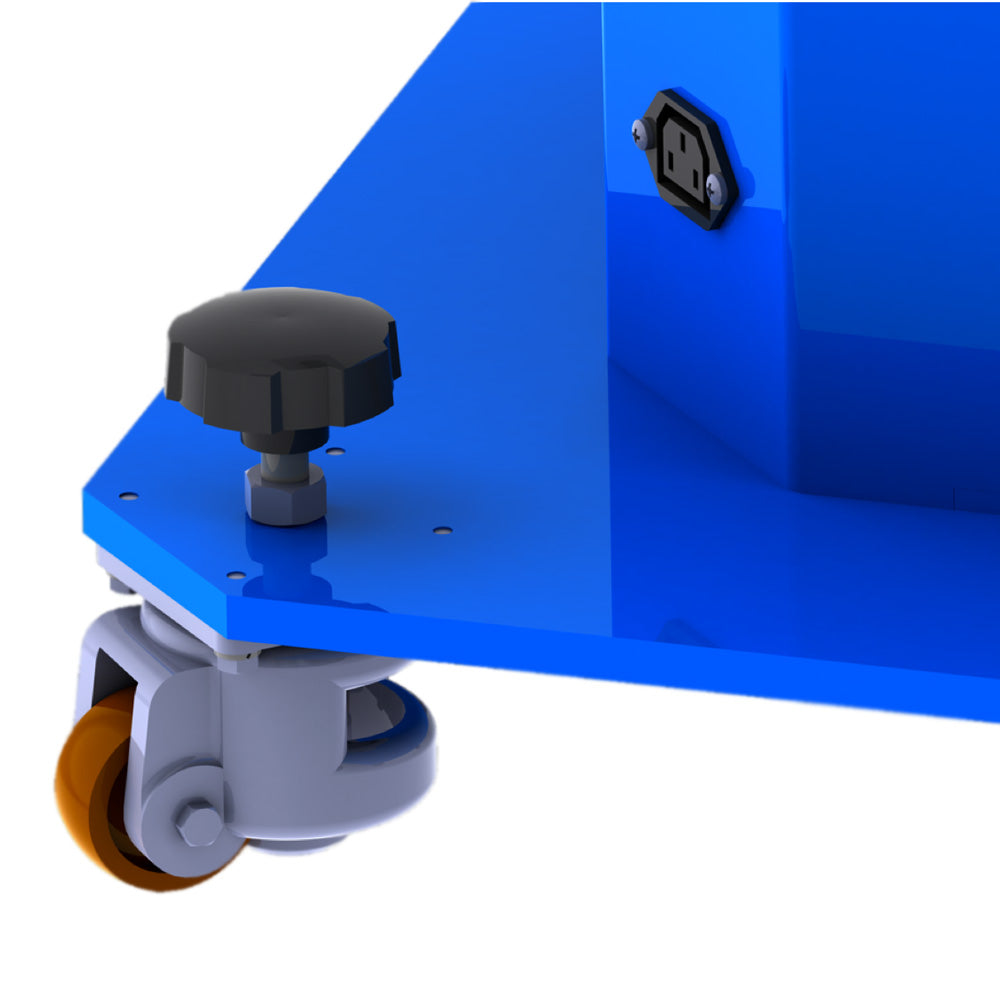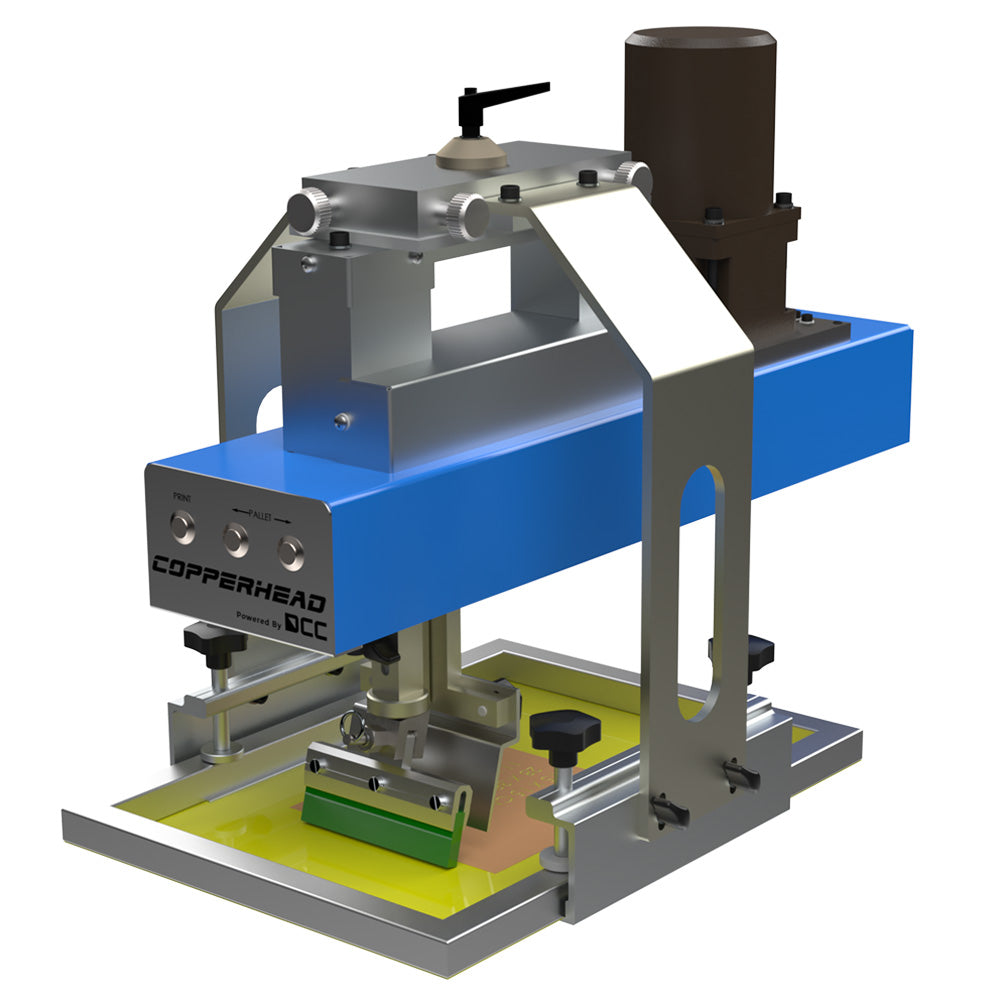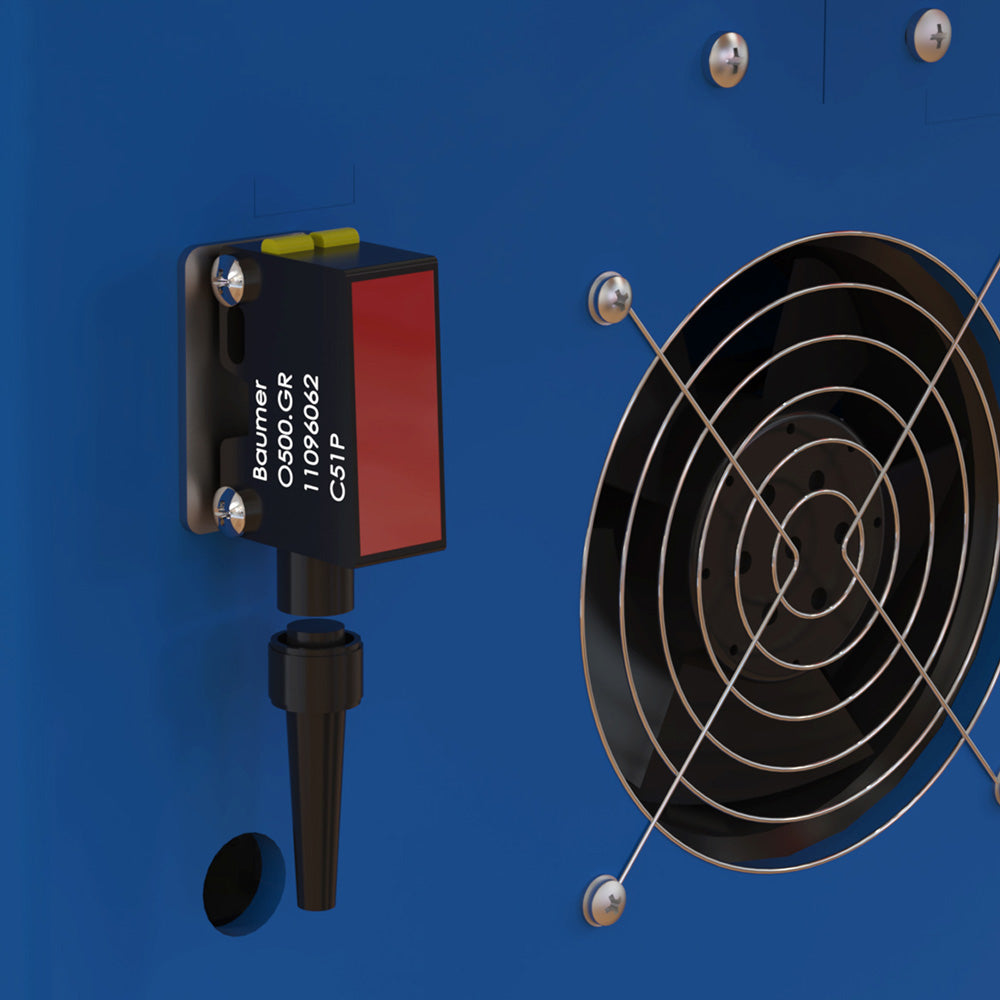 Features And Highlights
Index Speed: 2500/Hour
Index Accuracy: Below +/- 5 Microns
No Compressor Required
Quiet And Smooth
Mechanical Squeegee Pressure Equalizer
Built To Print 24/7 Non-Stop
Single Phase, Plug & Play
Compact & Space-Saving
A Machine with Everything Built-In. Fully Loaded.

All inclusive so you won't have to choose between versions. No more compromises!
• 1 set of squeegee holders with squeegee rubber
• 1 set of Floodbars
• Index Foot Pedal
• Optical No Shirt Sensor with stand
• Multi Print Mode Program
• Print Stack Mode
• Laser Registration Guide
• Toolkit
• Skip Foot Pedal
• Programmable Multiple Index Rotation
• 1 set of Coated Aluminum Pallets
• 1 set of frames (11 X 15" / 27 X 37 cm)
• Programmable Squeegee Strokes
• No Shirt Detector Sensor
• Caster Wheels for Easy Mobility
Applications

Tagless Neck Label


High density labels & logos


Pocket/shoulder logo printing


Socks/Handkerchief


Jeans pocket


Caps Printing


Masks & Surgical gloves


Vest / underwear / innerwear
Index Speed: 2500/hour
Index Accuracy: Below +/- 0.005 mm (5 microns)
No Pneumatics, No Compressor required
Quiet and smooth
Available up to 4 colors / 10 stations
Panasonic brushless geared motor with Panasonic drive for index rotation
Three-point registration system with a fine pitch screw to achieve close tolerance registration
Front screen loading for fast and easy setup
Unique pallet arm invented to withstand excess squeegee pressure to achieve better print sharpness and uniformity
The mechanism minimizes breakdowns thus maintains maximum safety while keeping the functionality simple to use
Caster wheel for easy mobility
The machine is built to print 24/7 non-stop
User-friendly touch-screen controls for effortless operation
Programmable multiple index rotation for speciality printing
Programmable squeegee strokes enable to achieve adequate ink coverage on porous fabrics or when using finer screen mesh. Its also helpful for HD printing and various speciality inks to gain thickness
With adjustable print mode, its easy to program squeegee to start from the front to back or from back to the front side or rear side
Single Phase, Plug & Play
Compact & space-saving
Belt free squeegee motion
Panasonic geared motor for squeegee motion
Mitsubishi touch screen controls
Mechanical squeegee pressure equalizer to get uniform and consistent ink deposition with accurate registration all over the print area.
Pallet overload protection system avoids major accidents
Hardened grounded gears and mechanical parts minimize machine noise
The heavy solid steel foundation of the machine reduces vibration while printing to hold fine details while printing at full speed
The compact printhead and flash design allows to reduce the overall diameter of the machine to save production space
Print-flash-print multiple times on the same piece
Customized pallet available with various sizes & shapes for diverse applications
Clockwise or anti-clockwise index rotation
Laser registration guides allow for accurate placement
Cloth detector sensor increases productivity and minimizes downtime
SPECIFICATIONS
PRO MINI 8/1
PRO MINI 8/2
PRO MINI 8/3
PRO MINI 10/4
Electrical Requirements1
208-230 V, 1 ph, 27 A,
50/60 Hz, 4.8 kW (UL)
208-230 V, 1 ph, 27 A,
50 Hz, 4.8 kW (CE)
208-230 V, 1 ph, 27.5 A,
50/60 Hz, 4.9 kW (UL)
208-230 V, 1 ph, 27.5 A,
50 Hz, 4.9 kW (CE)
208-230 V, 1 ph, 28 A,
50/60 Hz, 5 kW (UL)
208-230 V, 1 ph, 28 A,
50 Hz, 5 kW (CE)
208-230 V, 1 ph, 36 A,
50/60 Hz, 6.6 kW (CE)
In-built Flash Cure Unit
3
3
3
4
Diameter
131 cm (50.5")
131 cm (51.6")
131 cm (51.6")
145 cm (57")
Maximum Frame Size
28 x 38 cm (11" x 15")
28 x 38 cm (11" x 15")
28 x 38 cm (11" x 15")
28 x 38 cm (11" x 15")
Maximum Image Area
15 x 15 cm (6" x 6")
15 x 15 cm (6" x 6")
15 x 15 cm (6" x 6")
15 x 15 cm (6" x 6")
Machine Weight
262 kg (578 lb)
294 kg (648 lb)
326 kg (719 lb)
400 kg (882 lb)
Standard Pallet Size
11 x 23 cm (4.3" x 9")
11 x 23 cm (4.3" x 9"))
11 x 23 cm (4.3" x 9")
11 x 23 cm (4.3" x 9")
Stations/Colors
8/1
8/2
8/3
10/4
1Use uninterruptible power supply (UPS) to safeguard machine from voltage fluctuation out of main supply. If incoming voltage differs from the voltage(s) listed in the brochure, calculate amperage accordingly.
Is the COPPERHEAD PRO MINI Automatic Screen Printing Press right for you?
Enter your info below and a RB Digital sales representative will contact you about adding the COPPERHEAD PRO MINI Automatic Screen Printing Press to your apparel decorating business.