M&R Global's Copperhead Pro Max presses are the benchmark in automatic screen printing presses, combining highest quality components, leading-class craftsmanship and high-speed production to create an outstanding press at an affordable price. The all new upgraded design with front screen loading and side screen holders assist operators for quick setup and allow convenient front and rear screen adjustments.

An electric indexing system enables extremely smooth and quiet operation. The included, innovative squeegee pressure equalizer system with regulators on each printhead speeds setup and ensures uniform ink deposit for excellent print quality.

Electric printheads, tool-free squeegee/floodbar angle adjustment, pneumatic screen frame clamps and independent squeegee/flood speeds provide operators with all the time-saving features needed for quick setups. The Copperhead Pro Max is compatible with M&R Tri-Loc® system for the ultimate in print registration speed, accuracy and consistency.
Read more
Read less
Product Resources
View full details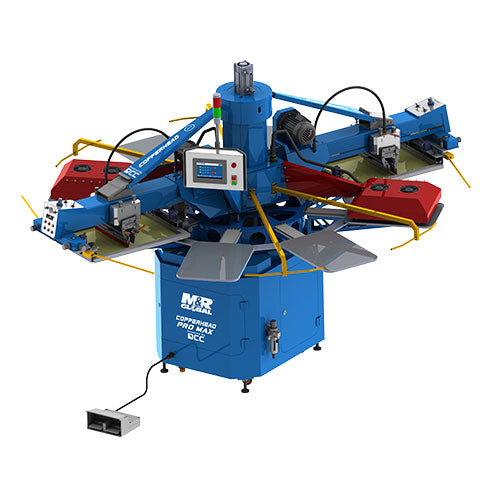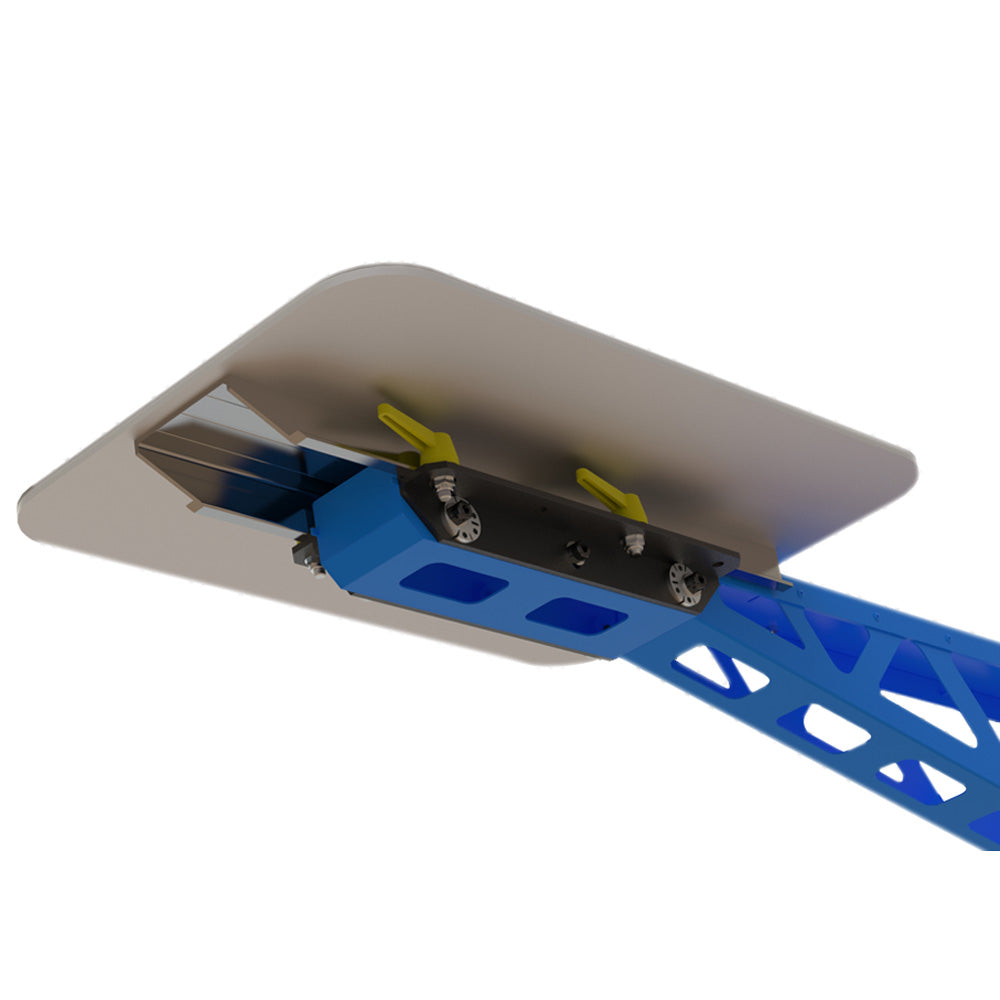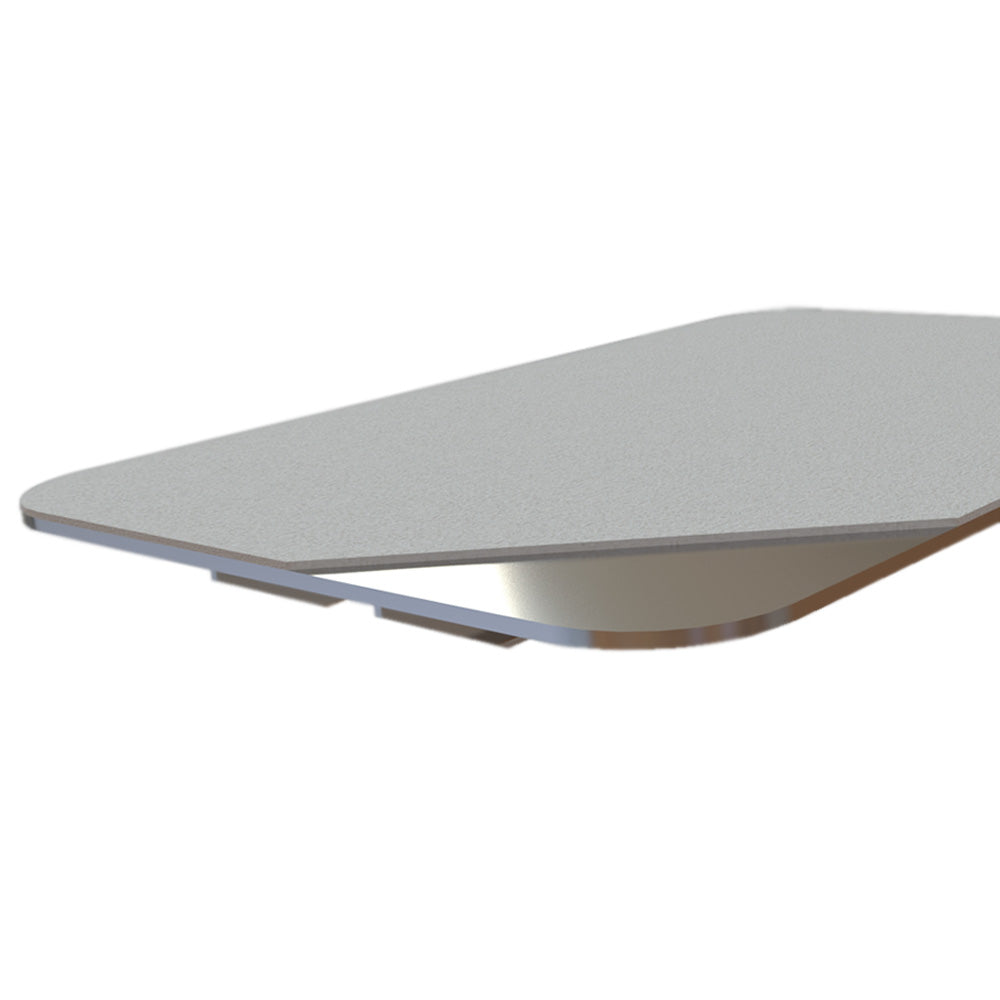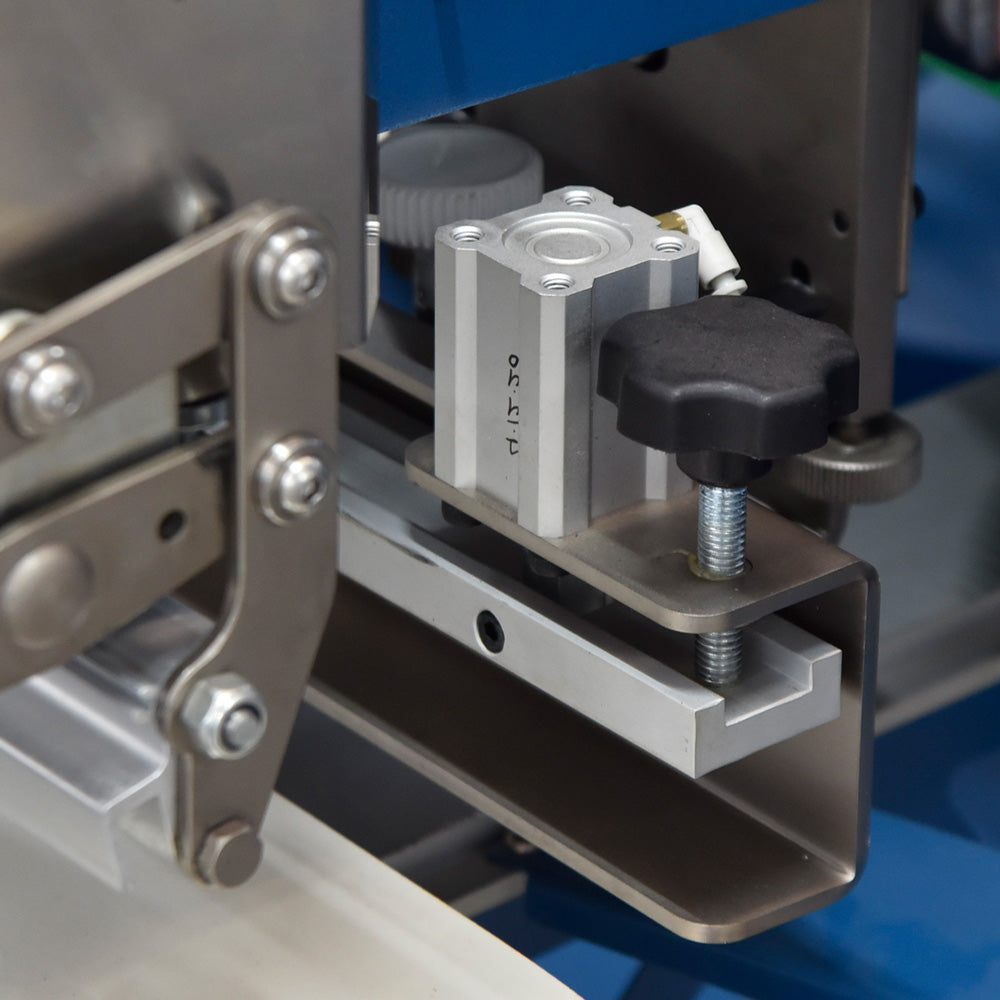 Features And Highlights
Squeegee Pressure Equalizer System

Revolutionary printhead technology with auto balancing system

Solid Aluminum Pallet

Insulated special rubber coating to minimize heat loss for better print quality

Design & Construction

Heavy-duty welded steel structure

Quality Inside And Out

With easy retrogression feature, multiple layers of ink deposited for high definition

Precision Matters

Innovative indexing mechanism with an accuracy of +/-5 microns

Print Stack Mode

Stacks layers of ink for HD & speciality printing

Fully Loaded

16+ features and everything you wished for in one machine!
A Machine with Everything Built-In. Fully Loaded.

All inclusive so you won't have to choose between versions. No more compromises!
• 1 set of Solid Aluminum Rubber Coated Pallets
• 1 set of squeegee holders with squeegee rubber
• 1 set of Floodbars
• Index Foot Pedal
• Optical No Shirt Sensor with stand
• Pneumatic Frame Locks
• Squeegee Pressure Regulator
• Front & Rear Micro Registration
• Multi Print Mode Program
• Print Stack Mode
• Print-Start/Print-Finish Mode
• Front-to-Back/Back-to-Front Squeegee Mode
• Laser Registration Guide
• Toolkit
• 1 set of frames (22 X 27" / 55 X 67 cm)
• Skip Foot Pedal
CAROUSEL/INDEXER SYSTEM

Clockwise or counterclockwise rotation

CONTROL CENTER

Icon-based digital touchsreeen control panel

Multiple (1-9) print stroke capability

Provides control of multi-print functionality

Real-time production data

Optional foot pedal allows operator to skip printing on a particular pallet

Maintenance reminder mode alerts operators when scheduled maintenance is due with pictures & respective procedures

Idle Mode to pre heat pallets

Independent print-start/print-finish setting automatically activates and stops printheads at the beginning and end of screen printing runs

Onboard self-diagnostics

Production speed monitor ensures more accurate job cost estimates

Built-in flash connector controlled by touch screen display

Print stack mode for HD and specialty printing available

DESIGN & CONSTRUCTION

Test print setting turns individual printheads on/off during test print cycle

Printheads and pallet arms provide the stability necessary for exceptional screen print quality

Built of heavy-duty steel and premium components

IR lamp power in the flash cure units are adjustable to save energy costs and avoid excessive heat on the pallets

INDEX SYSTEM

Press indexing parameters are quick and easy to adjust for various pallet sizes

Servo drives combine higher screen printing press speeds with exceptional smoothness, consistency and longevity

LASER LOCATOR SYSTEM

Assists operators in the precise positioning of garments and cut pieces

OFF-CONTACT

Tool-free four-corner off-contact settings allow fast and accurate screen leveling

PALLET SYSTEM

Tool free quick release pallet locks

PALLETS

Lightweight alumnium, rubber-coated screen printing pallets

PRINTHEADS

Low maintenance electric drive motors provide exceptionally smooth print strokes

Independent print/flood speed controls on each printhead simplify press setup

Squeegee print stroke can be set front-to-back or back-to-front

Independent print controls on each printhead

Multi-print option with or without head lifting

REGISTRATION

Compatible with Tri-Loc and Tri-Sync registration systems

Rear micro-registration

Enhanced front micro-registration adjustments with visual guides

4 point registration system provide consistent accurate set ups

REVOLVER

Automatically operates individual printheads in programmed sequence and allows flashing without losing a screen printing position

Touchscreen display with simplified programming provides easy setup of the Revolver Sequencing Program

SCREEN CLAMPS & HOLDERS

Adjustable rear screen holders accommodate a wide variety of screen sizes

Pneumatic clamps hold frames tight and allow for rapid screen loading. Manual safety knobs save registration in the event of pneumatic air loss

Clamping system holds roller frames without special adapters

SQUEEGEE HOLDER

Squeegee holder can be quickly installed with a locking pin

Helps prevent thinner water-based and discharge inks from flowing into the image area

SQUEEGEE/FLOODBAR

Angle and calibrated pressure adjustments are independently set

Independent squeegee & floodbar speed adjustments

Visual reference marks every 5 degrees simplify squeegee/floodbar angle adjustments

Front or rear print carriage stop position allows operator to leave screens clear or flooded (great for water-based inks)

Squeegee pressure regulator on each printhead offers exceptional control of print pressure

STROKE LENGTH ADJUSTMENT

Tool-free stroke length adjustment maximizes screen printing speed

WARRANTY, SERVICE AND SUPPORT

24-hour hotline is staffed 365 days a year
Access to M&R's Training Center
Two-year limited warranty
SPECIFICATIONS
PRO MAX 8/3/1F
Air @ 7 bar (102 psi)
235 l/min (8.3 cfm)
Electrical Requirements1
208-230 V, 3 ph, 43.5 A, 50/60 Hz, 8.5 kW (UL)
380-415 V, 3 ph, 43.2A, 50 Hz, 8.5 kW (CE)
Maximum In- built Flash Cure Units.
3
Diameter
290 cm (114")
Maximum Frame Size
51 x 69 cm (20" x 27")
Maximum Image Area
36 x 34 cm (14" x 13.5")
Machine Weight
326 kg (719 lb)
Standard Pallet Size
38 x 56 cm (15" x 22")
Stations/Colors/In-built Flash
8/3/1
1Use uninterruptible power supply (UPS) to safeguard machine from voltage fluctuation out of main supply. If incoming voltage differs from the voltage(s) listed in the brochure, calculate amperage accordingly. Contact M&R Global/ your nearest dealer for total amperage in case of using built-in flash sockets.
Is the COPPERHEAD PRO MAX V2 Automatic Screen Printing Press right for you?
Enter your info below and a RB Digital sales representative will contact you about adding the COPPERHEAD PRO MAX V2 Automatic Screen Printing Press to your apparel decorating business.