Regular price
$248.50 CAD
Regular price
Sale price
$248.50 CAD
Unit price
per
Sale
Sold out
Wilflex™ Specialty Ink INFINITE FX SHIMMERS are a special effect with a fine-medium size metallic flake for a brilliant shimmer effect with a smooth and soft feel. These shimmers are ready-for-use or can be tinted using plastisol colorants for a custom look.
Read more
Read less
Product Resources
View full details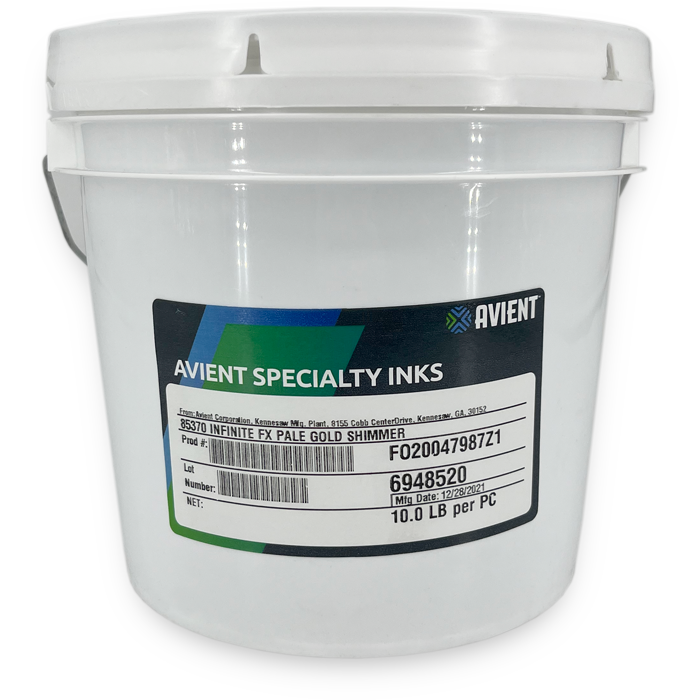 Excellent adhesion to fabrics, stretch properties, and wash durability
Brilliant metallic shimmer effect with smooth surface
Ready-for-use or tintable
Fabric Types
100% cotton, blends, some synthetics
Mesh
Counts: 86-110 t/in (34-43 t/cm)
Tension: 25-35 n/cm
Squeegee
Durometer: 60/90/60, 60-70
Edge: Square, Sharp
Stroke: Hard flood, Medium stroke
*Do not use excess squeegee pressure
Non-Phthalate Stencil
Direct: 2 over 2
Off Contact: 1/16" (.2cm)
Emulsion Over Mesh: 15-20%
Flash & Cure Temperatures
Flash: 220°F (105°C)
Cure: 270°F (132°C) Entire Ink Film
Pigment Loading
up to 5% Wilflex PC
up to 10% Wilflex EQ
up to 15% Wilflex MX/RIO
up to 10% Rutland C3 Boosters
Epic Additives
N/A
*All percentages listed at % by weight
Shipping & Storage
65-90°F (18-32°C)
Avoid direct sunlight.
Use within one year of receipt
Clean Up
Ink degradent or press wash
Stir inks before printing
Use consistent, high-tensioned screen mesh to optimize performance properties
Print in last position or flash after each print if using multiple screens
Print direct to fabric or over a flashed-dried base plate. Use a suitable underbase when printing on garments prone to bleed
Tintable with plastisol colorants. See Pigment Loading section for suggested tinting percentages. Adjust the % colorant added based on the strength of the colorants and color saturation desired
Metallics reflect infrared heat and a forced air dryer is recommended for curing. If using an electric oven, extend dwell time to achieve proper cure
Can be mixed with other Infinite FX HD bases or clears
For cold-peel transfers, use a coated release paper or polyester film. Print using 70 duro squeegee and recommended mesh counts followed by adhesive. Gel at 212°F (100°C) for 60 sec. Apply transfer with heat press at 300°F (150°C) for 10-12 sec at medium pressure. For transfers on polyester, back with a low bleed white and/or blocker. Verify process.
Stir plastisols before printing.
Do not dry clean, bleach or iron printed area.
Perform fusion tests before production. Failure to cure ink properly can result in poor wash fastness, inferior adhesion and unacceptable durability. Gel and cure temperatures for ink should be measured using a Thermoprobe device placed directly in the wet ink film and verified on the substrate(s) and equipment to be used for production.
It is the responsibility of the printer to determine that the correct ink has been selected for a specific substrate and the application processes meet the printer's customer standards or specifications.
Curing is the responsibility of each printer to confirm that the print is fully cured. PolyOne's cure recommendations are not a guarantee or warranty, but merely suggested starting points for curing evaluations as explained above.
When printing on garments that contain certain dyes, you must pre-test for the potential ghosting. Please refer to our website for more information on this issue.
Wilflex products have been carefully designed to perform within a given viscosity range, and any dramatic change in viscosity is probable to result in a change in printing characteristics
NON-CONTAMINATION OF EPIC INKS: Do not mix EPIC inks with inks, additives or extenders from other companies. All buckets, palette knives, stirring apparatus, squeegees, flood bars and screens must be cleaned properly and free of phthalates and pvc containing inks. Non-phthalate emulsions and pallet adhesives must be used. Failure to follow these precautions may cause phthalate contamination in violation of consumer protection laws and regulations.
Any application not referred in this product information bulletin should be pre-tested or consultation sought with Wilflex Technical Services Department prior to printing.