NEW
Regular price
$300.00 CAD
Regular price
$300.00 CAD
Sale price
$300.00 CAD
Unit price
per
Sale
Sold out
The V3 film is our new and improved film to replace the V2 film which replaced the V1 film. The challenge with our previous V2 film was that in some environments we found that the product could stick to the preheat ramp while printing and cause a head strike if left unattended.
This new film has a higher ink loading ability and even a quicker hot peel than the V2. This results in you not needing to slow down the printer and can lay more ink without pooling for a more opaque print.  The hand feel has also been greatly improved with the product so it feels less pappery.
Instant & Easy Hot Peeling for Faster Production
High Quality & Coating
Transfer at Lower Temperature & Shorter Time
Heat Press at 143 C at 10-12 seconds for most garments (No Heat Damage to Fabric)
Heat Press at 135-137 C at 10-12 seconds for polyester garments (No Heat Damage to Fabric)
Premium Matte Finish, Vivid Colour, High Resoltion, No Oil, High Ink Loading
NOTE
DTF (Direct To Film) printing works with almost all types of fabrics including 100% polyester with excellent results!
Unlike DTG Printing, RB DTF Hotpeel Film does not require pre-treatment and also uses on average 75% less DTG ink to achieve good quality prints.
Final printed products have excellent wash durability, stretchability and close to no dye-migration
The transfer has a very soft hand feel.
The process is much faster than Vinyl printing as there is no weeding involved in this process.
Read more
Read less
Product Resources
View full details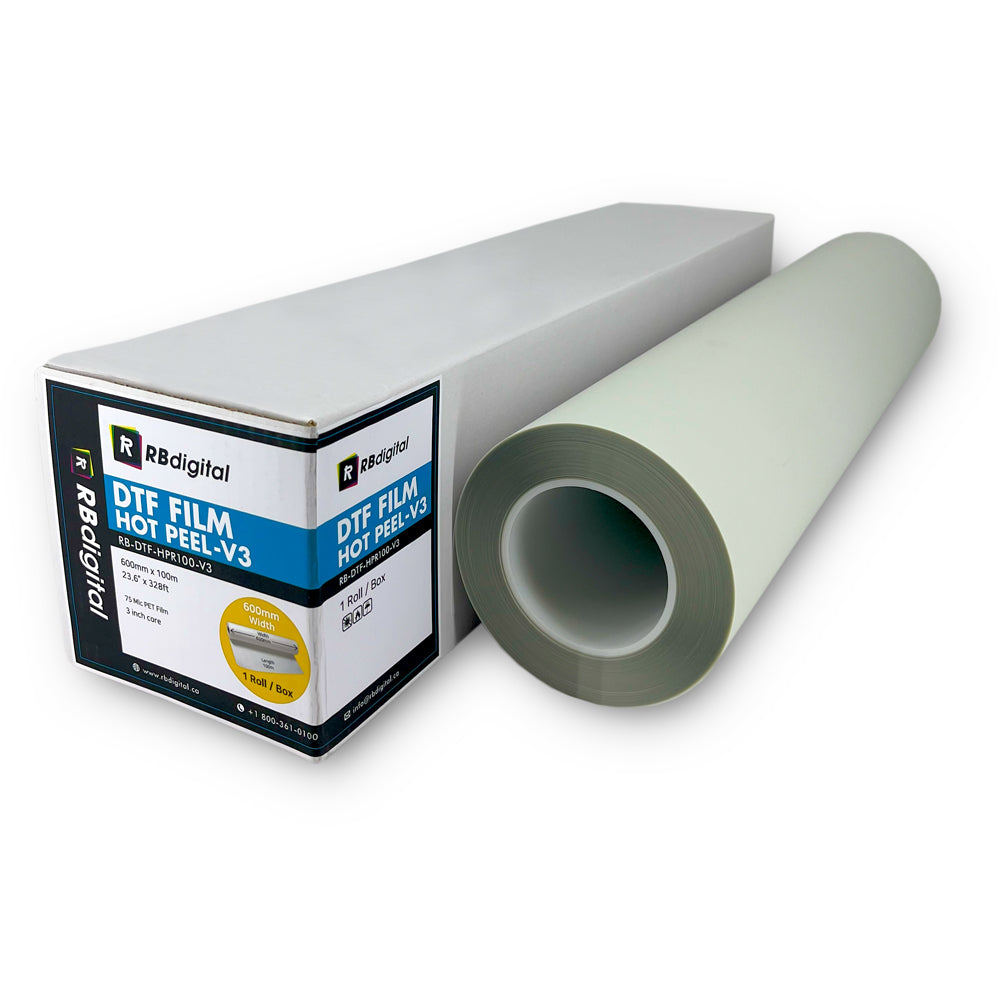 Made in Korea
Extra Ink Loading
Anti - Static Treated
Instant Hot Peel for Faster Production
No Oil from the Film
High Resolution
Matte & Clean Finish
Keep out of direct sunlight
Avoid to use the film in high humidity (Recommended humidity : 50% below)
Keep dry
Do not use damaged film which could damage printers